Searching for Hawaii Island's Old Mamalahoa Highway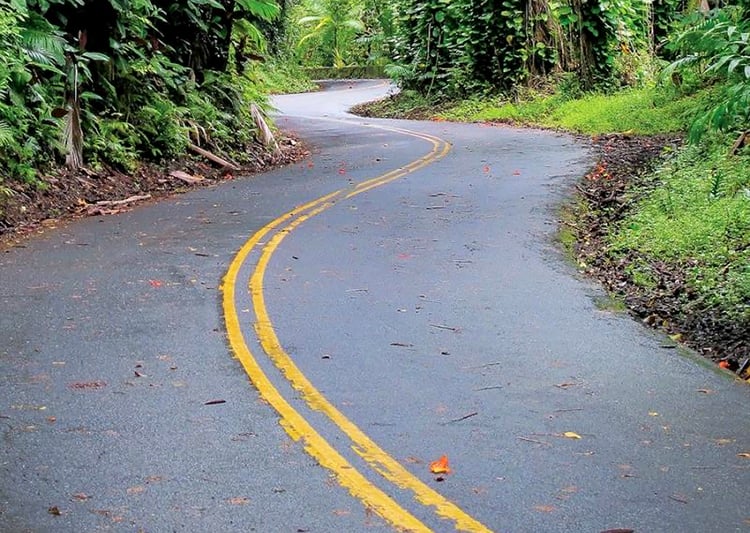 It's 7 a.m. and I have the single-lane wooden bridge crossing Kawainui Stream to myself. The rain-swollen stream thunders out of the maw of an old railway diversion blasted out of bedrock, now long hidden by vegetation.
At this time of day, there are few travelers on this four-mile-section of Old Mamalahoa Highway simply called the "Scenic Route." Earning the moniker, the coastline passage just outside of Hilo winds through lush rainforests, overlooks rugged Onomea Bay and crosses several century-old bridges like this one.
The Onomea scenic route is the most traveled section of the remains of the Old Mamalahoa Highway, once the main road connecting Hilo, Waimea and the multiple Hamakua Coast sugar-era plantation towns between them. Spurred on by childhood memories, I'm on a self-guided road trip rediscovering and photographing the old highway beyond this much-visited stretch.
On weekends, my mother would often take us kids for afternoon drives along still-navigable portions of Old Mamalahoa Highway. Taking modern, island-circling Mamalahoa Highway—also known as Hawaii Belt Road, Route 19—north from Hilo, we'd detour onto hidden stretches of the old highway through towns such as Honomu, Hakalau, Laupahoehoe and Papaaloa. We'd follow Old Mamalahoa Highway into and out of the deep gulches beneath the modern highway's towering bridges to the seaside remnants of old sugar mills. Guava from trees growing alongside the countless mountain streams Old Mamalahoa traversed were ours for the taking.
Much of Old Mamalahoa Highway, both here on the Hamakua Coast and elsewhere on Hawaii Island, was built on a 19th-century foot trail, which connected villages before the sugar era. Modern Mamalahoa Highway was constructed on portions of Old Mamalahoa and the former tracks and bridges of the Hawaii Consolidated Railway, which shut down in 1946. Detailed Hawaii Island road maps still include remnants of the Old Mamalahoa Highway.
Heading north on the coast from the Onomea scenic route, I find familiar routes from my mother's drives and also several portions of Old Mamalahoa Highway that are new to me. Among the latter is an enchanting 10-mile stretch between Honokaa and Waimea, winding gently through cool, upland eucalyptus forests before opening into green pasturelands and the full profile of Mauna Kea volcano to the west and headlands of Waipio Valley to the east.
Not all of Old Mamalahoa Highway's remnants are as classically scenic, often pushing through the dense invasive jungle and weeds of former sugarcane fields. Some portions are difficult to find and others closed off or abandoned. But for road trippers with ample time to explore and a love of driving old byways, the once vital Hawaii Island highway's old towns, time-enduring residences and derelict structures nestled amongst mountain streams, hidden waterfalls, old bridges and rugged coastline are a scenic treasure unmatched in the Islands.
Want to drive Old Mamalahoa?
There are multiple turnoffs onto portions of Old Mamalahoa Highway from modern Mamalahoa Highway/Hawaii Belt Road (Route 19) on the Hamakua Coast. Below are the turnoffs onto Old Mamalahoa Highway we took, traveling north from Hilo on Route 19. Consult a Hawaii Island road map for detailed routes mentioned here.
• From Hilo, take Wainaku Street north (street was once the Old Mamalahoa Highway) and follow until it ends at Route 19. (total mileage: 2. 5 miles)
• From Route 19, turn right onto Kahoa Street, follow until merge onto Kulana St. (streets were once the Old Mamalahoa Highway) and follow until it ends at Route 19. (total mileage: 1.8 miles)
• After mile marker 6 on Route 19, turn left onto Old Mamalahoa Highway and follow through town of Papaikou and follow until it ends at Route 19. (total mileage: 1 mile)
• After mile marker 7 on Route 19, turn right onto Old Mamalahoa Highway "Scenic Route" and follow until it ends at Route 19. (total mileage: 4 miles)
• After mile marker 13 on Route 19, turn left onto Route 220 into Honomu town. Turn left on Old Mamalahoa Highway and follow until road ends. Turn around and follow Old Mamalahoa Highway back through Honomu until it ends at Route 19. (total mileage: 1.7 miles)
• After mile marker 14 on Route 19, turn left into Kolekole Beach Park entrance and follow Old Mamalahoa Highway for 2.5 miles through Hakalau town until it ends at Route 19. (total mileage: 2.5 miles)
• After mile marker 15 on Route 19, turn right onto Old Mamalahoa Highway and follow until end at site of Old Hakalau Sugar Mill, backtrack back to Route 19. (total mileage: 0.5 miles)
• After mile marker 16 on Route 19, turn right onto Old Mamalahoa Highway and follow until it ends at Route 19. (total mileage: 4 miles)
• After mile marker 24 on Route 19, turn right onto Old Mamalahoa Highway into Papaaloa town and follow until end. Turnoff back onto Route 19 is at Papaaloa Post Office. (total mileage: 0.5 miles)
• After mile market 24 on Route 19, turn left onto Old Mamalahoa Highway and follow through Laupahoehoe town until it ends at Route 19. (total mileage: 1 mile)
• After mile marker 26 on Route 19, turn right onto Old Mamalahoa Highway. At intersection, turn right and follow to end at Laupahoehoe Point County Park. Backtrack back to Route 19. (total mileage: 1.3 miles)
• After mile marker 26 on Route 19, turn right onto Old Mamalahoa Highway. At intersection, turn left and follow until it ends at Route 19. (total mileage: 0.3 miles)
• After mile marker 29 on Route 19, turn right onto Old Mamalahoa Highway and follow until it ends at Route 19. (total mileage: 1.6 miles)
• After mile marker 36 on Route 19, turn left onto Old Mamalahoa Highway and follow through Paauilo town until it ends at Route 19. (total mileage: 0.8 miles)
• After mile marker 39 on Route 19, turn left onto Old Mamalahoa Highway and follow until it ends at Route 19. (total mileage: 2.6 miles)
• After mile marker 42 on Route 19, turn left onto Old Mamalahoa Highway and follow until it ends at Route 19. (total mileage: 10.2 miles)