Searching for Hawaii's coconut pies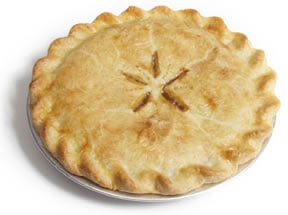 HAWAII Magazine reader Dale Randall e-mailed us:
I have never seen a mention of a place to purchase coconut pie—the old fashion variety with two crusts. Since Kapiolani Bakery closed, I have not been able to locate a source. Liliha Bakery discontinued theirs, but they still make coconut turnovers. Could you suggest a source?
Most Oahu bakeries, such as Liliha Bakery, now offer coconut or haupia cakes—not pies. These cakes are often filled with or frosted with haupia (Hawaiian coconut pudding) and/or sprinkled with coconut flakes.
Ted's Bakery is known for their original chocolate-haupia cream pie, but it's only topped with whipped cream.
Two bakeries will still make a double-crust coconut pie:
• Agnes' Portuguese Bake Shop (pictured left) in Kailua. This Windward bakery on Oahu is best known for its hot malassadas (deep-fried, sugar-coated Portuguese doughnuts), but they also make double-crust coconut pies. [46 Hoolai St., Kailua, Oahu, (808) 262-5367]
• Larry's Wholesale Bakery makes coconut pies just the way you like them—with the old-fashioned double crust. [4369 Lawehana St., Bay 3, Pearl Harbor/Radford, Oahu, (808) 422-0059]
Since these desserts are not regular items, both bakeries recommend placing your order a day in advance.
Or you could always try to bake your own pie, with a coconut filling, for which, we admit, we cannot find a recipe.
UPDATE, 9/19/08: "I thought you might like the recipe for coconut pie," writes HAWAII Magazine reader Dale Randall. Here's the recipe Dale sent to us. It was originally printed two years ago in the Honolulu Advertiser.
Coconut Pie
3 cups fresh grated coconut (or dried unsweetened coconut)
3 tablespoons cornstarch
1 1/2 cups water
2 cups sugar
1 unbaked two-crust pie shell
Preheat oven to 375 degrees. If using fresh coconut, squeeze moisture from grated coconut and place in a medium bowl. Whisk together cornstarch and 1/2 cup water to form a smooth paste. Pour over coconut, then add remaining water and sugar and mix well. Place in pie shell and cover with crust. Bake at 375 degrees for 30 to 40 minutes.
Makes 8 servings.