See Hawaii Island's Kilauea Volcano by air with Paradise Helicopters
A visitor views the raw, untethered power of one of the world's most active volcanoes.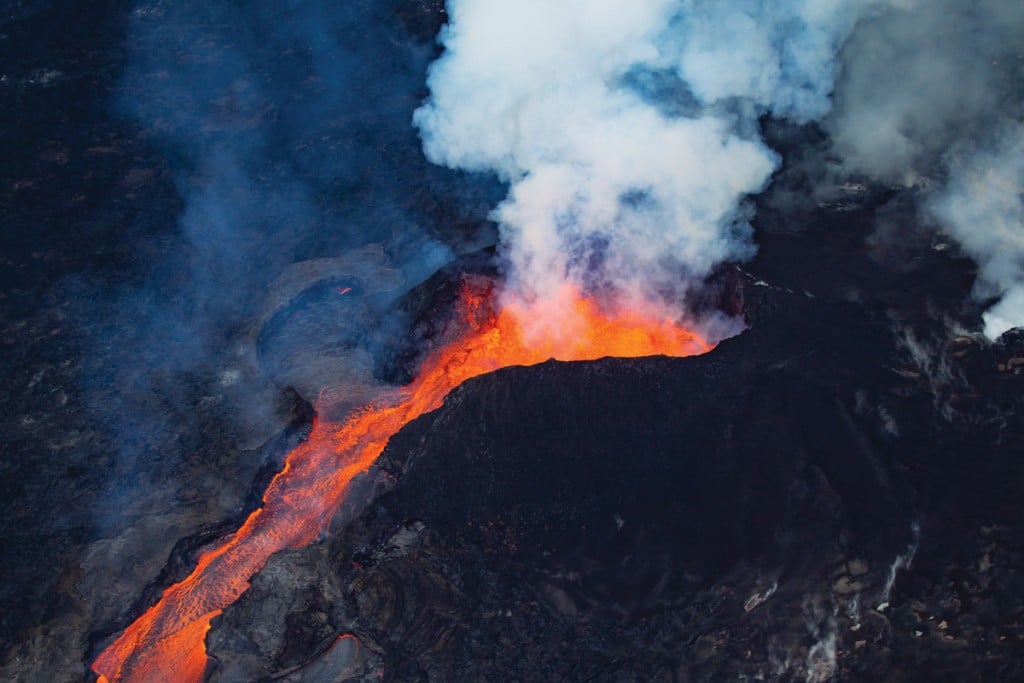 A crackle comes through the two-way headset snug over my ears. "Have you been on a helicopter before?" our pilot, Keith, asks me.
"This is my first time," I say.
"How about that," he answers. "Me, too!"
Keith, of course, is joking. He's a skilled pilot, trained and certified, with Paradise Helicopters. A locally owned and operated company since 1997, a tour with Paradise Helicopters offers a bird's-eye view of Hawaii Island, and if you want to see the lava as it simultaneously creates and consumes, there's no better time than right now.
On a sunny Wednesday afternoon, Keith deftly maneuvers a Bell 407 helicopter above the clouds as he briefly narrates the history of Hilo town and gives our six-person tour group the latest information on the Kilauea eruption.
We're on the Lava and Rainforests Adventure tour. Lasting roughly 45 minutes, the trip begins with the good stuff: fiery, flowing lava. We hover above the southeast coastline to the former Kapoho Bay, now filled in by lava. From here, I see the billowing white plumes as the lava connects with the sea.
Next, we head to the source of the eruption: the Fissure 8 cinder cone. It was the eighth fissure vent to open during the eruption that began May 3. The cinder cone's peak is now 180 feet and feeds a glowing river that flows approximately 8 miles to the Pacific Ocean. The volume of lava is astonishing. I stop taking photos and videos on my cellphone and simply take in the neon orange lava spitting from the center of the cinder cone, and the surprisingly fast flowing river of red-hot lava.
Near the end of the tour, Keith swoops us to our last stop. It might as well be a whole other world. In stark contrast to the fiery, charcoal colors of the lava, the sapphire blues and emerald greens of the Wailuku River and surrounding rain forest are almost jarring at first. We fly over a section of the 28-mile-long river, Hawaii's longest, as it descends into a series of waterfalls and pools. One of its most notable features is the 80-foot tall Waianuenue, or Rainbow Falls, named for the rainbows that form in the morning at its misty base.
As we touch down back at Hilo International Airport, I reflect on the sheer power of Mother Nature, from fire to water. I joke to Keith that he did a good job flying, especially since it was his first time.
Tour Info
$274 per person, paradisehelicopters.com
Note: Paradise Helicopters is operating its regular tours, but availability is based on current eruption patterns, weather and flight restrictions. Because volcanoes are a natural phenomenon, the experience may vary.