See Hawaii through the eyes of Georgia O'Keeffe and Ansel Adams
Both of the quintessential artists came to Hawaii to capture its beauty and sense of place.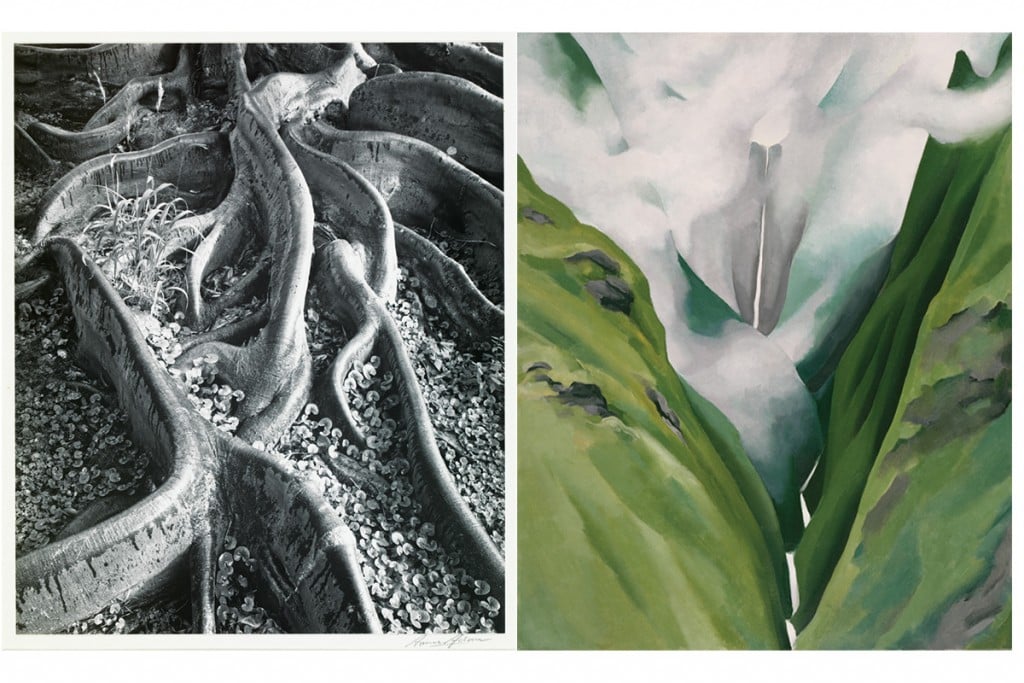 The painter Georgia O'Keeffe and the photographer Ansel Adams remain, nearly three decades after their passings, quintessential modern artists of the American West, both celebrated for distinct methods of capturing the essence of the natural world in their work.
What is not as widely known, even among art authorities, is that, between 1939 and 1958, both O'Keeffe and Adams quietly, and separately, ensconced themselves in the Islands for brief periods to capture on canvas and with camera Hawaii's beauty and sense of place.
O'Keeffe's Hawaii renderings include waterfalls plunging into lushly verdant and mist-blanketed valleys, rugged lava bridges rimmed with ocean spray, and vivid flower blossoms. Adams' panoramic photographs, all shot in his signature sumptuous black-and-white, include remote coastlines and mountains, close-up studies of plant life and volcanic forms, and striking portraits of various mid-20th century Hawaii residents.
Both artists were already famous when they first arrived in what was then the Territory of Hawaii—Adams for his wondrously crisp, depth-filled photos of American landscapes, in particular, Yosemite National Park, shot with large-format cameras; O'Keeffe for her colorful and enlarged representational paintings of blossoms. Both artists were also completely unfamiliar with the tropical terrain and seascapes suddenly and splendidly before them—a landscape diametrically opposed to the usual subject matter of their art.
✱ ✱ ✱ ✱ ✱ ✱
Georgia O'Keeffe and Ansel Adams both traveled to Hawaii on commercial art assignments.
For Adams, this was standard practice as photography was just beginning to emerge as a fine art when he arrived on Oahu by Matson ocean liner in 1948. But for O'Keeffe, who Time magazine described in 1940 as probably the "least commercial artist in the U.S.," accepting work from Hawaiian Pineapple Co. (now the American multinational corporation Dole Food Co.) was news.
During the 1930s and early 1940s, Charles Coiner, an ace art director at N.W. Ayer & Son, then one of the nation's most successful advertising firms, began commissioning paintings and drawings from the likes of Pablo Picasso, Salvador Dali and other big-name artists for client work. O'Keeffe and a handful of other painters—including Hilo native Lloyd Sexton Jr. and Mexico's Miguel Covarrubias—were recruited by Coiner to help promote client Hawaiian Pineapple Co.'s namesake juice.
Decades later, asked why he'd hired fine artists for the pineapple juice campaign, Coiner explained "that a woman, when she thought of Dole, would think of the romance of the Hawaiian Islands as well as a food item." The strategy, which called for a splash of fine art sophistication, was aimed at readers of popular middle-class magazines such as the Saturday Evening Post—consumers who would likely be at least somewhat familiar with the featured artists and their various styles.
It was a clever idea, says Carolyn Kastner, a curator at the Georgia O'Keeffe Museum in Santa Fe., N.M. "That was before (the) Mad Men (era) even," she says with a laugh, referencing the acclaimed TV period drama series set in the world of highly competitive Madison Avenue advertising agencies in the 1960s.
Initially, O'Keeffe hesitated to accept the commercial work. The chance to see the natural beauty of the Hawaiian Islands firsthand, however, eventually helped change her mind. She struck a deal with Coiner in which she could paint whatever and wherever she pleased. The caveat on Coiner's end? The deal required that O'Keeffe produce two paintings for use in Hawaiian Pineapple Co. print advertisements for its pineapple juice.
O'Keeffe traveled to Oahu, Maui, Kauai and the Big Island on Hawaiian Pineapple Co.'s dime in 1939. She made her way to the company's Oahu pineapple fields early on in her nine-week Hawaii visit and was quickly taken with the sight of the crop, which she described as "sharp and silvery stretching for miles."
She even requested Hawaiian Pineapple Co. allow her to reside in the laborers' quarters while on the plantation—a request company officials refused on the grounds that it would be considered unseemly for a woman traveling alone. In an attempt to calm the now irritated O'Keeffe, officials presented her with a freshly cored and sliced pineapple to paint, which only further vexed the artist.
"To me, that story really resonates because she didn't paint disconnected nature," says Kastner. "She painted flowers in the field. She painted trees in the field. What would be interesting to her would be the growth of the pineapple plant—the natural textures and colors of it."
Shortly after O'Keeffe's return to the Mainland, she submitted two paintings for use in Hawaiian Pineapple Co. advertisements. Much to the surprise of company officials and the N.W. Ayer firm, neither one depicted a pineapple.
✱ ✱ ✱ ✱ ✱ ✱
In the early 1940s, Ansel Adams contracted with the U.S. Department of the Interior to make mural-size photographs of select national-park landscapes. Later in the decade, Adams was awarded a Guggenheim Fellowship to photograph every national park in the U.S. The assignment eventually brought him, in 1948, to Haleakala National Park on Maui and Hawaii Volcanoes National Park on the Big Island—then collectively known as Hawaii National Park—where he photographed each location's otherworldly volcanic landscapes.
On Oahu, Adams produced several photographs that would be included in his Portfolio One (1948), which includes a dozen gelatin silver prints depicting nature and architecture in Hawaii and on the Mainland. Among these is the photo Roots, Foster Gardens, in which his lens zeroes in on the meandering exposed roots of a large banyan tree in Honolulu's Foster Botanical Gardens.
Adams dedicated the portfolio to his mentor and friend, the photographer and modern art promoter Alfred Stieglitz, who also was O'Keeffe's mentor, and husband. In the portfolio's introduction, Adams writes: "To photograph truthfully and effectively is to see beneath the surface and record the qualities of nature and humanity, which live or are latent in all things. … Art, said Alfred Stieglitz, is the affirmation of life. And life, or its eternal evidence, is everywhere."
Adams and O'Keeffe met in New Mexico in 1929 and remained like-minded friends until Adams' death at age 82 in 1984. O'Keefe died two years later at age 98.
"I think their affinity for each other was this attraction to nature," says Kastner, adding that both artists were committed to forging artistic paths considered avant-garde in their day. "The 1930s was a period when American artists were turning away from Europe and trying to identify what an American Modernism could look like."
Adams returned to Hawaii in 1957 to collaborate on the publication of a photo-filled book for Bishop National Bank (now First Hawaiian Bank) intended to depict the promise of future prosperity in Hawaii, which was then on the brink of statehood.
Theresa Papanikolas, the Honolulu Museum of Art's curator of European and American art, says Adams' take on Modernism at the time emphasized producing images that could exist on a "purely expressive level" rather than being just "scenes."
Consequently, says Papanikolas, "He deliberately wanted to avoid the tourist clichés. … I've gone through all of the photos that he took here, and I don't think there was one picture of Diamond Head." All images from the assignment are sans settings associated with Hawaii travel brochures of the era.
"All that stuff is absent from these pictures," says Papanikolas.
The subjects of Adams' photos range from ships in Honolulu Harbor to a worker pouring liquid metal at Honolulu Iron Works to a radio tower and a busy canning line at Hawaiian Pineapple Co., both on Oahu. The past is represented by images such as gravestones at a Buddhist cemetery in Paia, Maui, and an early Hawaiian fishpond on Molokai. The book also features many portraits of people—businessmen, artists, families in front of their homes, smiling schoolchildren, among them—and action shots, including one of a Marine unit quickly exiting a landing helicopter.
Far more famous for his people-free landscapes of nature unspoiled, Adams' portraits of Hawaii residents convey "coming to a new understanding of himself as a photographer by thinking about people and how they live with nature," Papanikolas says.
"That really came out in the pictures of Hawaii."
✱ ✱ ✱ ✱ ✱ ✱
When O'Keeffe assembled 20 paintings inspired by her Hawaiian Pineapple Co.-sponsored trip for an exhibition at her husband's New York City gallery, An American Place, months after her time in the Islands, canvases tied to Maui outnumbered those from the other Hawaiian Islands she had visited.
Upon arriving on Maui in 1939, she immediately made a beeline toward the winding, coastal Hana Highway and its remote northeast namesake community. In Hana, she stayed at the home of Kaeleku Sugar Plantation manager Willis Jennings, whose 12-year-old daughter, Patricia Jennings, served as the artist's unofficial guide to the area.
Jennings, now an octogenarian grandmother living in the ranching town of Waimea on the Big Island, recalls that O'Keeffe arrived in Hana still a bit miffed over the Oahu pineapple plantation incident. But as the pair spent several days exploring the town's black sand beaches, lava-rock formations and the giant early Hawaiian heiau (temple) Piilanihale, among other places, O'Keeffe painted contentedly.
O'Keeffe was both prickly and good-humored during the 10 days she spent as Patricia's companion. One evening, when the artist made a fuss about the girl's dog, Lucky, tramping on fresh paintings that had been drying on the floor, Patricia burst into tears and shot back: "You shouldn't have put them on the floor." After a pause, O'Keeffe laughed and agreed with the girl.
By the time O'Keeffe departed Hana, Jennings says, "No doubt, she had become very fond of me." An indication of that fondness surfaced when O'Keeffe, who never liked being watched while painting, made an exception for Patricia.
One day, as O'Keeffe was painting a waterfall-centered landscape in Iao Valley, a rain shower necessitated moving her unfinished canvas to the backseat of the car the pair had arrived in. There, O'Keeffe continued painting.
"I remember sitting in the front seat and just watching the rain drip down the windshield," Jennings says, with a light laugh. "I was totally surprised when she said it would probably be all right if I turned around and watched her."
Recalling O'Keeffe's paintbrush strokes, she says, "I was amazed at how it just flowed so effortlessly. I guess I had watched other people doing oil paintings where it was more like a 'dabby' effect. That wasn't her technique at all. It was that flowing."
After O'Keeffe wrapped up her island-hopping trip and returned to the Mainland, she continued painting Hawaii images. As stipulated in her deal with Hawaiian Pineapple Co., she submitted two canvases for use in pineapple juice advertisements: a vivid red crab-claw heliconia plant, and a green papaya tree, the latter painted in Iao Valley.
Disappointed upon receiving a papaya painting rather than pineapple—Hawaiian Pineapple Co.'s rival juice at that time was papaya—ad agency N.W. Ayer's Coiner persuaded O'Keeffe to accept yet another pineapple gift.
This time, it was a still-living pineapple plant, air-shipped from the Islands to O'Keeffe's studio in Manhattan—no easy task in 1939. In return, the artist produced what Honolulu Museum of Art's Papanikolas describes as a "tightly focused composition of a pineapple bud surrounded by the radiating leaves that are both the essence of this plant and a visual index of what she observed in the pineapple fields of central Oahu."
Some news accounts of O'Keeffe's travels suggest that the artist did not paint a single canvas of the spiky-topped fruit while visiting the Islands. Time reported: "In Hawaii, artist O'Keeffe happily painted fishhooks, tropical flowers, lava bridges, waterfalls—but nary a pineapple."
That's debatable, says Papanikolas. While conducting research for the Hawaii Pictures exhibition, the curator found a letter penned by O'Keeffe that hints at some sort of pineapple painting effort in Hawaii. Suspecting that the claim of O'Keeffe not painting a pineapple while here might be a myth that persists because it's a great yarn matching the feisty artist's determined nature, Papanikolas says she's now throwing the much-passed-around art history detail into question.
"There's a lot still to learn about her time and Ansel Adams' time here in Hawaii."