See Maui Like Never Before on This Thrilling Hana Hang Gliding Tour
Hang Gliding Maui takes visitors on an aerial tour with extraordinary views.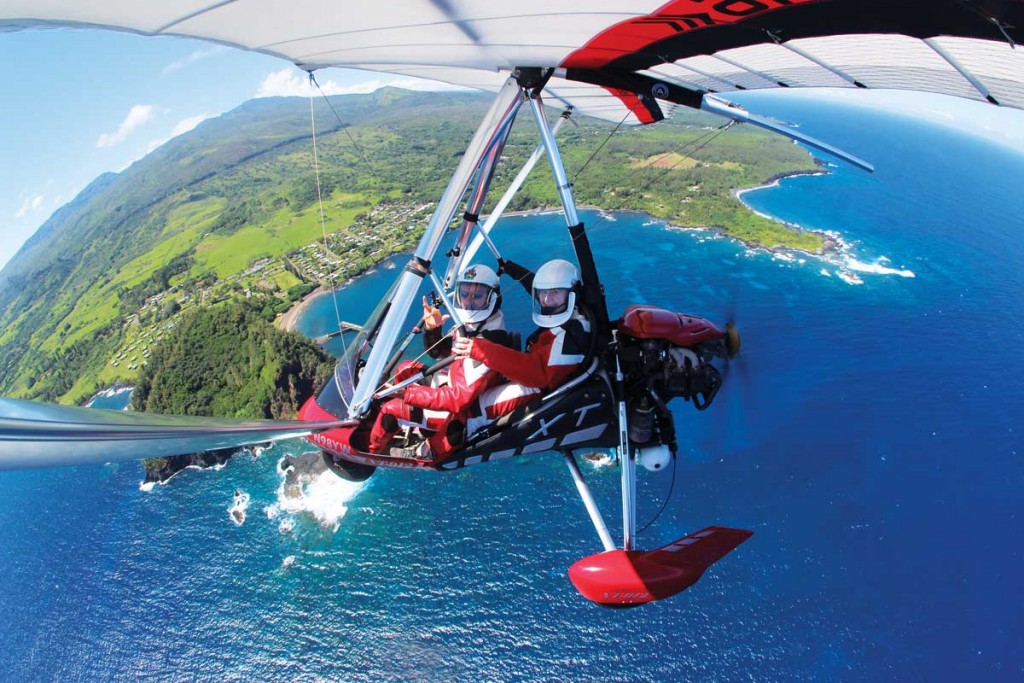 When I first catch sight of Armin Engert outside his hangar in Hana, he's wheeling a Radio Flyer wagon—and it's filled with three jugs of gasoline.
It's a practical means of transporting fuel out here at the Hana Airport, where bananas and papayas grow right by the runway and pigs rustle in the bush.
Compared to the rush of modern airports, the entire scene is refreshingly simple and laid-back—which is interesting considering we're about to embark on Maui's most thrilling activity.
As the pilot and owner of Hang Gliding Maui, Engert has spent 27 years helping people view Maui from the air. He's logged 21,000 hours of flight time, and has taken more than 26,000 people hang gliding over Maui. If you add up all of that flight time, Armin has spent just over 2.4 years in the air.
Hang gliding traditionally begins with a leap off a mountaintop, so why is he wheeling around jugs of fuel on an airstrip?
It's because ever since 1998 Engert has offered powered hang gliding lessons out here in Hana. With his trusty "trike," as they're commonly known, Engert uses fuel and a motor to take off just like an airplane. Once at altitude, he kills the engine and silently glides back down.
After signing some basic paperwork (in what has to be the world's coolest hangar), Engert hands me a multicolored, stylish leather flight suit. The jacket zips directly into the pants, and I feel like I'm entering a motorcycle race as opposed to preparing for an East Maui flight.
Because the trike has only two seats, I swing my leather-bound leg into place and take my seat behind Engert. The propeller behind the trike whirs to life, and since the flights double as hang gliding lessons, Armin points out the different controls and shows how the left foot is used to brake; the right foot—that makes us go.
A final crackle of his voice in my helmet and we're throttling down the Hana airstrip like a bullet shot out of a gun. After three to four seconds, Engert pulls the bar toward his chest and sends us airborne.
Directly underneath our heels, waves crash on the jet-black lava that forms the rugged coastline, and the black-sand beach at Waianapanapa appears covered in speck-sized people. We soar high above Hana Bay and the Travaasa Hana hotel, and get bird's-eye views of Kaihalulu, the hidden, colorful—and for some, clothing-optional—bay that most call Red Sand Beach.
In the first five minutes, we've seen more of Hana than most people see in a day, and the trike doesn't have any windows to get in the way of our view.
We continue to climb closer to the clouds, gaining 800 feet per minute as we start to make our way inland. From this seldom-seen vantage, it's shocking to see just how much land there really is in East Maui.
Waterfalls you'd never see from the road spill secretly into mountain pools that form in hidden canyons. Craters inhabit volcanic vents that were formed during past eruptions, and I can make out the winding paths of destruction where lava once ran to the sea.
We climb to nearly 4,000 feet and are touching the base of the clouds, where cool, wispy streaks of white go rushing between my fingers. Engert decides to cut the engine, and after checking our heading on the compass, he shuts off the motor, grips the bar, and just like that, we're flying.
While the view, technically, is much the same as one you'd see from a helicopter, the experience is different because we're shrouded in silence. There isn't the constant whir of an engine or the sense that you're even on a flight; it's a feeling of weightless, peaceful freedom—just cruising on the breeze like a bird.
About 3,500 feet beneath our silent and stealthy trike, I can make out the colorful string of cars weaving, braking and snaking their way toward Hana. Over the course of a one-hour flight, we could voyage as far as Waimoku Falls in Haleakalā National Park, or even climb to nearly 10,000 feet for views of Haleakala crater. If the northerly swell were big enough, we could check out the 60-foot waves at "Jaws" by flying west toward Peahi, or even see humpback whales from the air as they spout and splash down below.
On the final glide into Hana Airport, I assume we're going to use the engine to help us with the landing, but Engert lines up a steep approach and sends us into a dive. Just when I think our angle is starting to defy physics, Engert pulls up and straightens out to finish the perfect landing.
Hang Gliding Maui  
Hang Gliding Maui offers powered hang gliding lessons on Mon., Tue., Thu. and Fri. from 9 a.m. to 6 p.m. Prices range from $190 for a 30-minute lesson to $310 for a 60-minute lesson. Hana Airport, (808) 264-3287, hangglidingmaui.com.