See The Multimillion-Dollar Renovation to This Popular Maui Hotel
The recently transformed The Westin Maui Resort & Spa, Kāʻanapali combines luxurious additions with volunteer service projects.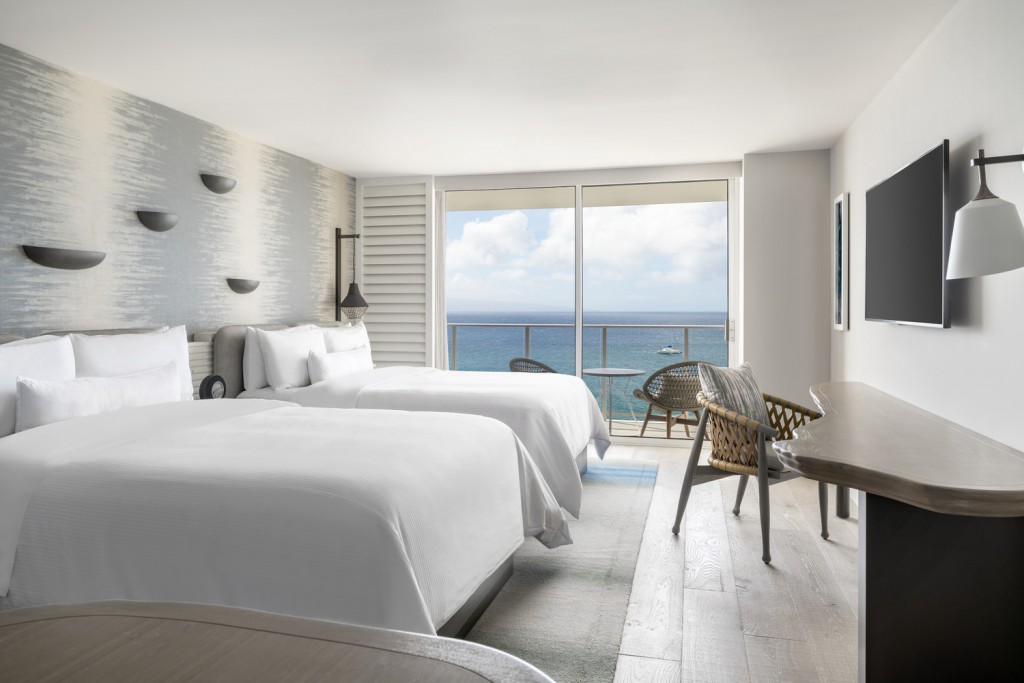 In Hawaiʻi, we have a mindset of leaving a place better than when you arrived there, whether that's picking up trash at the beach or cleaning up a local trail.
And visitors are getting involved too, with voluntourism efforts around the state offering travelers a great way to experience local culture and make a difference in the community.
The Westin Maui Resort & Spa, Kāʻanapali—one of Kāʻanapali's premier resorts—knows that sometimes a vacation isn't only for physical rejuvenation, but mental as well, and has included numerous voluntourism opportunities as part of its recent $120 million renovation.
"If there's anything we've learned over the past year—it's the importance of physical, emotional and spiritual health and wellness," said Gregg Lundberg, general manager of The Westin Maui Resort & Spa, Kāʻanapali. "Our goal at Westin Maui is to have guests feel like better versions of themselves when they leave. And we believe that in addition to enjoying our wellness-inspired amenities and activities, that helping our communities thrive for residents and future travelers to enjoy will achieve that."
So what, exactly, changed about the hotel?
The 217-room Hōkūpaʻa tower has gotten a complete makeover. The new design of the rooms are inspired by natural elements you'll find in Hawaiʻi, like the sand, ocean and sky. The rooms feature muted color tones that highlight boho-chic decor and furniture. And the relaxing vibe of the space is almost—almost—as inviting as the Westin's signature Heavenly® Beds and spa-like Heavenly® Baths, which are also featured in every room.
Those staying in the Hōkūpaʻa tower will also have access to The Lānai at Hōkūpaʻa, a private lounge where guests can grab a light bite, enjoy a mai tai or take in the sunset. The view guests get of Kāʻanapali bay from here is one-of-a-kind, and Hōkūpaʻa residents can also enjoy a myriad of cultural lessons and workshop here, including fresh lei po'o (flower crown) making, 'ukulele lessons, ulana niu (coconut weaving), taro pounding, interactive cooking demonstrations and personalized beverage tastings with the resident mixologist and more.
The hotel's multimillion-dollar renovation also features new culinary concepts and restaurants, such as waicoco, which is being spearheaded by acclaimed local chef Chris Kajioka. With a menu inspired by Maui's cultural diversity, you can find dishes like smoked volcano spiced chicken with kimchi fried rice, grilled wagyu short ribs with Hawaiian chile béarnaise and porchetta with kiawe smoked grits and local mustard greens at this oceanfront eatery.
The Westin has also taken on the Malama Hawaiʻi initiative—a statewide voluntourism program that allows hotels to offer special deals and benefits for visitors who take part of its many activities.
"Our renovation has undeniably elevated the guest experience, but what truly makes our destination special—and what has travelers coming back—is our people, place and culture," said Lundberg. "With the Mālama Hawai'i initiative, we invite guests to form a deeper connection with Hawaiian culture by helping us perpetuate the beauty of our environment."
Aligning themselves with the Pacific Whale Foundation, those who participate in a beach cleanup via the hotel's Malama Hawaiʻi offer will get to stay a night free—and know they get to know that they are making a positive impact on the island and its beaches.
For more information, visit The Westin Maui Resort & Spa, Kāʻanapali's website.