Your Glimpse Into this Exclusive Wellness Resort
Unlike most luxury resorts in Hawai'i, this one isn't sprawled on a golden beach or boasts the latest trends in vacay experiences.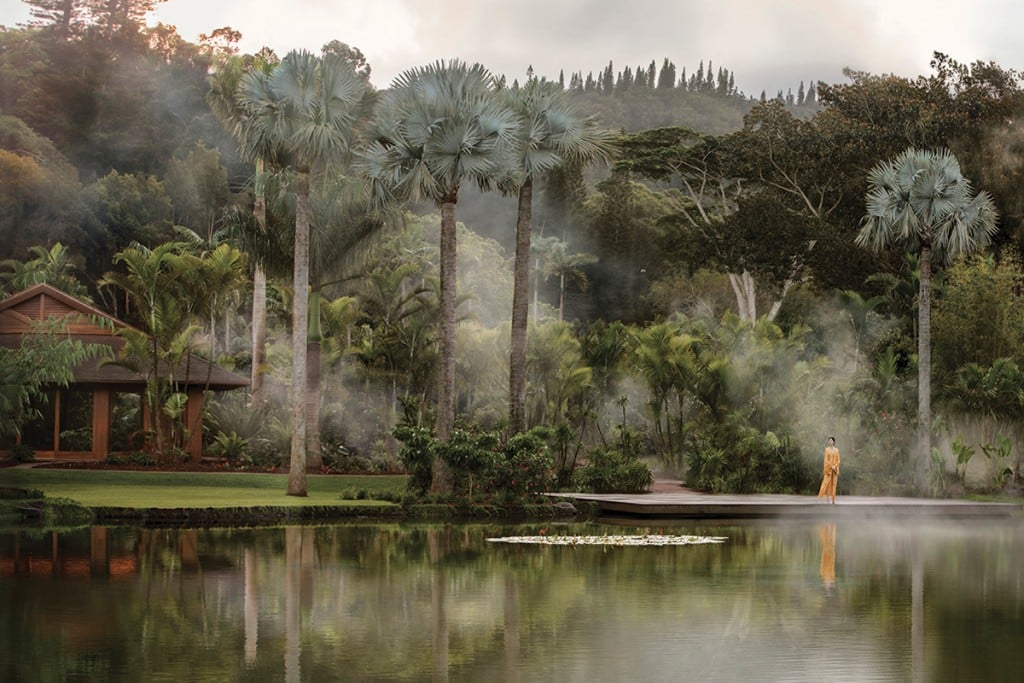 The oyster-shaped Lāna'i may be the smallest inhabited island in Hawai'i, spanning 17 miles long and 13 miles wide with just over 3,000 residents. But its natural beauty is mesmerizingly diverse, from rugged coastlines to mountain gulches shrouded in fog. Unlike nearby Maui—just 9 miles away—Lāna'i is quiet, secluded, serene. And it's also home to one of the most exclusive and innovative wellness resorts in Hawai'i, nestled among undulating mountains, expansive valleys and a thick forest of Cook pine trees.
---
READ MORE: The Best Hotels on Maui, According to our Editors
---
Founded by Oracle billionaire Larry Ellison—who also owns 98% of the island—and Dr. David Agus, Sensei Lāna'i, A Four Seasons Resort is a unique, adults-only wellness retreat that uses science and technology to empower its guests to live healthier, more meaningful lives. Unlike most luxury resorts in Hawai'i, this one isn't sprawled on a golden beach or boasts the latest trends in vacay experiences. No yoga classes with baby goats or cage-free dives with toothy sharks. Instead, the resort focuses on simple, intentional practices like hiking along nearby Koloiki Ridge or recharging in one of the resort's 1,000-square-foot spa hale (home) outfitted with infrared saunas, steam showers, ofuro baths, outdoor rain showers and soaking tubs. You can book horseback riding into the hills surrounding Kō'ele, clay shooting in the wooded uplands, forest bathing in the resort's lush gardens, or snorkeling in the pristine waters around Lāna'i. The resort offers yoga and meditation, customized one-on-one sessions with nutritionists and fitness experts and a lot of quiet time for you to read a book on your lānai (porch), sip coffee in the outdoor sculpture garden or lounge on the white sands of Hulopo'e Beach.
"Everything we create here for our guests embodies the Sensei Way, which distills preventive health
science, data and research into three simple paths for everyday living—move, nourish and rest," explains Meaghan Carlson, senior director of brand and marketing. "Movement is how we interact with our environment, nourishment is what fuels us, and rest is how we recover and grow."
More than two years into the pandemic, with people juggling COVID fatigue, work stress and an insatiable desire to get out and travel—Sensei Lāna'i is exactly the escape and experience travelers are looking for right now. Need a mental reset? Want to drop that COVID-19 (pounds)? Still uncomfortable in crowded spaces? Desperate to get away from your kids? This resort covers all of that—and even provides the private plane and transportation to get you there.
"Sensei's approach to wellbeing as a whole is what differentiates us from other wellness resorts," Carlson says. "We're not looking at the latest trends or fads but rather focused on science and using technology to empower guests to learn how to truly read and understand their health data to better serve them in the future."
Rates start at $1200 per night with a two-night minimum.
This story was originally published in our 2022 Summer issue. Buy a copy here.
[/vc_column_text][/vc_column][/vc_row]