The Best Hotels on Maui, According to our Editors
From luxury resorts to budget-friendly places to stay, here are our editors picks for hotels on Maui.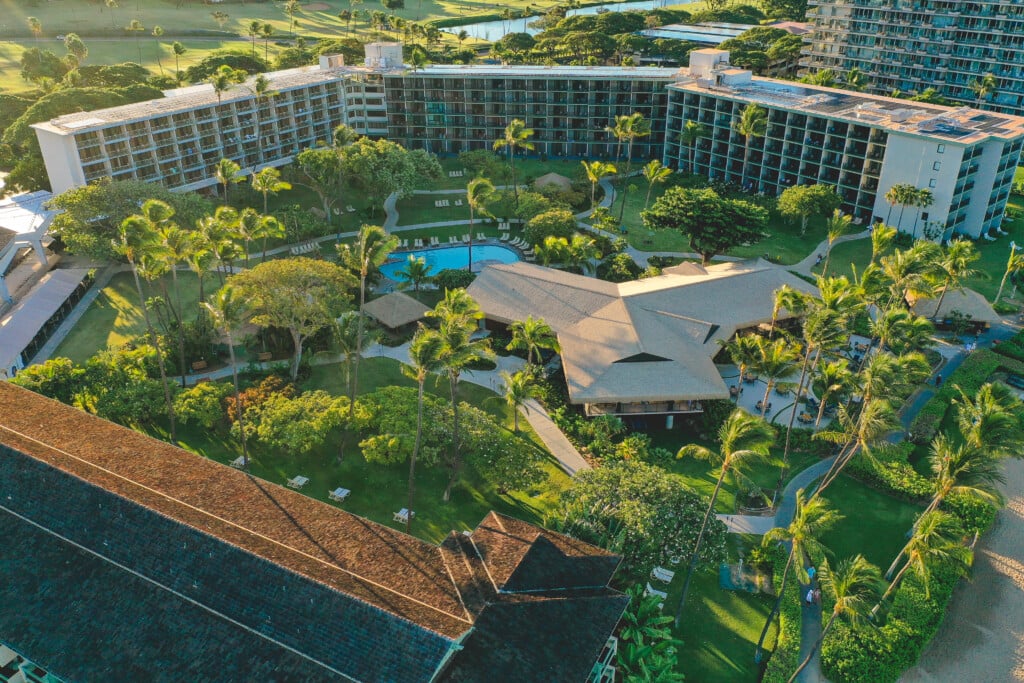 Best for Luxury: Fairmont Kealani, Maui
Best for Relaxation: The Ritz-Carlton Maui, Kapalua
Best for "White Lotus" Fans: Four Seasons Resort Maui at Wailea
Best for Families Who Love Pools: Grand Wailea, A Waldorf Astoria Resort
Best for Beach Lovers: The Westin Maui Resort & Spa
Best for Travelers Who Want To Escape: Hāna-Maui Resort
Best for Romantic Getaways: Hotel Wailea, Relais & Châteaux
Best for Travelers Seeking Authentic Experiences: Kāʻanapali Beach Hotel
Best for Oceanfront Oasis: Wailea Beach Resort
BEST FOR LUXURY
Fairmont Kealani, Maui
The Fairmont Kea Lani villas. Photo: Courtesy of Fairmont Kea Lani.
Sitting on the golden shores of Wailea, the opulent Fairmont Kea Lani, Maui has long lured guests seeking a secluded island escape. The oceanfront resort is the only one of its kind in Hawaiʻi, exclusively offering spacious suites and elegant two-story villas. While Fairmont Kea Lani has been dazzling guests for decades, the resort recently underwent a remarkable renovation that will help visitors feel even more restored and connected to the history of the area. The refreshed décor and color palette bring the warm Wailea beaches and tranquil sea into every room while interior details also pay homage to the stories of the ʻahupuaʻa (land devision). Every suite features a private lānai, massive bathroom with a walk-in stone shower and a luxurious soaking tub that guests will find hard to leave. And Fairmont Kea Lani's signature eatery, Kō Restaurant, continues to raise the bar by sharing creative dishes inspired by the Islands' unique multicultural cuisine.
BEST FOR RELAXATION
The Ritz-Carlton Maui, Kapalua
Situated along the Kapalua coast, The Ritz-Carlton Maui, Kapalua is a serene enclave just a few miles west from the hub of resorts in Kāʻanapali and Lahaina's bustling Front Street. It's an oasis for travelers searching for a luxurious and tranquil home-away-from-home. Here, guests can unwind on the in-water lounges at the sprawling 10,000 square-foot pool or book a recovery massage at the spa. Guests also have access to a myriad of adventures in the surrounding area. You can take a guided tour of the Kapalua coast through Jean-Michel Cousteau's Ambassadors of the Environment program or play a round or two at the resort's two 18-hole championship golf courses. To enjoy the resort's coveted new jewel, guests will need to upgrade their stay. The Ritz-Carlton Club Lounge at the Ānuenue Room is an exclusive space featuring expansive indoor and outdoor areas, a dedicated concierge, and delicious grazing spreads that are presented throughout the day.
BEST FOR "WHITE LOTUS" FANS
Four Seasons Resort Maui at Wailea
The Four Seasons Resort Maui at Wailea is a regal fixture on the island's southern coasts. Overlooking Wailea Beach, the resort was built in a U-shape design to ensure most of its five-star rooms have ocean views. And every unit has a private outdoor space for guests to soak in the stunning views of the Pacific or the majesty of Haleakalā. Here, it's easy to let the day slip away by the resort's three pools. The adults-only Serenity Pool is an editor favorite. With an infinity design, the pool is a dreamy spot to watch the sun set over the island. While the resort has been a visitor favorite for decades, it's now a risen to TV stardom thanks to HBO's popular television series, "The White Lotus." The Four Seasons Resort Maui at Wailea was the setting of season one.
BEST FOR FAMILIES WHO LOVE POOLS
Grand Wailea, A Waldorf Astoria Resort
The Grand Wailea, A Waldorf Astoria Resort is an iconic institution on the Valley Isle. Local and visiting families dream of their next stay at the resort. Perched along Wailea Beach, the Grand Wailea is surrounded by lush, tropical gardens and breathtaking views. But guests are drawn to the Grand Wailea for its exquisite array of amenities—and for every age. The aquatic playground is sprawled out over 25,700 square feet, with nine pools, a river and a series of thrilling waterslides. When you need to get away from the action, adults can escape to a serene pool for those 18 years of age and older. In the evening, head to the resort's oceanfront restaurant, Humuhumunukuāpuaʻa. The restaurant is set above a lagoon making for a dramatic dining experience.
BEST FOR BEACH LOVERS
The Westin Maui Resort & Spa, Kāʻanapali

Known for its exemplary beachfront location, exuberant pools and warm staff, Maui visitors return to The Westin Maui Resort & Spa, Kāʻanapali time and time again. And it's no surprise. Sitting on the sunny shores of Kāʻanapali Beach, guests are steps away from one of the island's most popular shorelines. However, there's plenty to relish and do on property. Six stunning pools overlook the beach, including a serene adults-only pool deck with an infinity pool and hot tub. Families can visit the new interactive splash zone and hit the epic 270-foot water slide. And to further enhance the luxurious experience, guests can book a stay in the Hōkūpaʻa Tower. Guests in the tower have access to The Lānai, an exclusive lounge featuring panoramic views of Kāʻanapali, a private bar, infinity edge pool and private cultural experiences such as lei and ʻukulele lessons.
BEST FOR TRAVELERS WHO WANT TO ESCAPE
Hāna-Maui Resort
Hāna-Maui Resort is the ultimate respite. Sixty-four miles of serpentine road separates Hāna-Maui Resort from the rest of the Valley Isle. Nestled in the bucolic and charming town of Hāna on Maui's east side, the luxury boutique hotel immerses guests in the island's enchanting nature. Hāna-Maui Resort sprawls over 66 verdant acres with 75 rooms and suites, each with their own private lānai. Located in the heart of Hāna, the resort puts guests near epic waterfall hikes and pristine beaches. A hotle shuttle will take guests to beautiful Hāmoa Beach.
BEST FOR ROMANTIC GETAWAYS
Hotel Wailea, Relais & Châteaux

Located on Maui's south shore, Hotel Wailea, Relais & Châteaux is tucked away from many of the other resorts and businesses in the area. It's as luxurious as it is private and is a proud member of Relais & Châteaux, a hotel association of individually owned and operated luxury hotels and restaurants that meet strict admission standards and lean toward luxury. (There are 580 Relais & Châteaux members globally; Hotel Wailea is the only one in the state of Hawai'i). The Relais & Châteaux title is well earned at Hotel Wailea. From the spacious suite decks, with Lāna'i and Moloka'i—as well as Molokini Islet—being in plain view, accommodations also come with plenty of comfy corners and nooks, great for spending an entire afternoon cozied up with your loved one, and the exquisite bathtub has more than enough room for two.
BEST FOR TRAVELERS SEEKING AUTHENTIC EXPERIENCES
Kāʻanapali Beach Hotel
There are so many beautiful locations to stay on Maui, however, staying at a hotel along Kāʻanapali Beach is among the best of the best. Known for its golden sands, clear blue waters and epic sunsets, you can take in all of Kāʻanapali at the Kāʻanapali Beach Hotel, which has been rated among the best of Maui's many hotels in our annual Readers' Choice Awards. Located right on the beach, the Kāʻanapali Beach Hotel is known for its excellence in aloha spirit and genuine hospitality, with guests coming back for return visits hoping to see some of their favorite staffers during their visit. Perpetuating Hawaiian culture and education, this Maui hotel also has a host of activities and programs that visitors can take part in to learn more about the Native Hawaiian culture as well.
BEST FOR AN OCEANFRONT OASIS
Wailea Beach Resort
Wailea Beach Resort's expansive 22-acre property is nestled right on the ocean's edge—the closest proximity to the Pacific of any hotel on Maui. Guests can enjoy expansive views of pristine Hawaiian waters from oceanfront rooms, any of the resort's six saline pools, atop the longest waterslide on Maui, and while dining at on-site eateries like Humble Market Kitchin and the Te Au Moana Lūʻau. Indulge in beachfront spa treatments and wellness classes or opt for an immersive experience through ocean activities like paddling a Hawaiian outrigger canoe, swimming with turtles, exploring tide pools and learning how to scuba dive.
New oceanfront offerings include ground-floor hotel suites in the Sundeck Collection that have a 150-square-foot lānai for outdoor living and easy beach access, a sunset barbecue dinner buffet with lawn games and live entertainment, and the Olakino pool experience. The latter is an adults-only sanctuary with stunning views of the south Maui coastline and a curated itinerary filled with locally sourced fare, wellness workshops like sound baths or yoga, and poolside spa treatments—an indulgent affair that single-handedly makes this resort worth a visit.
---
Every experience is independently chosen by our editors. Bookings through our links may earn us a commission.