Shop for Irresistibly Cute and Locally Made Goods at Lamonts in Kāʻanapali, Maui
You'll find stylish beach essentials, adorable apparel and tasty snacks at this boutique in the Sheraton Maui Resort & Spa.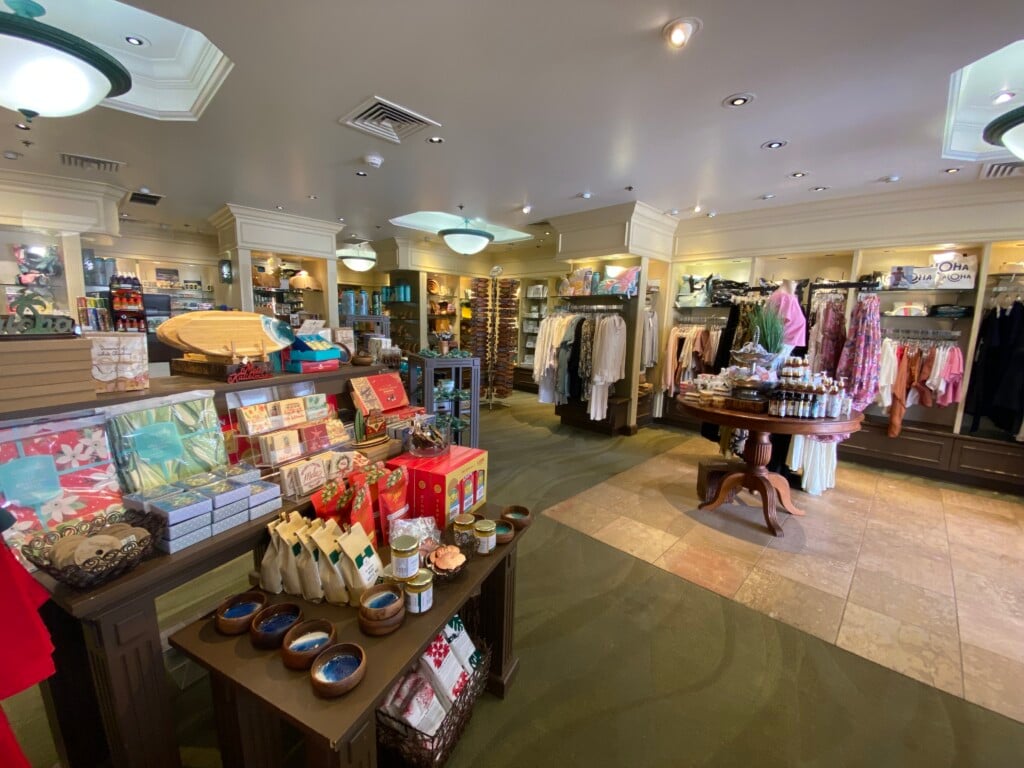 From colorful waterproof totes to quick-drying towels emblazoned with bold patterns, beachgoers don't have to trade style for function at Lamonts. The boutique, in the lobby of the Sheraton Maui Resort & Spa, carries fashion-forward brands—many of them locally owned—so you'll not only be prepared, but also well-dressed, for the beach. It's also a wonderful place to stock up on tasty snacks.
Conveniently situated just steps from the golden shores of Kāʻanapali Beach, Lamonts is a perfect pit-stop for people staying at the Sheraton Maui Resort & Spa or other nearby resorts, or anyone just headed to the beach on Maui's west side, says Jamie Tokunaga, a spokesperson for the brand.
At the charming store, shoppers will find a superb selection of items by local brands. "We've got locally made gifts for everyone in the ʻohana. We have great partnerships with many local makers and artisans [so] we are able to offer a large selection of unique Hawaiʻi-made, high-quality products," Tokunaga says. "Our staff also loves welcoming visitors and sharing aloha with them."
Shoppers can browse the newest additions to Aloha Collection's line of popular travel totes and beach bags. According to Tokunaga, the bags are bestselling items at the boutique, which is no surprise. The popular Island-inspired accessories are a fashion staple across Hawaiʻi: Just spend an hour on the beach and you're sure to spot these waterproof bags hanging from a couple of shoulders.
More beach essentials at Lamonts include towels by Tag Aloha, a lifestyle brand started in Kailua on Oʻahu's Windward Side. From prints of kalo (taro), a revered plant in Hawaiian culture, to a tribute to the wāhine (women) surfers of Waikīkī, the towel patterns celebrate the spirit of Hawaiʻi. Another reason you'll want one of these adorable towels: They feature a waffle-weave texture that's fast absorbing and quick drying.
Trendsetters will also be thrilled to find the boutique also carries chic resort wear for men and women with popular labels like Tori Richards and up-and-coming brands like Billy Aloha. Shop at Lamonts and you'll not only support local creators but leave Hawai'i with a suitcase full of stylish clothes you'll be sporting long after your trip.
And Lamonts is a one-stop-shop. Along with apparel and accessories, shoppers can snag delicious local snacks to enjoy on the beach or by the pool. "We have a lot of Hawaiʻi-made products to choose from, as we pride ourselves on supporting local," Tokunaga says. Here, you can grab a bag of Mauna Loa Macadamia Nuts to graze on throughout the day. Pro tip: If you plan on being in the sun, pick the seasoned macadamia nuts opposed to nuts with a chocolate coating. Dusted in a sweet and savory powder, the Maui onion and garlic flavor is a favorite—and you won't have to worry about a melted chocolate mess. But if you have a sweet tooth to satisfy, you can score Cook Kwee's Maui Cookies, a beloved Valley Isle specialty. The shortbread cookies are crispy light and come in a variety of flavors, including chocolate chip, coconut macadamia nut and coffee macadamia nut.
While you'll certainly want to buy an item—or two—for yourself at Lamonts, it's especially easy to find one-of-a-kind gifts here for family and friends. "We have a lot of repeat customers who shop with us every time they visit Maui, as they tell us they can always count on finding unique Hawaiʻi-made gifts at Lamonts," Tokunaga says. "We offer gifts that you can only find at Lamonts, such as our exclusive Spirit Jerseys or custom Adventure Hawaiʻi water bottles and flasks that all have fun designs with a touch of Hawaiʻi." Tokunaga adds popular items include Maui Fruit Jewels, Bubble Shack candles and Kula Herbs Excellent Soaps. And those chocolate-covered macadamia nuts that aren't so great for the beach will make a fantastic present. If you're shopping for a foodie or someone who loves to cook, be sure to also check out the jars of decadent honey by Big Island Bees and small batch hot sauce by Adoboloco.
Lamonts is in the Sheraton Maui Resort & Spa, 2605 Kāʻanapali Parkway, Lahaina.