Shop With Aloha: Hawaiian Quilt Collection
This historic quilting company is giving back to the community by sharing its iconic patterns and designs for everyone to enjoy.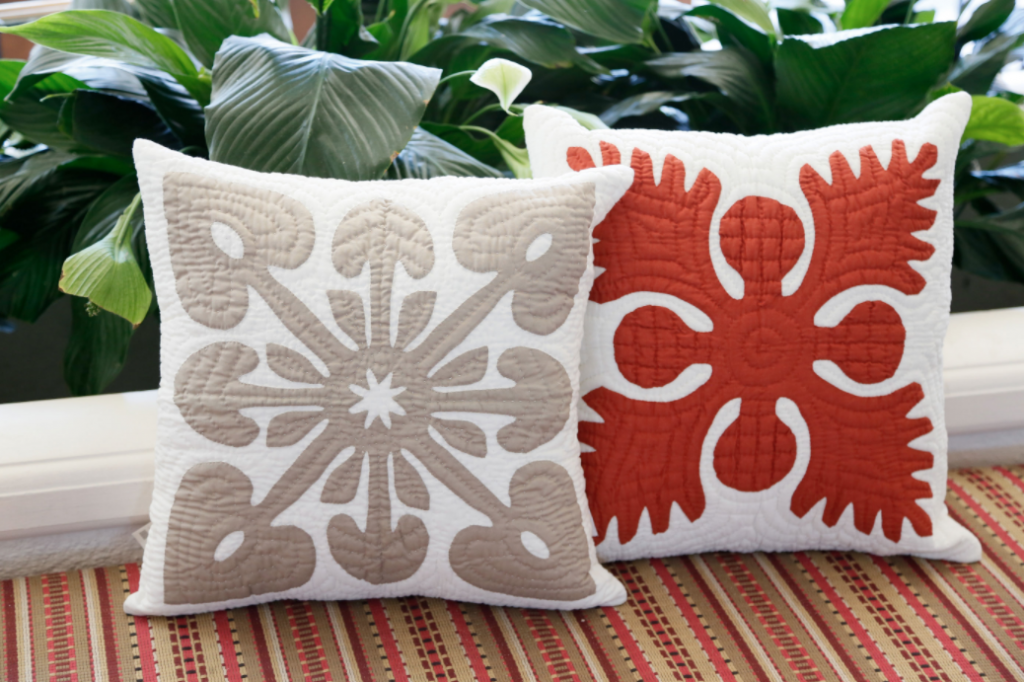 For 33 years, Hawaiian Quilt Collection has been a mainstay in Hawaiian quilting. Started by Michael John Gillan, who was raised in the beachside community of Kailua, the simple yet iconic patterns and prints featured on Hawaiian Quilt Collection's pillows, bags and—of course—quilts have become household items among many residents and visitors. And the company is giving back to its passionate quilt-loving ʻohana in more ways than one during this COVID-19 pandemic.
SEE MORE: How the Exquisite Work of Poakalani & Co  is Continuing the Tradition of Hawaiian Quilting
It all started with a simple idea. Hawaiian Quilt Collection offered free Hawaiian quilting kits to interested households, and shipped them domestically and internationally at no cost. These kits included the fabric and patterns for cushion covers, eyeglass cases, potholders and other accessories that you could stitch gorgeous Hawaiian Quilt Collection designs to.
"We wanted to give back to the community, by keeping people occupied with a fun activity," says Gillan, who still serves as the company's president. "All we asked for in return was that people spread their love and aloha to 'ohana and friends, while doing their part to fight the spread of coronavirus by simply staying at home."
The giveaway was such a success, however, that the company depleted its stock of over 100 kits in a single day. To help keep everyone's hands busy, Hawaiian Quilt Collection has since decided to offer 10 16-by-16-inch pillow cover designs digitally. Under the free patterns section of its website users can download a pattern along with a digital instructional pamphlet, which crafters can then print and produce on their own.
The hardest part of this process is deciding which iconic Hawaiiana pattern—pineapple, hibiscus, torch ginger and more—to start on.
Hawaiian Quilt Collection's online store is also coming into play on the business's retail end. Like many local businesses, Hawaiian Quilt Collection has had to close all four of its retail locations, three on Oʻahu and one on Hawaiʻi Island. Fortunately, you can still purchase many of its smaller handcrafted quilted accessories online, such as beach bags, kitchen mitts, potholders, pillow covers and coin purses.
Quilts are still being sold; check you'll have to check with Hawaiian Quilt Collection to see what's available. Those looking for a timeless family heirloom will want to place an order for a custom quilt; prices for those are based on size and start at $2,070.
For more information, visit Hawaiian Quilt Collection's website or call 800-367-9987.