Shopping with Intention
From our day-to-day purchases to special occasion gifts to splurges for ourselves and others, it's easy to shop with intent, even right here at home.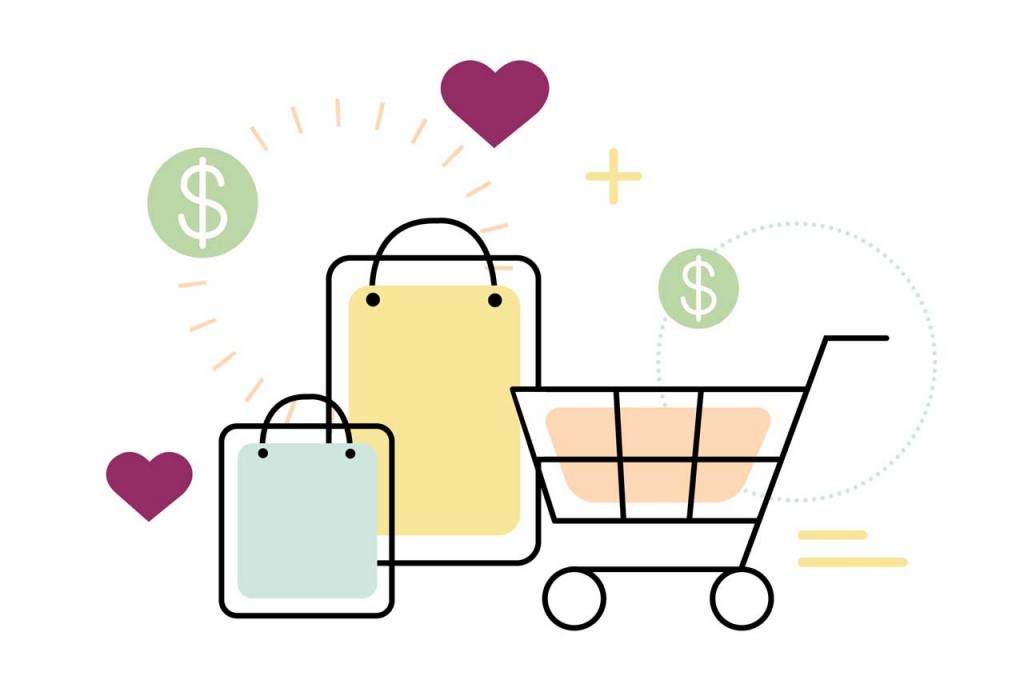 Oprah taught us well. We live our best lives. We make intentional decisions. We capture our moments of gratitude. In this hurry-up, plugged-in, 24/7 world, we take time to slow down and appreciate what's good.
Do we also remember to do it when we decide where we spend our consumer dollars? Companies such as Ben & Jerry's make it easy to think about the seller's beliefs and priorities when parting with our hard-earned dollars, making that scoop of Cherry Garcia all the better.
From our day-to-day purchases to special occasion gifts to splurges for ourselves and others, it's easy to shop with intent, even right here at home. Here are a few of our favorite ways, but there are many more. Savvy shoppers look for the best deals and know where their dollars go before plunking down their cash.
Foodland has made taking care of Hawaii part of its mission since its founding in 1948. Whether it's sponsoring the Hawaii Food & Wine Festival or Easter lilies for Easter Seals or the Foodland Community Fund, the local supermarket reinvests hundreds of thousands of dollars annually back into the communities it serves.
Eden In Love believes that retail can change the world. In its Honolulu and Las Vegas boutiques, the retailer partners with shoppers, offering deep discounts when people donate to various causes. Just this year, the company has raised money for the Red Cross to help victims of the Marco Polo high-rise fire in Honolulu and Hurricane Harvey in Texas, and it continues to support a Sri Lanka village with water, food, education and an entrepreneurial program it initiated.
Chef Chai's might be best known for its understated, elegant restaurant on Kapiolani or Chai's job as head chef at Hawaiian Airlines, but his passion is more personal. "It's sad we live in one of the best countries in the world, yet so many are still homeless and hungry," the local celebrity chef says. Several times a year, Chai teams up with the Hawaii Foodbank and the Institute for Human Services to serve up fresh, healthy meals to those in need.
Lex Brodie's isn't all about tires and cars. It's about the community too. Through its foundation, the Above & Beyond Award recognizes the work of remarkable men and women in uniform, while their "Thank you…very much" award is presented monthly to the fourth-through 12th-grader who writes the winning appreciation letter regarding someone in their life. The company also sponsors the Earn & Learn Recycling program, matching funds of Oahu schools that raise money recycling.
Lanikai Bath & Body's founders put their money behind their beliefs, giving between 8 and 10 percent of their profits to local charities and needs annually. "We just gave Habilitat a supply of poi dog shampoo" so that residents can care for the dogs that live on the property, co-owner Brook Gramman says. They also support local school auctions, Project Grads and fundraisers, as well as the Domestic Violence Action Center's teen program.
Enterprise Holdings, the parent of rental car companies Enterprise, Alamo and National, matches 50 cents of every dollar that employees raise for local causes, putting money back into the communities where it does business.
Atlas Insurance knows how important it is to take care of what matters most. "Hawaii isn't just where we do business; it's our home," says president Myles Murakami. Supporting causes that impact friends and neighbors is part of the company's mission; it fields teams in walks, runs and other events every year and gives generously to organizations that support keiki and communities in need.
CDF Engineering on Maui embodies the notion of a small company with a big heart and big vision. While most small companies might focus on increased earnings year after year, CDF puts its resources towards The Nature Conservancy's Palmyra Atoll research project, creating a much-needed runway so researchers can fly into the area rather than take the five-day boat trip from Honolulu. Engineers thinking outside the box, making the community better: Now that's what we're talking about.
St. John Knits and Alex and ANI aren't just two high-end boutiques at Ala Moana. They're companies passionate about the scourge of domestic violence in our communities and they've teamed up with the Domestic Violence Action Center to share profits. The stores host the event and serve refreshments, and customers shop freely, knowing that the money they spend will help families in crisis.
Bob's Pizza in Kailua is the pizza joint you remember from your childhood. Besides serving up the best pies in town, it also spins dough and spreads sauce all across town: pizzas for the Kailua High School football team, the Lanikai Elementary School fundraiser and St. Anthony's annual Halloween event. Oh, and no pie goes to waste. All those left unsold at closing are delivered hot to Kailua's firefighters and police officers.