Sip and Stroll: Maui Tea Farm's New Tours
Touch, pick and taste camellia sinensis grown on the slopes of a dormant volcano on the Valley Isle.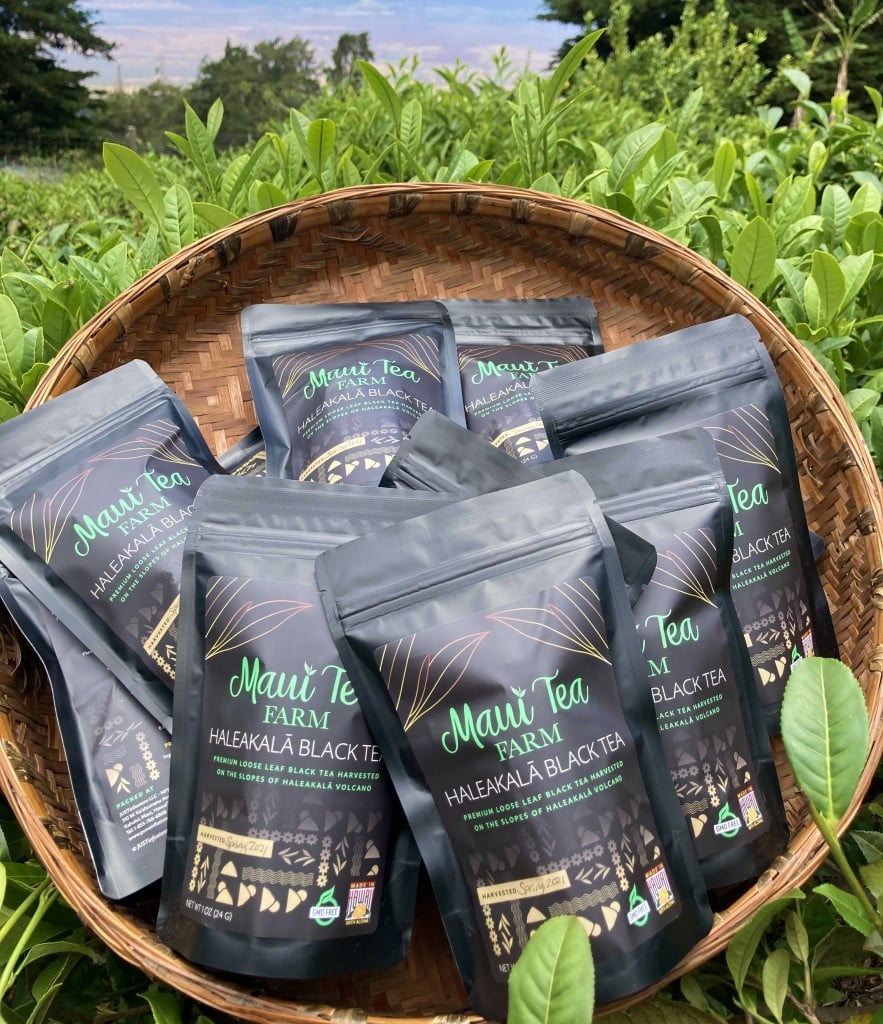 Just a handful of farms grow the camellia sinensis plants in Hawai'i, most taking to the cooler temperatures and climate in the mountains of the Big Island and Maui. Maui Tea Farm started with seedlings in 2013 and just recently expanded to a 14-acre farm on the road to Haleakalā National Park. The new location gave owners Alex and Andrea de Roode the space to start their own tea tours, which launched this summer, giving visitors a glimpse into the unique topography that lends its flavors to their locally produced, organically grown brews.
There are two options: The shorter Meet the Tea tour and the longer Tea Lovers tour which includes a tasting of five of the couple's teas. You're likely to find Alex or Andrea themselves leading the small groups and adding their own perspectives to the chat; Alex has a background in sustainable agriculture and renewable energy while Andrea is a registered dietitian nutritionist. (Andrea's day job is at Maui Memorial Medical Center where, she says, people often stop to ask if she is the person they see smiling and picking tea on social media.)
For the hourlong Meet the Tea tour, you'll start in the gazebo for introductions and to admire the view from 4,500 feet above sea level. Then, you'll walk down grass and dirt paths to the garden to see, touch and even pick the camellia sinensis, the plant which is processed into white, green or black tea. (Drinks made by steeping other dried plants, spices and fruit are technically called tisanes.) Along the way, visitors will also learn about the other botanicals growing there including māmaki—which is also cultivated for the farm's caffeine-free māmaki drink—olives, peaches, coffee and the native ʻōhiʻa lehua blossoms. You'll return to sample two of the de Roodes' teas including their small-batch Haleakalā Black, which is 100% grown and harvested by hand at Maui Tea Farm.
The two-hour Tea Lovers Tour is similar but includes a stroll through various tea fields to see multiple varietals, along with sweeping views of the West Maui Mountains and Mā'alaea Harbor. You'll learn more about the cultivation of the tea, the differences between green and black types, conservation and sustainable farming practices. The half-mile walk ends with an opportunity to sample five of the couple's Maui Tea Farm and PonoInfusion teas along with snacks from local bakers at the farm's shaded picnic and bistro tables. Capped at four to five people in each small group, the more in-depth tour is best for adults who can walk unassisted on uneven ground for almost an hour, versus the more family-friendly Meet the Tea Tour.
And the de Roodes are just getting started. A new store and Maui Tea Farm food truck, which will serve coffee and tea along with sandwiches and baked treats, are in the works. Both are scheduled to open by early 2022.
Here's What You Need To Know
Where to go: Maui Tea Farm is at 18303 Haleakalā Highway in Kula. If using a maps app, Andrea suggests using cross checking with two different systems—Mapquest and Google maps, for example—so you don't end up at the entry to Haleakalā National Park. It has happened. It is 40 minutes from Kahului airport, 20 minutes from Makawao, and about an hour and 20 minutes from Kāʻanapali, if there is no traffic.
Look for the Skyline Eco Adventures Zipline sign. Both businesses share a parking lot and Maui Tea Farm is still working on updating its sign.
What to bring: Boots or shoes for unpaved dirt paths. A light jacket. Andrea says the temperature varies from 65 to 85 degrees during the summer. In the winter, it can dip down in the 50s.
When: Meet the Tea Tours are at 10 a.m. most days. Tea Lovers Tours are Saturdays at noon.
Price: $25 for Meet the Tea Tour, with a maximum of 10 people per group. $80 for the Tea Lovers Tour, with a maximum of 4 to 5 people per group. Kamaʻāina rates are available periodically. Watch @mauiteafarm on Instagram for promotions.
For reservations: mauiteafarm.com or call (855) 766-6808. Refunds for cancellations will only be issued for notifications 24 hours prior.