Sip Cocktails at Sunset with a View of Waikiki
The new Majestic Sunset Cocktail Cruise by Atlantis Cruises is all about the cocktails.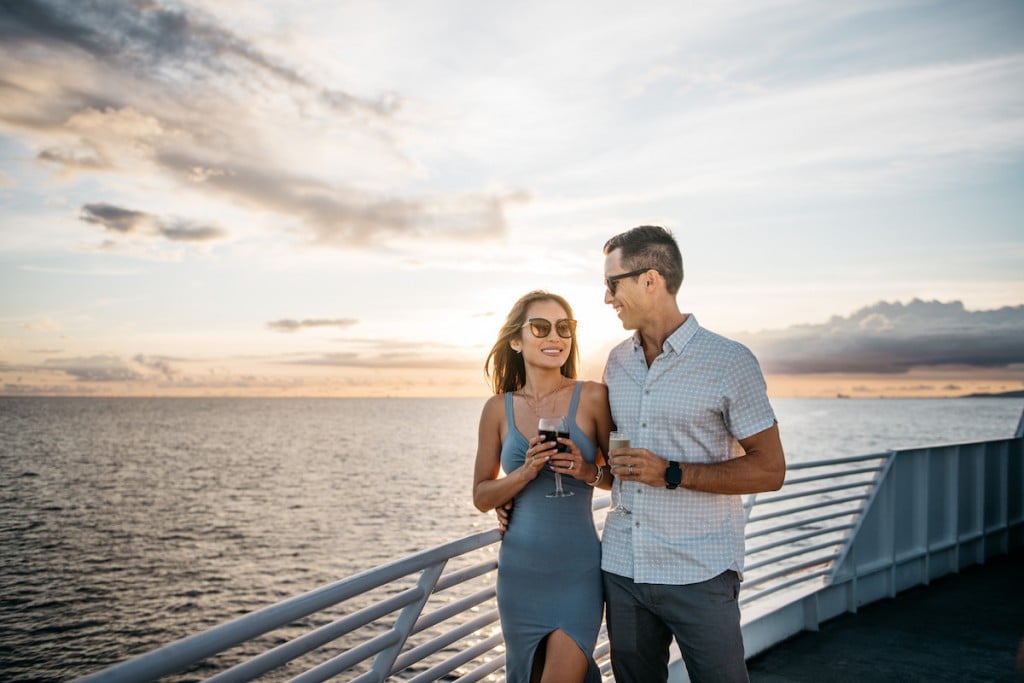 You want to escape the hustle and bustle of the holiday season, celebrate a special occasion with a group of friends or have a date with that special someone. But you don't want a pricey all-day excursion.
A sunset cocktail cruise on the Majestic by Atlantis Cruises may be a solution. At just $89 per person, it offers a way to escape or celebrate a special occasion without the hefty price tag. During the cruise, guests are treated to scenic views of Waikiki, Leahi (aka Diamond Head) and Oahu's South Shore while enjoying appetizers, drinks and live music. This particular cruise, from the second level of the Majestic, is approximately two hours long.
The Majestic Sunset Cocktail Cruise officially launched in early October with a focus on cocktails (it was formerly known as the appetizer cruise). The Majestic is the only cruise vessel in Hawaii that has a full-service bar and lounge experience with open seating. The cruise includes a hosted beverage package with house beer, wine, Champagne, select cocktails, coffee, juice, tea and soft drinks.
As soon as you set foot on the Majestic, you'll be given a complimentary welcome drink. Right before sunset, sit back, relax and enjoy the live music as the ship departs from Pier 6 at Aloha Tower near Downtown Honolulu. The indoor second deck has the full-service bar, comfy couches, tables and lounge seating. If you sit at a table, you can order your drinks from a server or just go directly to the bar.
Whether you opt for a Mai Tai or Blue Hawaii, you're in for a treat. Watch the skilled mixologists create specialty cocktails right before your eyes. Definitely ask them about the featured daily cocktail special. This sunset cruise doesn't include dinner (that's a separate package), but there are appetizers on board for guests to enjoy. These tasty pupu include teriyaki meatballs, chicken satay with Thai peanut sauce, andouille sausage with onions and peppers, fruit and edamame with garlic and chili. The appetizer station is conveniently located close to the bar.
At sunset, I recommend going outdoors to the top deck to enjoy the stunning scenic views. Around 6:30 p.m., the cruise reaches its halfway point and the ship turns to head back to Honolulu Harbor. During the remainder of the cruise, you can continue to enjoy your drinks, along with hula performances by onboard musicians and entertainers.
The Sunset Cocktail Cruise costs $89 per adult and $44.50 for children ages 3-12 (ages 2 and under are free). Check-in is at Aloha Tower Marketplace, and parking validation is available. For more information or to book a reservation, click here.