SLIDESHOW: Relaxed and beachy Kailua, Oahu. A great Hawaii small town.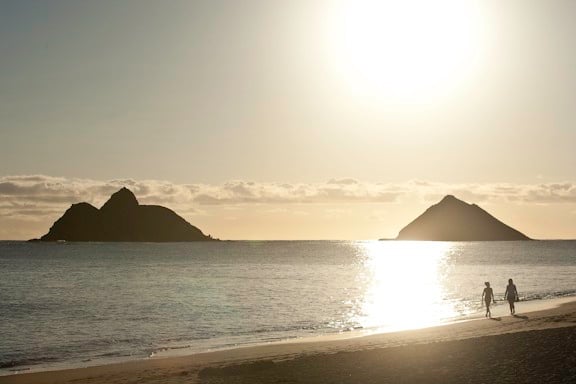 In the May/June 2010 issue of HAWAII Magazine, we take you with us on a visit to the beaches, offshore islands, cultural sites, scenery and overall outdoor nirvana of the Windward Oahu town of Kailua.
Recently, editor John Heckathorn and photographer David Croxford ducked away from the rest of us at HAWAII Magazine's downtown Honolulu offices to spend a couple of days on the other side of Oahu's Koolau Mountains. Take the Pali Highway from downtown through green and lush Nuuanu Valley and the twin Pali Tunnels that cut through the Koolau and you'll find many a city dweller's nearby escape from the urbanity of Honolulu—relaxed and beachy Kailua town.
Writes Heckathorn, one of those city dwellers:
Kailua is a genuine small town, friendly, relaxed and beachy. It may also be one of the most beautiful towns in Hawaii. On one side, it's sheltered by the dramatic green cliffs of the Koolau Mountains. On the other, islands dot the clean, clear offshore waters.
There is nothing better than walking on Kailua Beach in the morning, the sky lighting up the "Mokes," the twin Mokulua Islands dotting the bay. Kailua Beach stretches for 2.5 miles, a bright, white coral sand crescent that reaches from near the tip of Kailua Bay (where President Barack Obama spends his Christmas vacations) to Lanikai, where movie stars' homes now line the beach.
You can read the rest of Heckathorn's musings on Kailua in his HAWAII Magazine cover feature Relaxed and Beachy – Kailua, Oahu. You'll find the May/June 2010 issue in bookstores and on newsstands nationwide now, or in your mailbox if you're a subscriber.
Not a HAWAII Magazine subscriber yet? Click here for a low annual subscription rate on our print edition, or click here to subscribe to our digital edition.
For now, check out our slideshow tour below, featuring even more of David Croxford's Kailua photos, which we couldn't fit into the magazine. (David always takes too many photos, wherever he goes. We NEVER discourage him.)
(Click on slideshow frame to enlarge photos.)