Small Farmers, Big Stories: Heart of palm farmers Wailea Ag
The nation's largest heart of palm producer is 14 miles north of Hilo on Hawaii Island.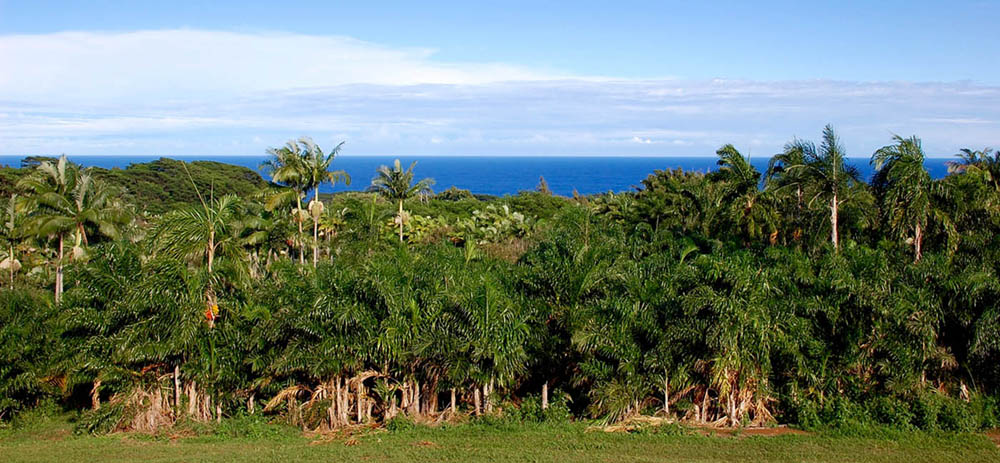 The nation's largest heart of palm producer is 14 miles north of Hilo on the Big Island. Wailea Agricultural Group has 50 acres of peach palms under cultivation and produces 30 tons of fresh heart of palm annually.
Michael Crowell and Lesley Hill started Wailea Ag in 1994, beginning with tropical fruits and flowers. These days, they grow specialty citrus like limequats and yuzu, plus durian, longan, rambutan, lychee and mangosteen. But the heart of their operations is the heart of palm.
True to its name, heart of palm comes from the multiple-stemmed peach palm, Bactris gasipaes. The "heart" is the tender, growing tip or crown of the palm nestled in the inner core of the plant, and delivers a crisp, slightly sweet and nutty taste that lends itself to both raw and cooked preparations.
Wailea Ag has 100,000 clumps of peach palms under cultivation with each sprawling about six feet in diameter. "We let all the keiki (baby suckers) grow from each clump and harvesting is done by hand using machetes," says Crowell. It takes nine months for a sucker to produce a harvestable heart. When the heart is harvested, new keiki grow and the cycle begins again.
The couple started their palm crop on the windward slopes of Mauna Kea using 25,000 seeds. Situated between a 250- and 500-foot elevation, Wailea Ag averages 120 inches of rain annually.
"The main thing with growing heart of palm is to have deep, well-drained soil," says Hill, who along with Crowell, attended the University of Hawaii at Hilo's College of Agriculture. "Stewardship of the land is one of our most important goals, so we engage in soil conservation practices."
With rows of palm following the contour of the land, Wailea Ag employs grass waterways to remove excess rainfall without soil erosion and practices alley cropping. "We mow and blow into our beds to build up mulch and organic matter," says Crowell. "Palm fronds and sheaths removed during product processing are placed in the alleys and mowed to go around the plants." Wailea Ag only waters palms when planting seedlings.
While Wailea Ag's heart of palm is sold at a couple Big Isle farmers markets, the farm's main customers are high-end restaurants in Hawaii and the Mainland, such as Gerard's on Maui and Alan Wong's on Oahu. In 2016, the Hawaii Food Manufacturers Association recognized Wailea Ag for their products and innovation with a Taste Award in Hawaiian agriculture.
Wailea Ag continues to experiment with new crops, such as finger limes, the inside of the fruit resembling a citrus caviar. The couple plans to keep expanding: "We will be planting another 20 acres of palms and more citrus," says Hill, "and we're always looking to grow new things."