Smile! You're on Kilauea Camera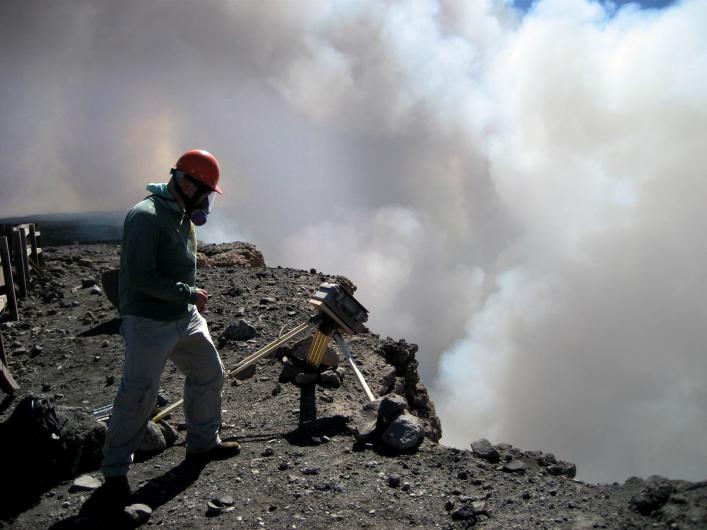 Ever wonder how scientists at Hawaiian Volcano Observatory set up the cameras that peer into the active lava vents at Kilauea?
Apparently, they just walk right up to the edge and put 'em there!
In the first photo here, taken yesterday, an HVO geologist checks up on a time-lapse camera peering down into the Halemaumau crater steam and ash vent. (Click to enlarge.)
Does this mean we'll be seeing some Halemaumau time-lapse footage soon? Hope so. Click here for a photo from the vent camera.
Brave souls, these geologists. The one pictured here is standing at the former Halemaumau visitor overlook spot where rocks as large as a medium-sized refrigerator landed after being ejected from the vent two weeks ago!
In a post yesterday, I mentioned the Pu'u O'o lava tubes currently feeding Kilauea flows entering the ocean. Check out the second photo here. Fumes rise from those lava tubes as the flow courses under old lava, through the former Royal Gardens subdivision. (Click to enlarge.)
The Puna coastline is just a few miles away. See the house on the edge of the hardened flow?
The public viewing area near the shoreline is still open daily. You'll find directions and day and evening hours here, and a photo of the oceanside visitor overlook here. (Hint: It's in the center of the photo.)
Check out the view from the Pu'u O'o Web cam here.
We're certain a geologist risked life and limb to put it where it is, too.