Smithsonian to feature Hawaiian culture at annual Folklife Festival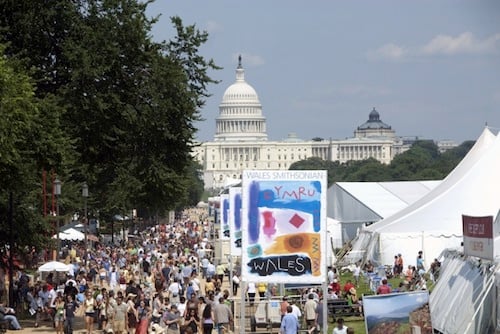 This summer, the language, dance, and music of Hawaii joins the lineup of international cultural events, demonstrations and displays at the annual Smithsonian Folklife Festival, happening June 26-30 and July 3-7 in Washington D.C.
Founded in 1967, the two-week exhibition celebrates the world's multitude of living cultures and their rich heritages. Each summer, the fest welcomes a myriad of international performers, artisans, cultural practitioners and educators to participate in a range of events and demonstrations. Hosted by the Smithsonian Center for Folklife and Cultural Heritage, the event attracts more than a million visitors annually.
Hawaiian culture will be a part of the 2013 Folklife Festival's One World, Many Voices: Endangered Languages and Cultural Heritage event series. The Hawaii delegation is expected to include kumu hula (hula teachers) and dancers, Hawaiian musicians and singers, a Niihau shell lei maker and a number of Hawaiian language experts. Events will include a Hawaiian chant demonstration following the Festival's opening ceremony (noon, June 26), a Hawaiian music and dance concert (6 p.m., June 27) and music and dance performances on multiple dates throughout the Festival.
For a complete listing of Smithsonian Folklife Festival events click here.


The theme of the One World program focuses on the preservation of endangered languages and their importance to cultural identity. In addition to events planned for the Hawaiian delegation, festival visitors will have the opportunity to observe Wayuunaiki dancers from Columbia, Passamaquoddy basket makers from Maine, musicians from Mexico, Bolivia, and Russia, and more.
The Folklife Festival's Marketplace, situated outdoors on the National Mall between the Smithsonian museums, annually features a variety of traditional arts and crafts, books, and CDs, many of which are otherwise unavailable in the U.S. Food vendors at the Marketplace this year will offer everything from fresh fruit and cold beverages to Hungarian beers and wines, Latino fajitas and, for those looking to sate a soul food craving, traditional homestyle chicken and waffles.
Admission to the Smithsonian Folklife Festival is free.
For more information, visit the Smithsonian Folklife Festival website.