Winter Weather Brings Snow to Hawaiʻi
As gusty wind and heavy rain showers move through the Islands, Mauna Kea on Hawaiʻi Island is blanketed with snow—and not just at the summit. The Mauna Kea Visitor Center is dusted with snow, too.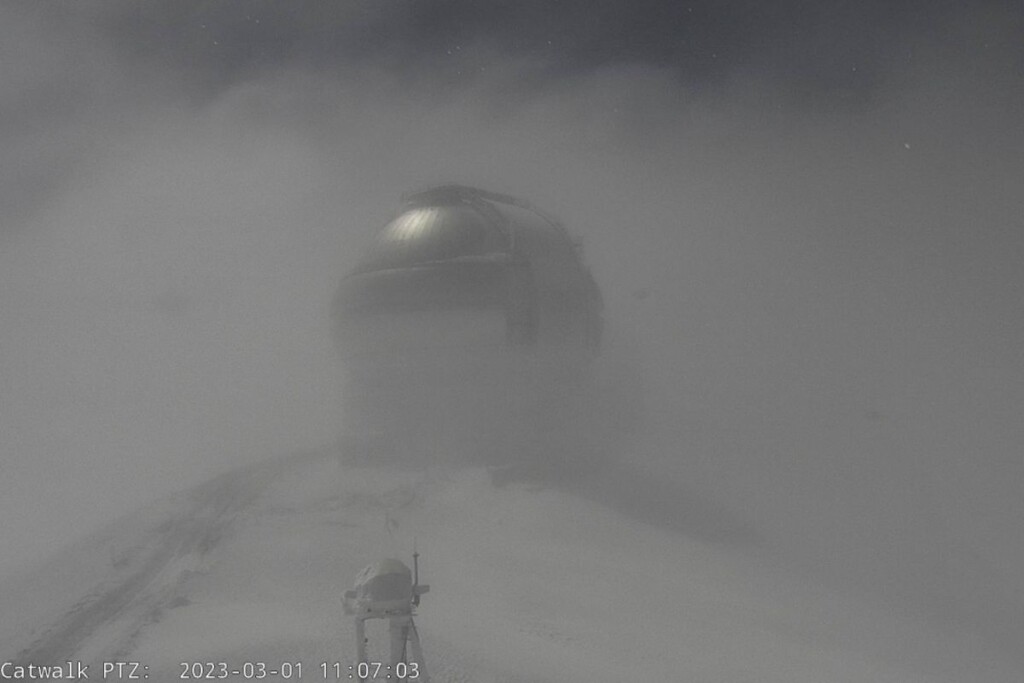 While gusty winds and heavy rain persist across Hawaiʻi, Mauna Kea on Hawaiʻi Island was blanketed with snow. And the summit wasn't the only spot on the volcano to receive dusting.
On Tuesday, Feb. 28, it snowed at the Mauna Kea Visitor Information Center, which sits at an elevation of about 9,200 feet. The volcano reaches 13,803 feet and the road to the summit is currently closed due to winter conditions.
The peak of Mauna Kea on the Big Island is the highest point in the state and the volcano is considered the tallest mountain in the world from its underwater base, surpassing Mount Everest.
It's not uncommon for Mauna Kea, Mauna Loa, both located on the Big Island, and Haleakalā on Maui to see snow at their summits between December and February.
Earlier in February, the Islands experienced heavy rainfall and some areas of the Big Island received more than 10 inches of rain. Both Mauna Kea and Mauna Loa saw several inches of snow at their summits.
The National Weather Service issued a winter weather advisory for the Big Island summits until 6 p.m. on Thursday, March 2. The forecast predicts periods of snow and freezing rain to impact summits above 10,500 feet.