Soak Up Nature with a Forest Bathing Walk in the Hawaiian Rainforest
Oahu-based tour guide Forest Bathing Hawaii offers a version of the Japanese ritual that can help calm and rejuvenate you.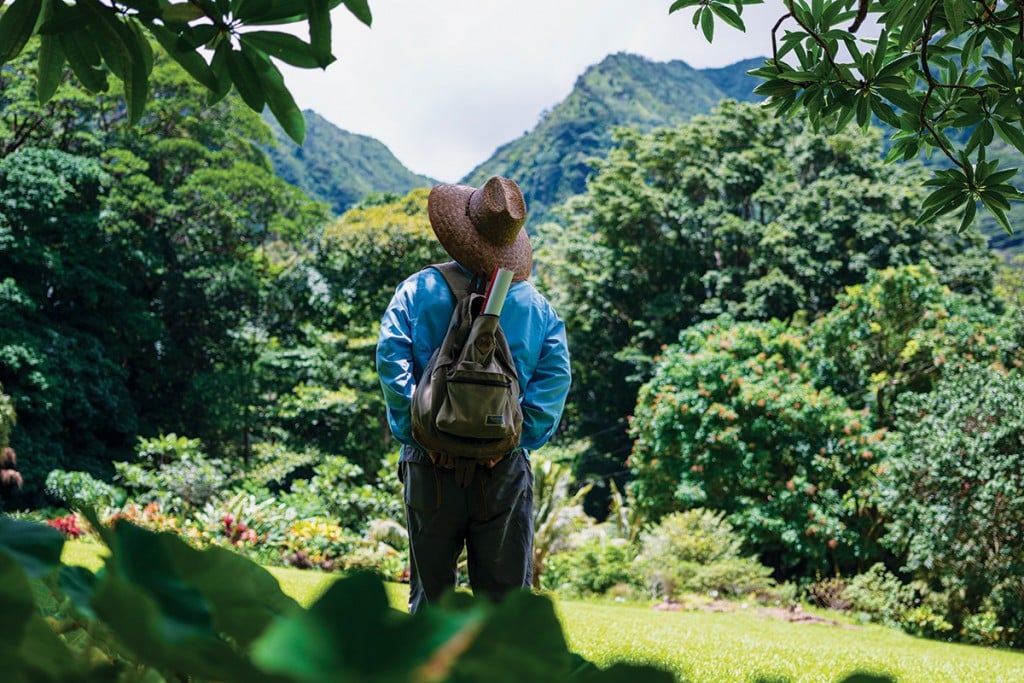 I had never hugged a tree before. But there I was, on a recent Saturday morning at Lyon Arboretum in Manoa Valley on Oahu, doing just that—well, actually, stroking a tree's weathered trunk and marveling at how tall and straight it was. There was something calming and gratifying about that simple act, as was lingering beneath a canopy so dense it blocked most of the sky. Everything around me was green and damp and still.
I was participating in something called "forest bathing." Despite how it sounds, there's no need for body wash or a towel, and it doesn't require undressing. Instead, you're immersed in the beauty of nature—literally walking a path to rejuvenation physically, mentally and spiritually.
That is the premise of shinrin-yoku, a Japanese term that translates to "forest bathing." Since it was developed in Japan in the 1980s, it has become a global wellness movement. Research has shown it provides numerous health benefits, including lowering stress and blood pressure and boosting the immune system, energy, focus and mood.
Phyllis Look, owner of Oahu-based Forest Bathing Hawaii, obtained certification as a forest therapy guide through the Association of Nature and Forest Therapy Guides and Programs. Inspired by shinrin-yoku, her leisurely, mindful walks at various locations including Lyon Arboretum and Kahaluu Gallery and Gardens in Kaneohe invite participants to use their senses to connect to the natural world.
Sniff a flower. Listen to birds chirping. Watch leaves waltz with the wind. Away from the hubbub of everyday life, with cellphones turned off, you'll discover wonderful shapes, sounds, smells, tastes and textures that you may have never noticed before.
"After each invitation, we gather in a circle to share," Look says. "I offer a talking piece—something I find at the site, like a stone or a small branch. Think of it as the microphone to the heart; the person who holds it has the floor. Participants can respond however they wish; there is no right or wrong answer, and silence is a perfectly acceptable response."
Avid followers describe shinrin-yoku as "the medicine of being in the forest."
Look concurs. "The forest offers something for everyone and never fails to give them what they need," she says. "There might come a time when doctors in America will say, 'Your blood pressure is too high. Take two forest bathing walks a week for the next month and see me afterward.'"
Two- to three-hour experiences cost $60 per person (minimum age is 16) and include a tea ceremony and snack. There's a maximum of 15 people per walk. forestbathinghi.com.