Spam-a-rama! Waikiki Spam Jam sets festival date for 2010.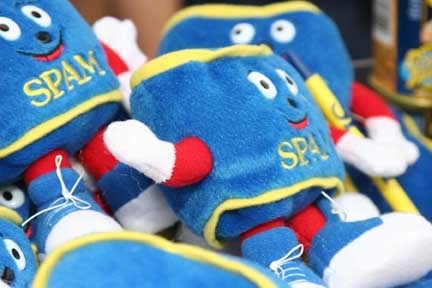 HAWAII Magazine reader Lisa E. Weaver e-mailed us with a question about one of Oahu's most popular annual food festivals:
Will there be a Spam Jam festival in Waikiki this year? If so, when?
You ask. We answer … with great news for Lisa and other Spam Jam fans.
A date for the 2010 Waikiki Spam Jam has just been announced: Saturday, April 24, from 4 to 10 p.m. The annual block party—so big it actually shuts down a good portion of Waikiki's main drag, Kalakaua Avenue—will again feature live entertainment, Spam-themed merchandise and restaurants dishing up the popular pink canned luncheon meat in a variety of guises.
Don't like Spam? You should still check out the block party and donate a can of Hormel's finest to a good cause. Spam Jam organizers hope to collect 10,000 cans of Spam for the Hawaii Foodbank this year.
Admission to Spam Jam is free.
Last year, more than 24,000 people attended Spam Jam—an always popular fest with both residents and visitors. The Waikiki Spam Jam placed third with HAWAII Magazine readers in our 2009 "Best of Hawaii" poll's "Favorite Festival" category. First place, incidentally, was the Merrie Monarch Festival. (Check out our most recent collection of "Best of Hawaii" selections in our September/October 2009 issue).
Looking for Spam Jam-friendly lodging?
In celebration of the fest, Outrigger and OHANA Hotels in Waikiki are offering their Spam Jam weekend guests a free room upgrade with the donation of a can of Spam for Hawaii Foodbank. The upgrade is based on room availability. For more information or to book reservations, visit outrigger.com or ohanahotels.com, or call (800) 688-7444.
Look for an update on the 2010 Waikiki Spam Jam's events schedule here on HawaiiMagazine.com in April.