St. Benedict's Painted Church in Kona is a One-of-a-Kind Artistic Wonder
Amid the coffee fields in South Kona, Big Island, a simple church exterior hides a cathedral covered in colorful fresco paintings.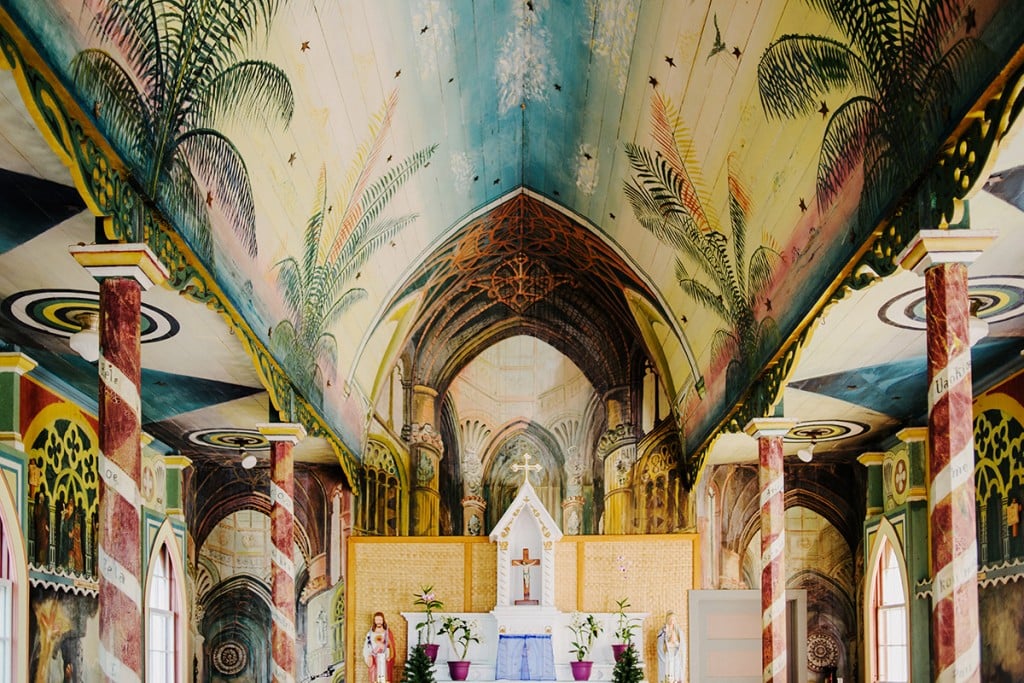 On a Sunday at sunrise, the South Kona sky painted in pastels, I drive bleary-eyed on Mamalahoa Highway heading south past monstera and banana plants toward the hulking mass of Mauna Loa, rising nearly 1,500 feet into the sky.
Two quick turns past roadside fruit stands and my car rumbles into the parking lot of St. Benedict's Painted Church in Honaunau. I fiddle with my dress—it's been a long time since I've been to church—and fall into line behind parishioners in aloha wear who seem infinitely more awake than me. They greet one another near a capped bust of Hawaii patron saint Father Damien and prepare to file in.
From the outside, the quaint hillside structure, surrounded by tropical gardens, seems a perfect fit for the area: Were it not for its steepled bell tower and pointed-arch windows, the boxy church could easily be mistaken for an outsized plantation house, a style popular in the surrounding countryside. Simple white walls meet in a gable under a green roof, and wood lattice—the variety many Hawaii homes still use to conceal under-the-house storage—bookend either side of the open-air front entrance. The church is little changed since it was blessed in 1902.
But the outside belies the cathedral inside. Banisters, ringed in faded red and white, look like barbershop poles but are actually tree trunks. They bear, in Hawaiian language, St. Benedict's Prayer of Exorcism, and the weight of the vaulted ceiling painted with their palm frond tops. Six frescoes line the long wooden walls between the windows—the images on the left side represent the "good life," while darker scenes on the right side are themed "understanding death." Behind the altar, paint creates the illusion of space. Lofty cloisters and vaulted hallways continue beyond like a hall of mirrors. Geometric domes appear to bridge into nothingness where they meet the church's more modest wood ceiling, painted like a sky at dusk and dotted with hand-cut metal stars. The effect is that of a cathedral melding with heaven.
More than the interior frescoes, though, as I sit, stand and kneel through Mass, it becomes increasingly apparent to me that this is not a typical church. As a visitor, I'm given a pink woven yarn lei to wear and keep. Tropical proteas front the koa wood altar. And, in lieu of an organ or piano, dueling ukulele and guitar accompany the singing of Catholic hymns. And I learn that every second Sunday of the month, services are held entirely in Hawaiian. This is a church that could only exist here in Hawaii.
Most historic churches seem to fall into one of two categories: They're ornate and lofty enough to befit the eternal messages they hope to impart or they're utilitarian structures, humble community gathering spaces. St. Benedict's manages to be both. When the little church was painted more than 100 years ago, its art helped transport the mostly Native Hawaiian congregation to the Gothic cathedrals of Europe that most had never even seen in photographs. The paintings weren't just decorative; they told biblical tales and contained symbolism that served as language-bridging teaching tools. Today, the congregation is as mixed ethnically as modern South Kona, and its pastor, the Rev. Ornoldo Cherrez, is a native Ecuadorian who I've been told takes lessons at night to improve his English. I can't help but wonder if the paintings continue to serve their original purpose.
Later, parishioner Ramona Ciriaco points out a detail in the ceiling palms I hadn't noticed: "Anything that is turning away from the altar is turning brown, indicating those that turn away from the church will wilt." Now 78, Ciriaco told me that she remembers attending church here when she was 5 years old. Her parents and grandparents would walk with her through the coffee fields and adjacent cemetery, past the ulu tree that still stands out front, before taking up a perch on the very same creaking pews. "I remember thinking the paintings looked so bright and so real," she said. When she'd gaze over to the "understanding death side," Ciriaco said, "it scared me." No wonder. Thanks to the church's original single-walled construction, and the Hawaiian sun, a hell scene featuring Satan and a bevy of tormented souls has literally melted into a fury of snarled color. It's the only melted painting in the church—and it's enough to make you wonder if it was intentionally placed opposite direct sunlight, if the distorted features were intended to ripen into an even more terrifying scene over time.
In the write-up for St. Benedict's designation on the National Register of Historical Places in 1969, the church is called a "masterpiece of imaginative functionalism." And, though there are a smattering of other painted churches, it is considered a one-of-a-kind example in American folk art. Working from shortly after his arrival in 1899 until his quick departure in 1904 due to illness, Belgian artist-priest John Berchmans Velghe helped relocate the church from its original seaside location, and then felt compelled to decorate his new church's interior.
He wasn't a trained artist; he painted from his heart.
As with many popular Hawaii sites, the story of St. Benedict's Painted Church has been embellished by tour guides and given its own lore. This could be because of the sensitive truths concerning Catholic missionaries in Hawaii—especially here, where 15 miles north, missionary influence helped topple the traditional Hawaiian kapu system in 1819, dismantling 1,500 years of religion and governance. Or perhaps it's an attempt to make the little church overlooking the sea seem as outsized as its paintings.
A Hawaii Tribune-Herald article published in 1990 addresses some of the myths surrounding its painter: that Father John was killed in a World War I air raid (he actually died in a Belgian sanitarium 21 years after the war ended), or that he translated the Hawaiian-language Bible (when, in reality, this happened in Honolulu 60 years before Father John's arrival). A few days after attending Mass, I joined a historical tour of the church intended for cruise ship passengers and encountered a few inconsistencies of my own. Even after archival research, I still don't know the provenance of the painted church's paint. Maybe the limited colors of cottage paints available in Kona were mixed with local botanicals to create the diverse pigmentation, or perhaps the house paints used were imported by Father John from his native Belgium. Maybe a little mystery is OK sometimes. Is the little church overlooking the sea the stuff of legends? You'll have to see it for yourself.
St. Benedict's Painted Church
Address: 84-5140 Painted Church Road, Captain Cook, Hawaii Island
Hours: The church is open from 7:30 a.m. to 6:30 p.m. on most days for visitors to tour on their own.
Best Time To Go: The church only turns on the interior lights during Mass, so it's best to visit during daylight hours to see the murals and paintings. Visitors are also welcome to attend scheduled Masses, though you can't tour the church during services.
Cost: Free. Pamphlets are available by donation.
Info: thepaintedchurchhawaii.org