State of Hawaii quarter ready to spend today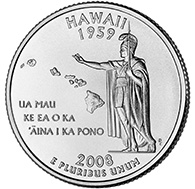 Say "Aloha!" to Hawaii's brand new quarter.
The United States Mint releases the final coin in its popular decade-long 50 State Quarter Program today with the debut of the State of Hawaii quarter-dollar. Banks in Hawaii will begin selling the new quarters at 2 p.m.
In Honolulu today? You'll be able to pick 'em up a bit earlier—in downtown Honolulu's Bishop Square's Tamarind Park at 12:30 p.m. following an official launch ceremony attended by U.S. Mint director Ed Moy. Anyone under age 18 will get free quarters at the event.
Should you choose to wait until a Hawaii quarter appears in your change at, say, your local Starbucks, the U.S. Mint figures the coins take a couple of weeks to get into wide circulation. The coins were pressed beginning in mid-October at the Denver Mint in Colorado.
The State of Hawaii quarter features the Islands' first monarch King Kamehameha I extending an arm toward the eight main Hawaiian Islands he united. Also inscribed on the coin is the year Hawaii became a state—"1959"—and the state's motto in the Hawaiian language: "Ua mau ke ea o ka aina i ka pono," or, "The life of the land is perpetuated in righteousness."
The King Kamehameha I design was selected in an online poll open to Hawaii citizens. The poll's three other final designs—culled from more than 400 submissions—featured Diamond Head crater, a surfer inspired by legendary Hawaii waterman Duke Kahanamoku and a hula dancer. More than 26,000 votes were cast in the 2007 poll.
The U.S. Mint expects to produce more than 520 million Hawaii quarters. The quarter collection was introduced over nine years in the order that the states entered the union.