Statewide Vigil for Maui to Be Held Sept. 1
Here's how you can watch or attend one of Kīpuni Aloha no Mauiʻs vigils.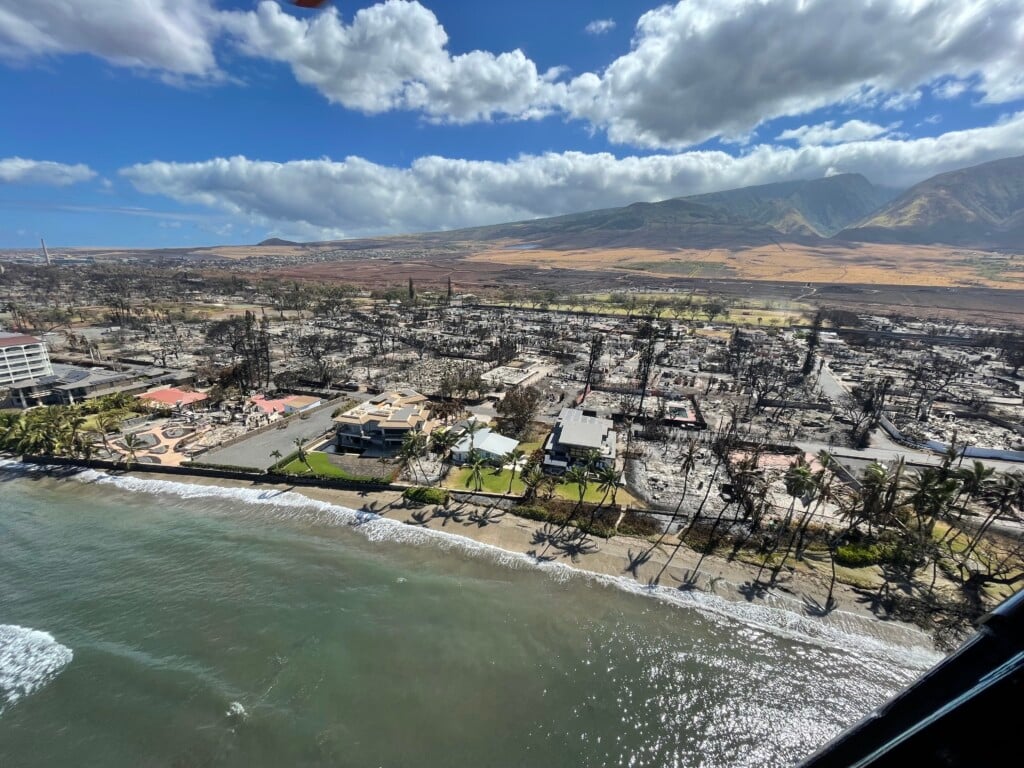 On Friday, Sept. 1, Native Hawaiian cultural practitioners will lead the state in a day of spiritual healing via a statewide vigil to support and hopefully mend the grief and trauma of those affected by the Maui wildfires.
Hōkūlani Holt-Padilla, a Maui-based kumu hula (hula teacher) and leader in Hawaiian culture, explained that, while supporting Maui with our dollars and through monetary donations is important—and will continue to be important for years to come—, it's equally important that we allow an opportunity and time for victims to heal emotionally, mentally and spiritually.
"There's an urgent need for prayer, cleansing, and reflection so that together, we can help Maui and Hawai'i heal," Holt-Padilla said. "This vigil will help to create a space for grief and healing and the opportunity for Hawai'i to be united."
Three separate times of prayer and reflection will be held throughout the day, and if you're on Hawaiʻi, you can join residents in prayer at various locations throughout the Islands. Of course, if you're not in Hawaiʻi, the vigils and prayers will also be live-streamed out to anyone wants to tune-in. Along with the three streamed-out prayers, there will be other vigils held across the state at sunrise, sunset and noon, many of which are open to the public.
Here's a full schedule of the vigils and prayers:
Sunrise Vigil (6 a.m. to 7:30 a.m. HST):
Kumu hula Dr. Noenoe Wong-Wilson will lead this vigil, alongside fellow Hawaiian cultural practitioners, at Puʻu Huluhulu (located on Saddle Road, on Hawaiʻi Island). This will be an all day vigil, and will run from sunrise to sunset.
Additionally, Keone Kalawe, a heiau architect and notable member of the Native Hawaiian community, will share a pule (prayer) at Four Corners in Puna, also on the Big Island.


Noon Vigil (11:30 a.m. to 1 p.m. HST):

At the University of Hawaiʻi Maui Campus (310 W Ka'ahumanu Ave, Kahului), kumu hula Hōkūlani Holt will lead a ceremony with other kumu hula and Hawaiian cultural practitioners—and other faith-based leaders are invited to provide prayer as well.
Also on Maui, at Ala Kukui in Hāna (4224 Hāna Hwy, Hāna), a diverse mix of faiths will pray for Maui, reflecting East Maui's diverse mix of faiths and religions.
At Thomas Square (925 S Beretania St., Honolulu) on Oʻahu, kumu hula Mehana Hind will lead a prayer with other Native Hawaiian cultural practitioners. There will be free parking available at the Blaisdell Center across the street starting at 10:30 a.m.
Rabbi Rachel Short will lead a ceremony with Interfaith Communities in Action at the Lili'uokalani Gardens (Lihiwai St., Hilo) in Hilo as well during the noon vigil.


Sunset Vigil (6 to 8:30 p.m. HST)

At Old A's Pavilion (75-5500 Kuakini Hwy, Kona) on the Big Island—a ceremony will be led by kumu Kaʻea Lyons.
And on Molokaʻi, at the west end of Kalaniana'ole Hall (605 Mauna Loa Hwy, Kaunakakai), faith-based leaders will be providing prayers for the victims of the Maui wildfires.
If you can't make it to a vigil in-person, don't fret. Many of the services will be streamed out on the internet (hawaiisoul.org/maui) and on television stations (KHON-2 and KITV-4). Hawaiʻi media companies like 'Ōlelo, Akakū Community Media, KAKU 88.5 FM, Maui Stream, Nā Leo TV will also be hosting their own streams of the statewide vigil.