Still flowing after all these years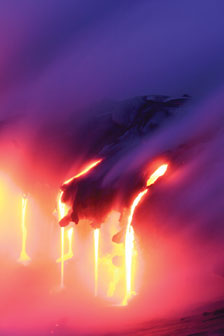 It's the 25th anniversary of the Kilauea volcano eruption on the Big Island.

Just after midnight on Jan. 3, 1983, molten lava began pouring from a freshly-opened crack in a thick ohia forest a few miles east of Kilauea's summit. It hasn't stopped since.

Then just kids from nearby Hilo, a bunch of us packed into a friend's car the following evening and drove toHawaii Volcanoes National Park.

Though born and raised on the Big Island, we had never seen a real lava flow up close. And our goal was to drive as close as possible to that otherworldly orange and red glow in the night sky just outside of town.

I've been closer to an actual Kilauea flow since—a couple hundred feet or so away from an underground flow pouring into the swirling ocean off the island's Kau coast. But I've never forgotten the rush of the Jan. 4 night, I sat on the hood of a beat-up Datsun on an old utility road staring at a forest fire-like glow that, though a few miles away, seemed just a walk beyond the tree line.

Today is the anniversary of that night.

The photo you see here is from this month's comprehensive print edition cover storyon the Kilauea eruption's history. Click the cover of HAWAII Magazine on the top left of the home page. Written by globetrotting volcano investigator Donna O'Meara, the story kicks off on page 34 with a stunning photo spread by the author and her equally well-traveled volcano watcher husband Stephen.