Stuck at Home? Here are 21 Binge-Worthy Movies that Feature Hawaiʻi Locales
From "Jurassic Park" to "Blue Hawaiʻi," here are a 22 films set partially or entirely in Hawaiʻi to help fill the time.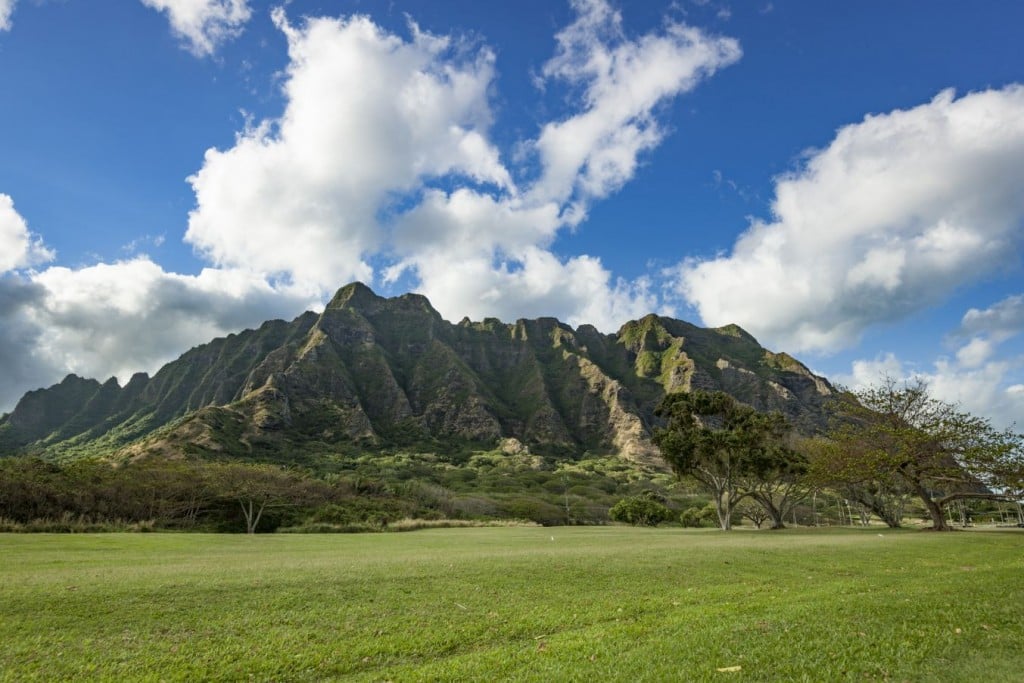 Social distancing and self-quarantine isn't all bad. You're given the opportunity to enjoy your favorite hobby you haven't had the time to pursue and read all of those books that have remained unopened on your bedside table. Or you can binge-watch these 21 Hawaiʻi movies, guilt-free.
"50 First Dates" (2004)
A sappy, but loveable, rom-com starring Adam Sandler and Drew Barrymore, most of this film was shot in and around Oʻahu in areas like Kāneʻohe, Kaʻaʻawa, Wahiwā, Makapuʻu and Waimānalo.
"Tropic Thunder" (2008)
We could all use a little laughter right now, and this satirical action-comedy, featuring Ben Stiller, Jack Black and Robert Downey Jr., will have you cracking up. The major studio production was shot entirely on Kauaʻi on private land.
"Jumanji: Welcome to the Jungle" (2017) 
While the 1995 version of "Jumanji" was not filmed in Hawaiʻi, the 2017 edition, "Jumanji: Welcome to the Jungle," shot many of its scenes at Kualoa Ranch on Oʻahu before moving its production to Atlanta, Georgia.
"Pirates of the Caribbean: On Stranger Tides" (2011) 
One of the most expensive films ever made, Jack Sparrow's 2011 adventure takes him on a winding journey to the mysterious fountain of youth, and sections of his journey were filmed on Oʻahu and Kauaʻi.
"The Descendants" (2011)
Based on the 2007 novel of the same name, written by local author Kaui Hart Hemmings, "The Descendants" features everything you need; George Clooney, beautiful shots of Hanalei and a dramatic plot that will keep your ʻōkole (butt) planted to the couch.
"Forgetting Sarah Marshall" (2011) 
Who can forget Jason Segel, Kristen Bell, Mila Kunis and Russel Brand hamming it up in Hawaiʻi in this sappy rom-com, which was primarily filmed on Oʻahu's North Shore, specifically in and around the Turtle Bay Resort.
"Soul Surfer" (2005)
We can all use a little inspiration and motivation right now, and nothing is more inspiring than Bethany Hamilton's tragic shark attack and how she learned to overcome her disability and surf once more. Her biopic, "Soul Surfer," was filmed on Hamilton's home island of Kauaʻi, and even features scenes at Tunnels Beach, where the attack occurred.
"Jurassic Park" (1993)
An absolute classic, "Jurassic Park" filmed many of its outdoor scenes on the Island of Kauaʻi, and Steven Spielberg and his crew were actually on-island during the devastating Hurricane Iniki. Of course, other famous locations include Kualoa Ranch on Oʻahu and Haʻikū on Maui.
"Jurassic World" (2015)
The Jurassic series made its return with "Jurassic World," a popcorn action flick starring the ever-lovable Chris Pratt. Like its predecessors, filming took place on Oʻahu as well as Kauaʻi.
"Pearl Harbor" (2001)
Unsurprisingly, this heavily-fictionalized romantic war drama was filmed primarily on Oʻahu's naval bases and even featured active-duty military members stationed in Hawaiʻi and members of the local population as extras.
"Blue Crush" (2002)
If you remember the movie "North Shore," "Blue Crush" follows suit in a lot of ways, except this time the main leads are three young female surfers. Oʻahu's North Shore serves as the movie's main setting, and those familiar with the landscape of the seven-mile-miracle will be treated by familiar sights and vistas.
"North Shore "(1987)
This late-80s cult classic features real surf legends like Gerry Lopez and Mark Occhilupo, footage of the Oʻahu's North Shore and quality lines like "Haole to you too." North Shore is the best, and the worst, and is a must-watch.
"Point Break" (1991) 
So technically "Point Break," featuring Keanu Reaves as FBI agent Johnny Utah—a fantastically ridiculous name for an action hero—and Patrick Swayze as surf-gang leader Bodhi, isn't filmed in Hawaiʻi. It did, however, use surfing clips from Pipeline, Waimea and Sunset to fill its many surfing sequences.
"The Hunger Games: Catching Fire" (2013)
While the situation and plot in "The Hunger Games: Catching Fire" may seem dire, the levity of the movie is lifted slightly by its scenic backdrops and lush jungle scenes, which were actually shot on Oʻahu in areas such as Kawela Bay and Mānoa Falls.
"Kong: Skull Island" (2017)
Rarely do you get to see Honolulu's Chinatown star in a movie, however "Kong: Skull Island" features scenes set in Oʻahu's main downtown district, as well as Kualoa Ranch and Waikāne Valley. Unfortunately, the film directors couldn't find any buildings tall enough for the giant ape to scale in Hawaiʻi. (Just kidding.)
"The Big Bounce" (2004)
A box office flop, The Big Bounce was shot almost entirely on Oʻahu's North Shore and features a star-studded cast consisting of Owen Wilson, Morgan Freeman, Gary Sinise, Bebe Neuwirth, Charlie Sheen and, most importantly, Kevin Allen. Yes, that is correct, the co-author of this article and HAWAIʻI Magazine's associate editor was a child extra for this movie, and yes, he did shake Owen Wilson's hand.
"Raiders of the Lost Ark" (1981)
Another Spielberg classic, many of the opening shots to "Raiders of the Lost Ark" were filmed on Kauaʻi, specifically in sections of the privately-owned Kīpū Ranch, located south of Līhuʻe.
"Blue Hawaii" (1961)
Elvis Presley and Hawaiʻi go together like peanut butter and a sweet lilikoʻi (passion fruit) jam. Nowhere is that more apparent than in "Blue Hawaii," where Presley sings, dances and jigs his way through Waikīkī Beach, Diamond Head and Hanauma Bay.
"South Pacific" (1958)
Based on the hit musical of the same name, "South Pacific" was actually filmed on the northern shores of Kauaʻi, specifically the ever-dreamy Hanalei Bay.
"Six Days Seven Nights" (1998)
There isn't much in this world that sounds more appealing than spending time alone with Harrison Ford on a deserted island in the Pacific. Unfortunately, unless you're extremely lucky, the odds of that happening are pretty low. Instead, you can watch Harrison Ford act like he's stuck on an abandoned island, which is actually Kauaʻi, in "Six Days, Seven Nights."
"From Here to Eternity" (1953) 
Quite possibly the most iconic movie ever shot and filmed in Hawaiʻi, "From Here to Eternity" features some of the biggest names of the era, like Frank Sinatra, Burt Lancaster, Deborah Kerr and Montgomery Clift. Schofield Barracks, Kūhiō Beach Park and of course, Hālona Beach Cove, all get their fair share of screentime during this golden oldie.