Students in Hawaii Marine Mammal Program Show Increased Interest in STEM Careers
Career Connected Learning Grants aim to strengthen future STEM workforce.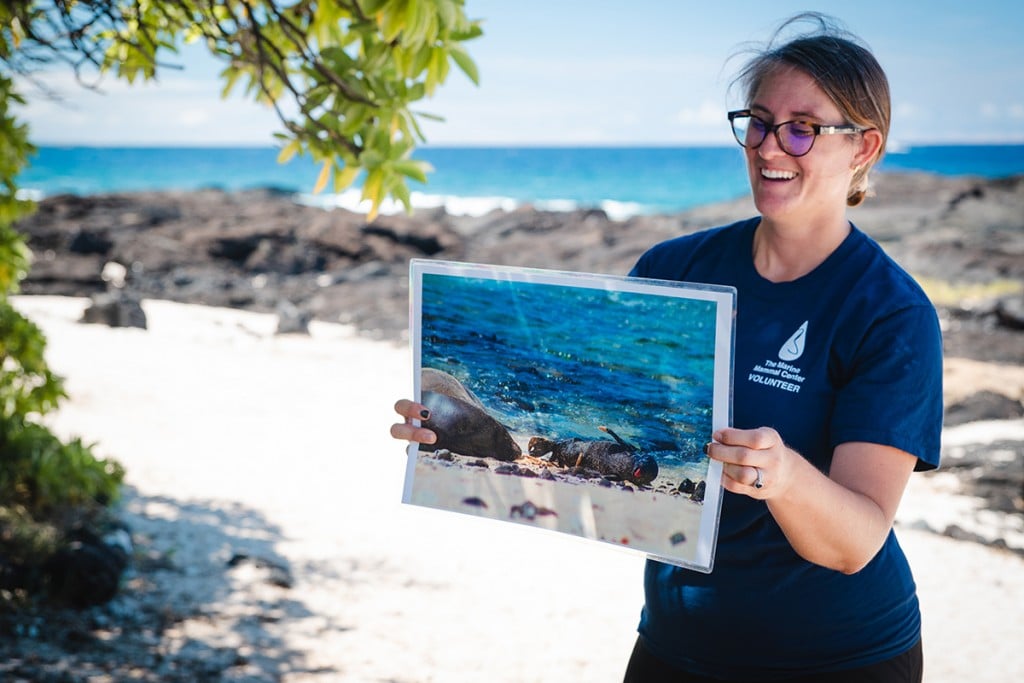 Students participating in Nā Kōkua o ke Kai, a Marine Mammal Center program, reported that they had increased interest in STEM careers after participating in the program—interest increased from 41% to 52%, according to the Marine Mammal Center's survey of participants. The year-long marine science and ocean conservation program is tailored to middle-school students and their teachers on Hawaii Island. Another promising increase was reported around confidence levels with more than 85% of students reporting feeling confident in their science classes after taking part in the program, an increase from 66% before.
More than 700 students have benefited from the program in the current academic year, which has been supported by the Hawai'i Community Foundation's (HCF) Career Connected Learning grants program.
"Students told us they appreciated meeting 'real marine scientists' instead of just learning about marine life in books," said Jennifer Walker, Associate Director of Curriculum and Instruction at The Marine Mammal Center, a nonprofit dedicated to ocean conservation. "We're thrilled that the Career Connected Learning grant made it possible for these young people to visit us and make connections that will inspire them as the next generation of ocean stewards."
The Nā Kōkua o ke Kai program reaches middle school students at a formative time in their lives and with the intent to inspire the next generation of informed scientists and engaged citizens who will care for and protect the health of our ocean and environment. Students have the opportunity to participate in fully funded field trips to The Marine Mammal Center's hospital for Hawaiian monk seals, Ke Kai Ola, and the Mokupapapa Discovery Center, as well as in hands-on science experiments and independent research projects in their classroom.
The Center's education team on Hawaii Island developed the middle school curriculum with the support of community members, kumu and kapuna. In just three years, Nā Kōkua o ke Kai has supported 17 teachers and nearly 1,500 students island-wide, providing teachers with a 10-lesson Next Generation Science Standards-connected curriculum, resources, and materials, as well as professional development opportunities. Nā Kōkua o ke Kai is offered at no charge to schools, students or teachers, so that financial constraints do not limit participation.
"When a young student says that she can visualize herself working in Hawaii as a marine scientist, that is a real win for Career Connected Learning (CCL)," said Lydia Clements, Vice President of Foundation and Corporate Partnerships. "We designed the strategy behind CCL to inspire and support Hawaii's students to reach for careers of the future, especially those including science, technology, engineering, and mathematics (STEM)." The veterinary team from Ke Kai Ola made recent headlines for rescuing an injured female Hawaiian monk seal called RH38, one of only 1,400 alive in the wild. The seal is now receiving antibiotics, pain medication and extended monitoring until it's safe to release her back to the wild. Students who visit Ke Kai Ola learn about the Center's goal to increase resiliency for endangered species.
Thirty Meter Telescope (TMT), through THINK Fund at HCF, provided the initial funding to the Career Connected Learning grants program and encouraged other donors to support STEM-related learning and career preparation. CCL now includes 14 funders, including THINK Fund who support the program and have awarded more than $3.7 million in grants. After seeing the momentum on Hawaii Island, national funder Strada Education Network made a $450,000 contribution to expand CCL to Kauai.
For more information about Hawaiʻi Community Foundation, visit HawaiiCommunityFoundation.org.