Surprise Mom With These 12 Gifts from Hawaiʻi
Make this year's Mother's Day extra special with something from the Islands.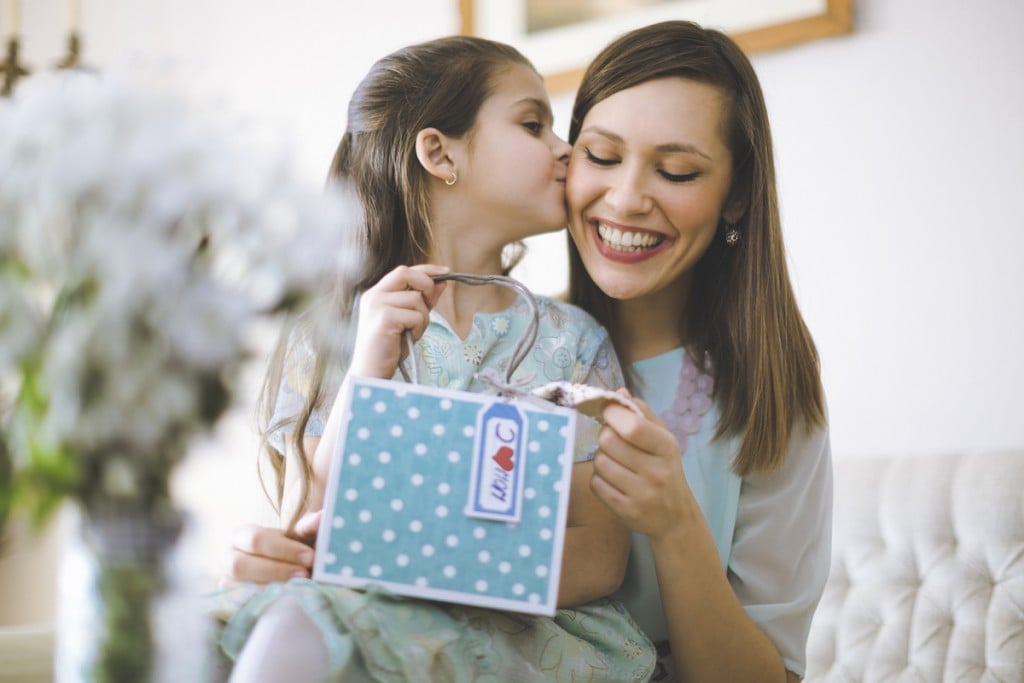 Who doesn't want a gift from Hawaiʻi?
(Even I do—and I live here!)
We bet your mom would, too.
With Mother's Day nearing, here are 12 gift ideas—at all price points, for all moms, every one made or designed in the Islands—that will make her imagine she's in paradise.
(Order soon, though!)
1. Quilted Bag, Hawaiian Quilt Collection
Honolulu-based Hawaiian Quilt Collection has a line of hand-stitched quilted bags that feature a traditional Hawaiian quilt pattern—ʻulu (breadfruit), hibiscus, pineapple—in a variety of colors and sizes. Prices range from $34.95 for the Kailua day tote to $55.95 for the Waikīkī bag, perfect for a trip to the farmers market. hawaiian-quilts.com
2. Mama's Cooking Set, House of Mana Up
If your mom loves to cook, consider this gift set from House of Mana Up. It includes smoke salt from Manele Spice Co., local honey from Wai Meli, gourmet Tahitian lime butter from Liko Lehua and a copy of Ethnic Foods of Hawaiʻi by Ann Kondo Corum—a classic!—for $75. houseofmanaup.com
3. Gift Set, Big Island Candies
This iconic Hilo company has been making confections and baked goods since 1977. And we've been giving them away as gifts ever since. The new Watercolor Box ($18.50, above) features 14 different shortbread cookies, two brownies and two toffee bars—all made with high-quality ingredients, local whenever possible. bigislandcandies.com
4. Tee Wahine, Dolkii
This super-soft shirt ($45) was created by this Honolulu-based designer to empower women—including moms. Proceeds from the sale of this tee support the Women's Fund of Hawaiʻi, a nonprofit dedicated to improving the lives of women and girls in the Islands. So it's a double gift! www.dolkii.com
5. Breeze Necklace, ROLA
At $525 (though you can get 20% off if you order now), this palm tree-shaped diamond pendant is quite the splurge. But your mom is worth it. This necklace—from the high-end jewelry line by Rona Bennett and Lan Chung of Honolulu-based Fighting Eel and Ava Sky—features 24 hand-set pave diamonds. Or you can upgrade to the $705 Palm Necklace; that palm tree has 56. fightingeel.com/rola
6. Lei Kit, Hawaiʻi Flora + Fauna
The Four Seasons Resort Maui in Wailea launched a virtual lei-making class in collaboration with modern lei artist Lauren Shearer, owner of Hawaiʻi Flora + Fauna. The $30 lei kit includes a metal lei needle, string for three lei and a variety of dried seeds. (You'll need to get your own flowers. The $75 kit, shown above, includes fresh flowers from Hawaiʻi.) This may be your mom's new quarantine hobby. hawaiiflorafauna.com
7. Ceramic Bud Vases, Beachcake
Honolulu-based designer Mariko Merritt makes super-cute fruit magnets and animal figurines that are addictively collectible. She also made these adorable ceramic bud vases ($45 to $75) that are hand-built and –painted—and perfect for Mother's Day. marikomerritt.com/beachcake
8. Espresso Bites, Big Island Coffee Roasters
If your mom takes her coffee strong, she'll love the espresso bites from Big Island Coffee Roasters. These unique bars—which look deceptively like chocolate but aren't—are a creamy mix of the equivalent of three espresso shots of Hawaiian coffee, organic cocoa butter, organic cane sugar, sea salt, vanilla bean and non-GMO sunflower lecithin. It's a powerful pick-me-up—any time of day. bigislandcoffeeroasters.com
9. Sweet & Sandy Pineapple Bracelet, Tidepool Love
Charm your mom with this 14-karat gold-filled pineapple bracelet ($92). It will remind her to book her next Hawaiʻi vacation. tidepoolhawaii.com
10. Basalt's Charcoal Pancake Mix
When Basalt opened in Dukes Lane Market and Eatery in Waikīkī in 2017, it offered a truly unique breakfast dish: charcoal pancakes (playing off the restaurant's name). It quickly became one of Basalt's most popular menu items. Now, the restaurant is selling a dry mix ($8 each) so you can make these strikingly black flapjacks at home. All you need is buttermilk (regular milk works, too), butter and an egg and you can whip up these fluffy pancakes in your own kitchen. (And no, you can't taste the charcoal). abcstores.com
11. Single Initial Hawaiian Pendant, Paradise Collection
This Honolulu-based jeweler offers a variety of options, from sterling silver ($100) to 14-karat rose gold with a diamond set in the center of a plumeria flower ($300). A timeless pick. paradisecollection.com
12. Aloha Bag, Jams World
Great for the beach or the grocery store, this spacious tote ($62) is made with the same material used to craft the Honolulu company's popular sportswear. It's durable, lightweight and entirely made in the Islands. jamsworld.com