Swim! Bike! Run! 36th annual Ironman World Championship triathlon happens on Hawaii Island, Oct. 11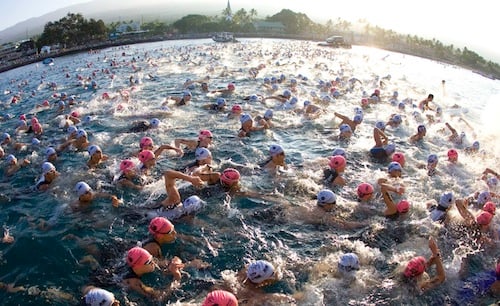 This Saturday, Hawaii Island's Kona and Kohala coasts will again host more than 2,000 athletes for one of the most demanding athletic events in the world. The 36th annual Ironman World Championship will combine three grueling long-distance sporting events into a single triathlon— a 2.4-mile open water swim, a 112-mile bike ride and a full 26.2-mile marathon.
Ironman events are held throughout the U.S. mainland and internationally, but this weekend's Ironman World Championship requires that most participants pre-qualify by completing sanctioned triathlons as a top age-group finisher. Each year more than 250,000 athletes compete in Ironman triathlons worldwide for a chance to participate in the Kailua-Kona event—the granddaddy of triathlons and most world-renowned. The Ironman World Championship happens near the end of a yearlong series of full-length triathlons organized by the World Triathlon Corporation.
This year's participants include 1,800 professional and age-group qualifiers as well as 100 legacy and 100 lottery competitors. Defending male and female world champions—Frederik Van Lierde of Belgium and Mirinda Carfrae of Australia—are set to return this year to compete. Van Lierde finished last year's Ironman World Championship 140.6-mile event with a time of 8 hours, 12 minutes, and 29 seconds beating his closest competitor by just under three minutes. Carfrae finished the event in 8 hours, 52 minutes and 14 seconds.
The event's starting times are staggered with male professional and elite athletes leaving Kailua Pier at 6:25 a.m. for the 2.4-mile open water swim in Kailua Bay first, followed by the female professional and elite athletes five minutes later at 6:30 a.m. The male and female age-group qualifiers will begin their swim at 6:50 a.m. and 7 a.m. respectively.

Last year's champion, Frederik Van Lierde, just after crossing the finish line. Photo by Nils Nilsen/IRONMAN
.
The second leg of the Ironman—a 112-mile bike ride—takes the athletes from Kailua Pier north on Queen Kaahumanu Highway through the hot, rugged lava fields of the South Kohala Coast to the Kohala-area town of Hawi and back. Competitors will then ditch their bikes at Kailua Pier and run 26.2 miles—much of this, again, on Queen Kaahumanu Highway and through the Kailua-Kona area returning to the finish line near the run's start on Alii Drive near the pier.
The competition officially concludes around midnight when the final runners are expected to cross the finish line.
The first-ever Ironman event, the "Hawaiian IRON MAN Triathlon," took place in 1977 on Oahu, after a Honolulu-based Navy couple proposed combining what was then three of Hawaii's most challenging races into a single event. Three years later, the event moved to Hawaii Island where it has taken place ever since.
Live coverage of Saturday's 2014 Ironman World Championship, including tracking of individual athletes will be featured on the Ironman website following the start of the race at 6:25 a.m. (Hawaii time). For residents and visitors to Hawaii Island, the event will bring several road closures in the town of Kailua-Kona and highways north.
Visit the Ironman website for the route map and listing of road closures and times.
36th annual Ironman World Championship
Oct. 11, Hawaii Island
ironmanworldchampionship.com