Swimming with Manta Rays Has Me Like…
How a night with the acrobatic fish will change your life.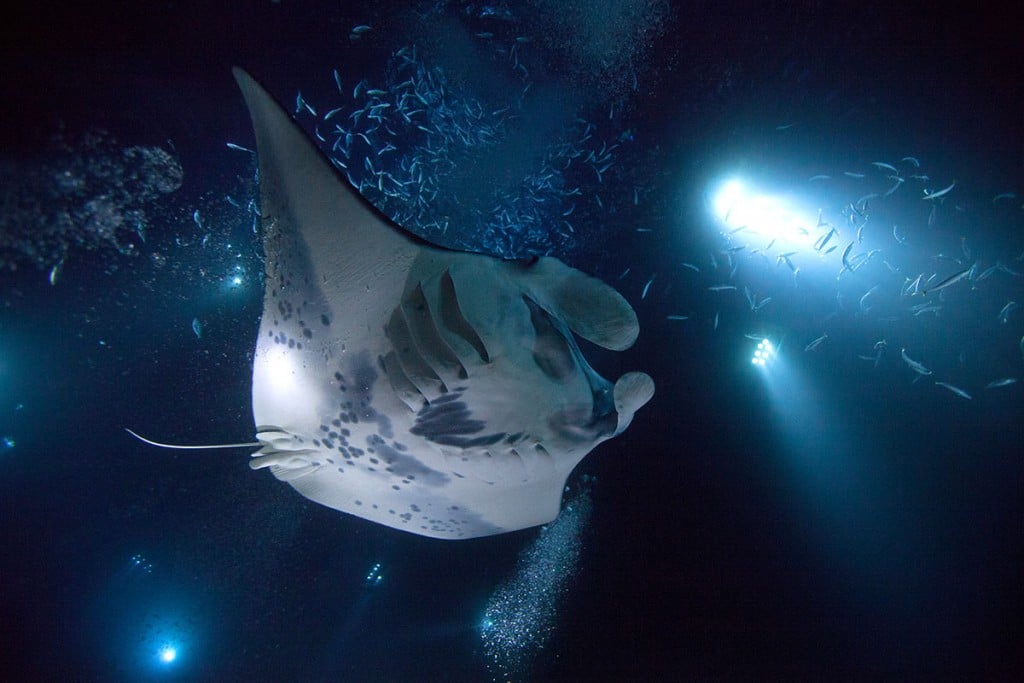 Swimming with manta rays at Keauhou on the Kona coast of Hawaii Island is one of those rare experiences too incredible for words. It's the kind of thing that leaves you unable to think or say anything beyond "Wow!" and "lucky we live Hawaii."
Lucky we live Hawaii, indeed. And lucky we have GIFs for all those times when the islands leave us speechless.
This is what it's like to swim with one of the ocean's most mesmerizing animals, GIF by glorious GIF. If you scroll through and don't feel the urge to visit the Manta Learning Center at the Sheraton Kona Resort and Spa to learn more about these gentle giants, you're probably the kind of person who likes their steak well done and slathered in ketchup.
When you're on a boat motoring toward the manta ray spot and the sun just went down and the wind is cool:
When the onboard marine biologist says manta rays eat plankton:
When she says they do loops with their mouths wide open to scoop up plankton:
When you arrive at the spot and you're wetsuited and snorkled and kind of freaking cause it's super dark:
When the guides turn on the underwater spotlights and the ocean glows:
When it's your turn to jump in and you say to yourself "Just charge, already," because you're hesitating big time:
When you charge anyway:
When you're waiting for manta rays to show and something brushes your foot:
When you see your first manta ray glide from the dark into the light:
When a manta does a loop right under your feet:
When two mantas do synchronized loops under you:
When everywhere you look mantas are looping and crisscrossing and it's too much to handle:
When you think "they're so gentle and graceful and majestic!":
When you realize a 12-foot wingspan is way bigger than you thought:
When a manta loops in front of you with its tail streaming behind and it reminds you of what happened to the Crocodile Hunter:
When you realize you're just being a baby.
When you get brave enough to reach out and touch one of them:
But the guide sees you breaking the rules and gives you underwater stink eye:
When you get back to shore and feel like you're one with the manta rays: