Take a Historical Hike on Kauaʻi's South Side
This short coastal trail explores Kaua'i's fascinating natural history and unique archaeological sites.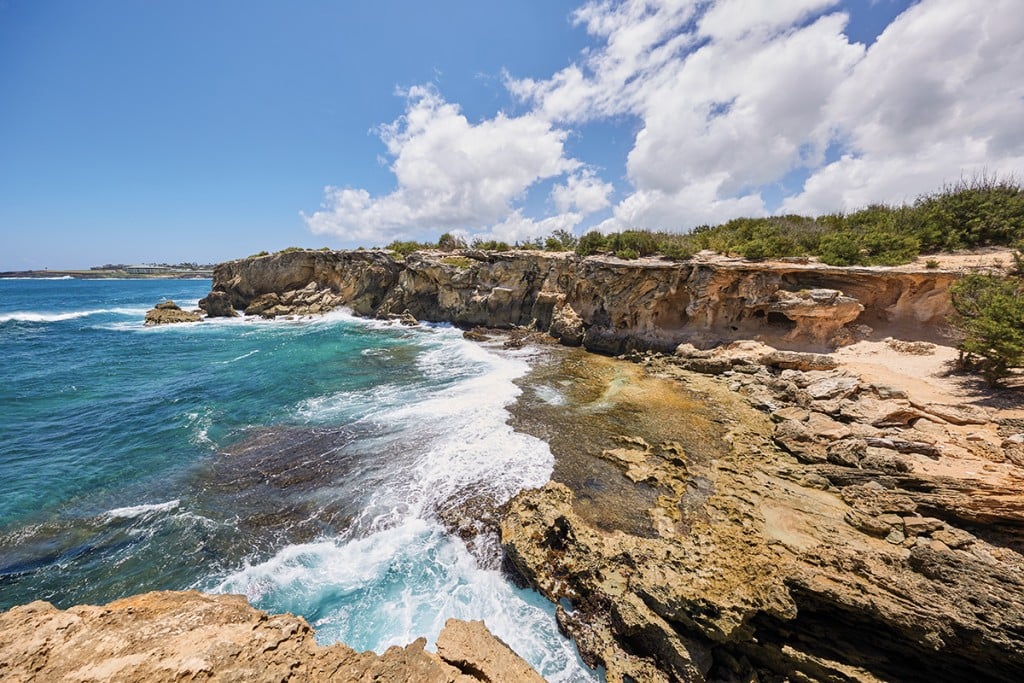 After a 2-mile trek under a grueling sun, I crawl through a small crevasse into a dim cave. As I stare up at the cavern's irregular surfaces, I notice the air, cool and refreshing. And then I spot the verdant oasis in the center of this prehistoric cave. I'm captivated.
I'm standing not only in the largest limestone cave in Hawai'i, but also on one of the richest fossil sites in the Pacific. The Makauwahi Cave on the southern coast of Kaua'i holds more than 10,000 years of sedimentary records, each layer of sediment revealing a piece of Kaua'i's natural history. Here, samples of pollen, seeds, animal bones and Polynesian artifacts have been found by archaeologists. Roughly 7,000 years ago the cave ceiling collapsed, creating a kind of natural amphitheater. Today, the sun shines through that opening and below, native plant species thrive, including kupukupu, pōhinahina and towering loulu palms.
One way to get to the cave is by hiking the Māhā'ulepū Heritage Trail. It's an easy 2-mile out-and-back hike starting at Keoneloa Bay, commonly referred to as Shipwreck Beach. Despite its short distance and the cluster of modern resorts and hotels near the trailhead, the hike is an expedition through Kaua'i's fascinating geological past. The trail zigzags past sand dunes, striking geological features, limestone formations and an ancient heiau (temple).
Near the beach we locate the trail's sandy start. There's plenty of tall grass here and no marked trailhead: It's a telling sign of the path ahead. The trail quickly ascends—no more than 150 feet—to the jagged southern coastline; from there, hikers have various footpaths to choose from. The trail, one of the least difficult hikes on the island, feels like a real-life Indiana Jones kind of adventure.
Not far into the hike are the extraordinary limestone cliffs of Makawehi Point. About 125,000 years ago, sand and volcanic sediment came together to form the lithified bluff and its jutting ledges. For millions of years, the crashing ocean and fierce winds have chipped away at these cliffs and, as I watch wave after wave roll in on this clear, breezy day, that process continues. Over centuries, the sea level has dropped to expose deposits of fossils along these coastlines. When fish and other organisms died thousands of years ago, layers of sediment were littered with their remains. Those layers were later covered by new layers and, eventually, modern-day paleontologists discovered it all. Petroglyphs have also been found on the walls of these cliffs, evidence that ancient Hawaiians knew this place long before the scientists.
As I move farther along, past minarets and spires made of lime- and sandstone, signs appear warning hikers not to deviate from the path. I am approaching Waiopili Heiau, an immense stone platform where it's believed that early Hawaiians offered fish in exchange for bountiful fishing conditions. It's a remarkable structure that reveals clues to ancient Hawaiian civilization and the significance of this coast.
With its capricious terrain, it's no surprise that much of the trail, with its ancient heiau and winding rocky lava field, also borders a manicured golf course. And ironically, it's this section of trail that might be the most dangerous, with its errant golf balls and zooming golf carts. Although developed—Po'ipū Bay Golf Course is the former home of the PGA Grand Slam of Golf—flocks of endemic nēnē (Hawaiian geese) waddle across fairways and greens, unfazed by golfers and hikers.
Veering off the golf course, the trail descends to Punahoa Point near CJM Stables. In the distance, horseback riders gracefully stroll along Māhā'ulepū Beach, the trail's destination point. But I didn't hike this far for the beach—so I follow a path looping past the sandy shores. I notice the blooming flowers of ma'o (Hawaiian cotton) and half flowers of the beach shrub naupaka; there's a tragic love story in Hawaiian mythology that explains the missing half. Then, among trees and shrubbery, a plywood sign appears. It reads "Makauwahi Cave" and I know we've arrived.
Makauwahi Cave began forming over 400,000 years ago; it started as a sand dune and eventually turned to limestone. Over time, groundwater pervaded the stone and dripped from the ceiling, forming a freshwater pond. In geological terms, the ceiling collapsed only recently, sometime around 5000 B.C. Paleontologists and conservationists have pieced together clues indicating floods, hurricanes and a massive tsunami here over the past 10,000 years.
The cave was also home to thousands of endemic species, including the now-extinct turtle-jawed moa nalo, a large flightless goose. Diatoms (a type of phytoplankton), fish bones and canoe fragments have also been excavated at what is considered the richest fossil site in Hawai'i. Some of Hawai'i's rarest creatures still inhabit the cave, including an eyeless cave spider.
The Makauwahi Cave Reserve connects the puzzling past with the still puzzling present during its daily informational sessions that are held at a booth inside the cavern, which are open to all those who enter the cave. In a dark corner of the cavern, a knowledgeable guide shines her flashlight to point out some spiky popcorn rocks and spiny cave bacon. The nonprofit also leads restoration projects to replant native flora in the cave and surrounding areas. Within the natural amphitheater, the native plants flourish and all I see is green.
As I stand in the center of the sinkhole where soft grass has been planted, I look up to the clear Kaua'i sky. I'm in a kind of peaceful prehistoric paradise, millions of years away from the rest of the world.
The ecosystems in the Makauwahi Cave and surrounding areas are fragile. When visiting, be respectful as this is also a culturally significant area. Donations are welcome, with a recommended $10 per person. Guided tours are given daily from 10 a.m. to 4 p.m.
This story was originally published in our 2022 Summer issue. Buy a copy here.