Take a volunteer vacation and help Hawaii's unique natural environment
Find out how to support Hawaii nonprofits by restoring wetlands or watching over sea turtles on your next visit.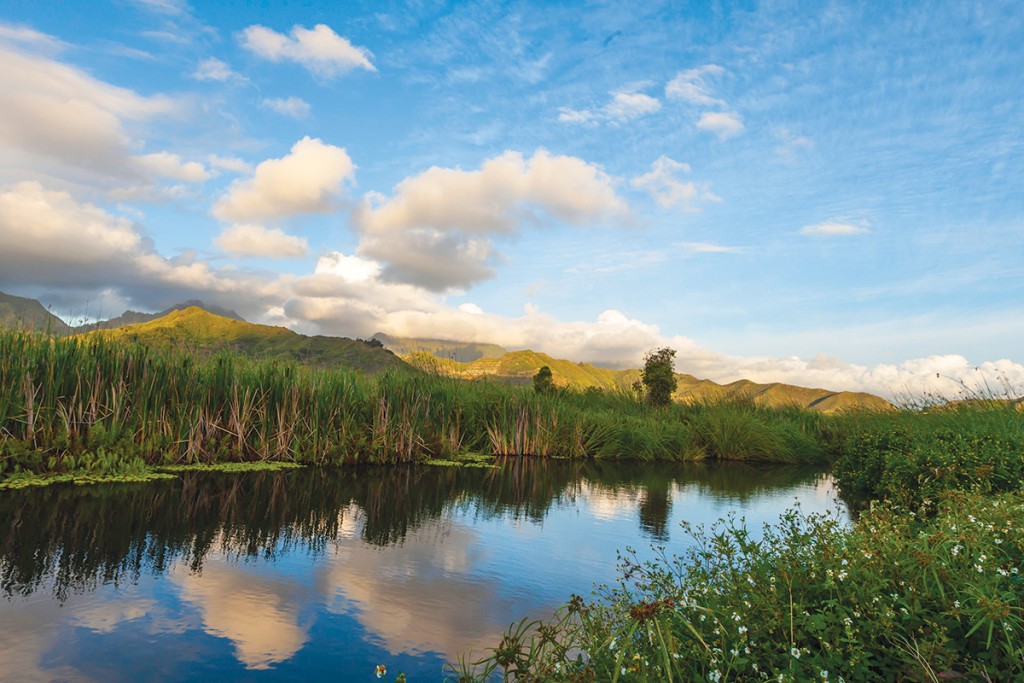 Interested in spending a day restoring Hawaii's largest wetland habitat on your next Oahu vacation? Maybe surveying a coral reef or watching over nesting sea turtles is your thing. A few environmental nonprofits would appreciate the help.
Spread out before Olomana and Ulumawao, the windward Oahu peaks standing sentinel-like over Kailua town, is a swath of largely unfettered wetlands countless residents and visitors drive by each day with little knowledge of its cultural and environmental significance.
Thousands of years ago, Kawai Nui Marsh was an open-to-the-ocean marine bay largely resembling neighboring Kaneohe Bay. Kawai Nui (its name means "big water" in Hawaiian) is believed to have formed sometime in the past 1,500 years as a growing sand barrier—on which much of modern-day Kailua now sits—separated the marine bay from the sea.
At 830 acres, Kawai Nui is the largest wetland habitat in the Hawaiian Islands, home to four endangered native marsh birds and more than 60 other species of birds, fish and aquatic animals. Three heiau (religious temples) are found along Kawai Nui's borders, as are numerous ancient loi kalo (irrigated taro terraces) and natural rock formations of cultural significance.
The Koolau mountain range streams that feed Kawai Nui, however, are only partially responsible for the marsh's maintenance. Since the late 1990s, the nonprofit group Ahahui Malama I Ka Lokahi has been actively restoring the wetlands with the help of thousands of volunteers—a number of these, visitors to the Islands.
"Volunteers are the life of this organization," says Rick Kaimi Scudder, a field coordinator for the nonprofit. "They're the ones who keep the projects growing. To them, digging and weeding is therapy. And it's fun, too."
Volunteer vacations, particularly those with an environmental focus, have become popular with travelers around the world in recent years, creating a boon for nonprofit environmental organizations requiring reliable, enthusiastic and ongoing gratis help with their projects. The nonprofit Preserve Hawaii, which has since become Conservation Connections, was founded by Kirsten Whatley in 2009 with a goal of connecting Hawaii residents and visitors in search of volunteer vacation opportunities with environmental programs across the state, such as Ahahui Malama I Ka Lokahi.
"There are so many visitors coming to the Islands every year. If they know about these opportunities, we can take their energy, redirect it and put back into the Islands," says Whatley, also the author of a book on the subject of volunteer vacations, Preserving Paradise: Opportunities in Volunteering for Hawaii's Environment (Island Heritage Publishing, 2008). "On a personal level, this is such a deeper, richer way to have an experience here, to be with the people, learn from them and work side by side with them."
Volunteer vacations are especially attractive to frequent Hawaii visitors who love the Islands and feel they have a vested interest in making sure its unique natural environment remains intact for years to come.
Says Whatley, "The (volunteer) experience changes people's perception of what Hawaii is. They find it's more than what they see on the surface."
Conservation Connections, powered by the Hawaii Conservation Alliance, posts all of the Oahu and Neighbor Island volunteer opportunities it finds from more than 100 environmental organizations to its website, Facebook and Twitter. Social media allows Conservation Connections to quickly and widely spread word of activities to a network of interested residents and visitors. On Oahu, volunteer activities include everything from removing invasive plant and mangrove saplings at historic Waikalua Loko Fishpond and regular restoration of the popular, much-used Manoa Falls Trail to caring for and learning about native plants at Kawai Nui Marsh's Kaha Garden. Other environmental opportunities Conservation Connections tracks statewide include nesting sea turtle watches, beach cleanups, watershed restoration hikes, coral reef surveying and fish identification counts.
A listing of Hawaii environmental groups Conservation Connections monitors for volunteer opportunities, complete with contact information and Web links, can be found on its website: conservationconnections.org. Most visitors opt for one-day service projects. But a few hardier, more dedicated souls craft an entire vacation out of volunteer work. Some volunteers are fulltime environmental warriors. Others have day jobs or school work with which to contend.
"It's not just hardcore environmentalists volunteering," Whatley says. "These are people from all walks of life — teachers, kids, retirees, firemen, doctors."
About 5 percent of the volunteers who assist Ahahui Malama I Ka Lokahi on its Kawai Nui Marsh service projects are visitors. The nonprofit welcomes their help and makes sure they leave the project with ample knowledge of Kawai Nui. Volunteers learn about the historic, cultural and ecological resources of the marsh area, including its heiau, natural rock formations, wetlands and estuary, which empties into Kailua Bay. They not only see Kawai Nui's dozens of threatened plants, including the popololo aiakeakua (Hawaiian horsenettle) and ihi (Portulaca villosa), close up, but learn about them.
"We hope volunteers leave with a sense of why we're doing this and why we need to continue doing it," says Scudder. "People are just amazed about what's going on here. Botanists come here and their jaws drop. They never knew this was here."
With restoration work at Kawai Nui Marsh constant, Scudder believes in the Hawaiian value of laulima—that many hands working together can make a difference.
"We've been at this for 14 years, and we've shown it can be done on a volunteer basis," Scudder says, of Ahahui Malama I Ka Lokahi's work at Kawai Nui Marsh. "You can take back what's totally been overgrown with weeds, little by little, and restore it. We're happy to get whatever help we can."
For more information on volunteering opportunities with Conservation Connections, click here. To learn more about Ahahui Malama I Ka Lokahi, click here.