Take the Scenic Route with Biki, Hawaiʻi's Bike Sharing Program
Publicly accessible bikes are now available for rent around the city of Honolulu.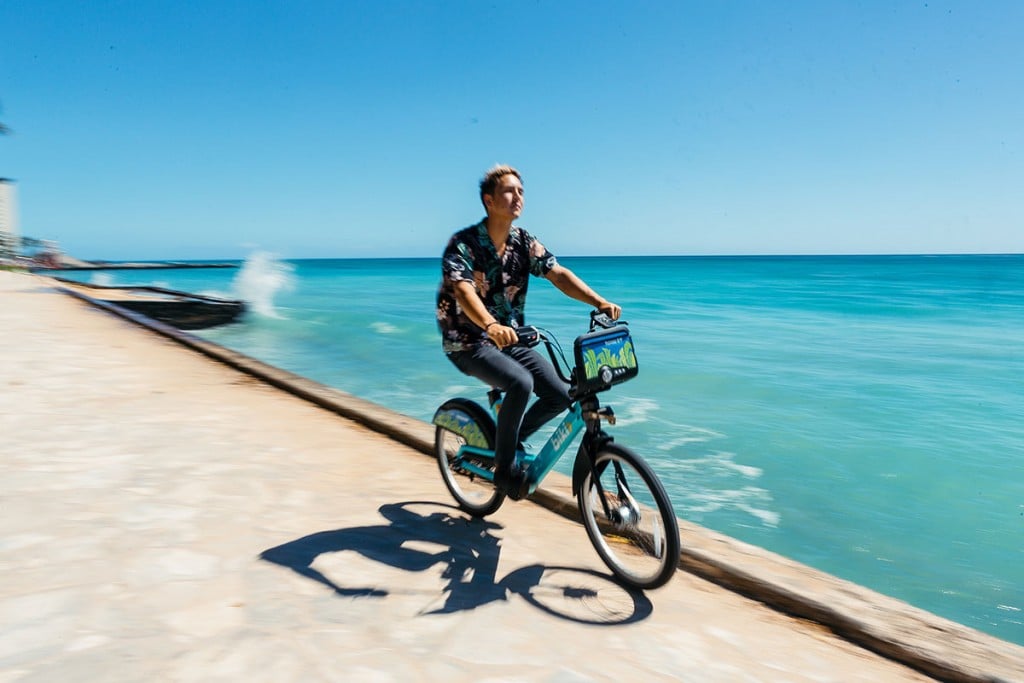 The Waikiki strip is a mixed blessing. On one hand, it's one of the more beautiful roads on Oahu, perfectly situated next to the golden sands and picturesque waves of Waikiki Beach. On the other hand, walking down Kalakaua Avenue in the hot Hawaiian weather can be physically taxing, while driving means having to deal with traffic and parking. Bikeshare Hawaii, a nonprofit bike sharing organization, presents a solution.
Biki, a combination of the word bike with the Hawaiian term wiki (fast, hurry), provides publicly accessible bikes that can be used for short trips of 30 minutes by paying a $3.50 fee for a single ride. Monthly plans are available, with a $15 plan that includes unlimited 30-minute rides, and a $25 plan for unlimited 60-minute rides.
Launched in June 2017, Bikeshare Hawaii has set up 100 Biki racks throughout Oahu in areas like Waikiki, Kakaako, Downtown Honolulu, Ala Moana, McCully, Moiliili and Diamond Head, with 1,000 total bikes in operation. This has been no easy feat, as Biki (pronounced bee-key) was in its planning stages for over two years. "From the beginning, it was attending neighborhood board meetings," Lori McCarney, CEO of Bikeshare Hawaii, says. "Going to rotary club presentations, talking to people, trying to explain the concept." To help further clarify the bike sharing idea, as well as general bike safety, Bikeshare Hawaii has organized free community outreach programs with Hawaii Bicycling League.
The bicycle itself makes cruising up and down Honolulu roads a breeze, which is good news for those less accustomed to cycling. "We can't fix everything," McCarney says, "but we can try to do things that will help make it less intimidating for people and more comfortable for people to ride." The light-blue bicycle's large, 24-inch tires help you peddle over some of Hawaii's less paved roads, while the turning radius makes tight pivots and avoiding pedestrians easier. It also features three gears, an adjustable seat and a lightweight aluminum frame.
Biki racks double as payment kiosks and all it takes to grab a bike is a credit card or monthly Biki pass. After payment, you'll receive a five-digit code that you can use to take the bike of your choosing. The Biki app makes this process even easier by providing real-time updates of bike availability and a map of all Biki racks on island. Once you're finished riding, simply dock your bike at the nearest Biki rack.
Although the bike is built with safety and accessibility in mind, riding through Honolulu's busier areas can still be risky. Congested streets, narrow roads and a lack of bike lanes can lead to situations where walking your bike on the sidewalk feels like it's the only option. McCarney recommends that riders "take the lane," or assume an assertive position in the middle of the lane, which ensures you will be seen by motorists. "The main thing is to be alert," McCarney says. "You can take the lane of traffic and be predictable."
Avoiding cramped streets is entirely possible with Biki, and the better option for those seeking attractive scenery. McCarney recommends riding in the quaint Ala Moana Beach Park or using the protected King Street bike lane to see Honolulu's urban aesthetics. Whether you're content floating down to Kakaako or cycling up Diamond Head road, Biki provides an affordable and convenient way to see all Honolulu has to offer.
Visit bikesharehawaii.org for more information.
(Updated 7/20/17: An earlier version of this story incorrectly stated that this was Hawaii's first bike-sharing program.)