Talk Story: Kai Lenny, stand-up paddle world champion from Maui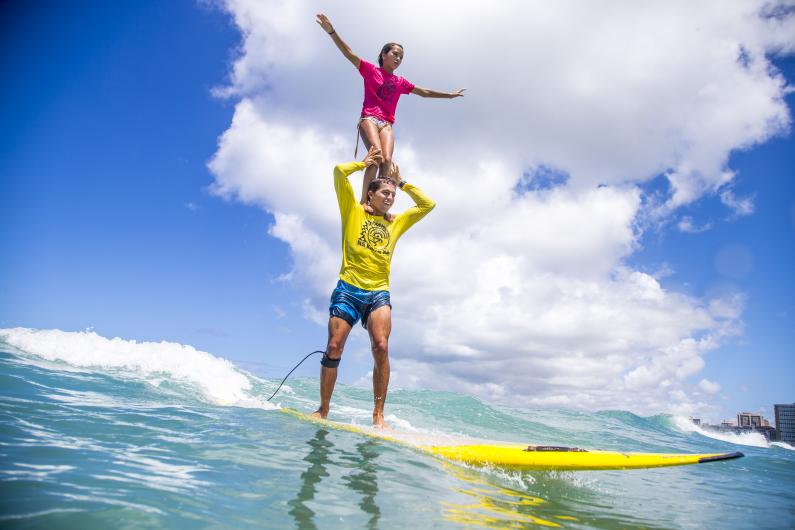 Kai Lenny is arguably the best waterman from Hawaii in this era. The 22-year-old from Maui is a six-time stand-up paddle world champion and competes professionally in windsurfing and kitesurfing as well. Lenny is also a big wave surfer, and one of the regulars at Peahi on Maui—you may know it as Jaws. With all of these accomplishments, he recently competed in the hardest race of his young life earlier this week with the Kaiwi-channel crossing in the Molokai 2 Oahu Paddleboard Race, where he finished in 5 hours, 15 minutes and 59 seconds, which earned first place in the Individual Stand-Up Paddle Unlimited Men's 29-and Under division and second place overall for SUP. While Sunday was a grueling marathon paddle, crossing 26 miles of open ocean, he followed up the next day with a free ocean clinic for kids in Waikiki, called T Galleria Hawaii + TAG Heuer Kai Lenny Giveback Day. Kai partnered with Duane DeSoto's nonprofit Na Kama Kai, which services 75-100 kids with a free beach day and ocean clinics, for the event. At the event, Lenny presented Na Kama Kai a $10,000 donation.
It's been an exhausting week for Kai Lenny, but he was in high spirits on Maui when we spoke to him as he prepared for a long trip away from Hawaii. Lenny's stoke is infectious and his outlook on giving back to the community is inspiring. If you don't believe us, then read on for yourself.
How are you after this crazy week?

I've been so good. It's just been an amazing journey. This past weekend has been super intense and super exciting. The future is looking brighter and brighter everyday.

How challenging was the Molokai to Oahu race this past weekend?

The channel crossing this (pas)t weekend was probably the hardest race I've ever done in my life. We started the race and the wind looked like it was going to be pretty decent. And then when we got out there, the clouds that were indicating good winds completely went away. It turned into a complete flat-water race, which is bizarre for that channel.
How much of a factor is the winds when you're paddling across the Kaiwi Channel?
At least with the wind it's kind of pushing you and it gives you a break because it creates these big open-ocean swells that you're able to surf, you know? So you don't have to use quite as much energy and you can focus on hitting the glides the best you can, but, when the wind dies out there, it's not necessarily about [the ocean] being a flat surface because it's still choppy. But now when there is no wind you're not able to catch them [to ride] because they're displaced and out of line. This particular [race], there was a south swell and it cancelled out any existing wind swell that was out there.
Stand-Up Paddling for five hours and 15 minutes is a physically taxing feat for any waterman, and then on Monday you held the free ocean clinic for kids. How did you manage that rigorous schedule?
I was really psyched-up [for Monday's T Galleria Hawaii + TAG Heuer Kai Lenny Giveback Day] because it's two different scenarios. One is a selfish pursuit and you're just chasing after a championship race, blah, blah and all that stuff. But, on the other hand with Na Kama Kai you're teaching people and bringing kids into the water and that in itself feels so good. I felt the same joy, but on two different days and in two separate ways. One was on the water with a bunch of awesome groms (kid surfers) and one was pushing myself to my limits.
You presented Na Kama Kai with a $10,000 donation from your Positively Kai Foundation on Monday night. Why did you want to benefit this Hawaiian nonprofit organization (NPO)?
One, I really like [Na Kama Kai founder and CEO] Duane DeSoto and his whole family so much, but most importantly I think what Na Kama Kai and his organization is doing for under-privileged kids in Hawaii, they're actually making a really big impact. I feel like a lot of charities do stuff, but it's really limited. [Na Kama Kai] is doing something one weekend every month and trying to make kids super stoked on the ocean, make a difference in their lives and positively change their lives forever. In the future, 20 years from now we'll see these kids are hopefully going to be leaders of Hawaii and they might have come from that program. So it's something I just really wanted to help out with because if I can make a difference then I would love to be a part of it.
That is awesome attitude for such a young professional wave-rider like yourself. What is the goal and mission of your NPO, the Positively Kai Foundation?
Its mission is to inspire and to give kids every opportunity to follow their dreams. Not only for my own organization, but also, when I go to other places in the world, it's to benefit other organizations that are doing incredible work in those regions. Positively Kai Foundation has been around for four years now and it's been amazing! We're only getting started and I'm excited to see what it evolves into. I'm pretty busy competing now, but at one time I'd like to put more and more effort into it as a whole.
Speaking of competition, where have you traveled to this year and where are you headed next?
[Molokai 2 Oahu Paddleboard World Championships] was a big event on my list and somewhere I really wanted to do well. I have a bunch more paddle races, then I continue doing the Stand-Up World Tour for both paddling and wave-riding. Looking forward to this winter too because they may finally have the Jaws contest and I'll be able to compete in that and that will be incredible! My next stop is Bermuda for a Red Bull trip then after that I head up to Hood River, Oregon then straight on over to Japan. It's a good little trip, no doubt.
You obviously love traveling the world because you've been doing it for so long from a young age, but what kind of feeling do you get when you're coming home to Maui after an extensive trip?
Hawaii is my favorite place on the planet! If I had to be stuck in one place for my whole life this would be it. You can do the most amazing things here in terms of sports. I think with all of my travels this is still the best place on the planet. The island [of Maui] and everything in general is just really insane.
From the perspective of a waterman of your caliber as well as a Maui resident, what advice would you give to a first time visitor to Hawaii on how to experience the ocean?
For sure, I would say–because it's hard to do it all–your first trip you definitely have to learn how to surf. It's part of Hawaii's culture, for one, and even stand-up paddling, and all these amazing sports that were born in Hawaii and sprung across the entire planet … I definitely think it's a cool way to get in the water. Visit places like, obviously, Waikiki and the beach boy atmosphere and what old Hawaii used to be. Over here on Maui, we have that on the south shore and the other wind sports [like windsurfing and kiteboarding]. These [ocean activities] paint a better picture of Hawaii's culture a little more than just doing the tourist thing around the Islands.