Tasting Kauai's traveling food tour will take you on a culinary adventure
The tour connects visitors and residents to the growers and artisans behind Kauai's signature foods.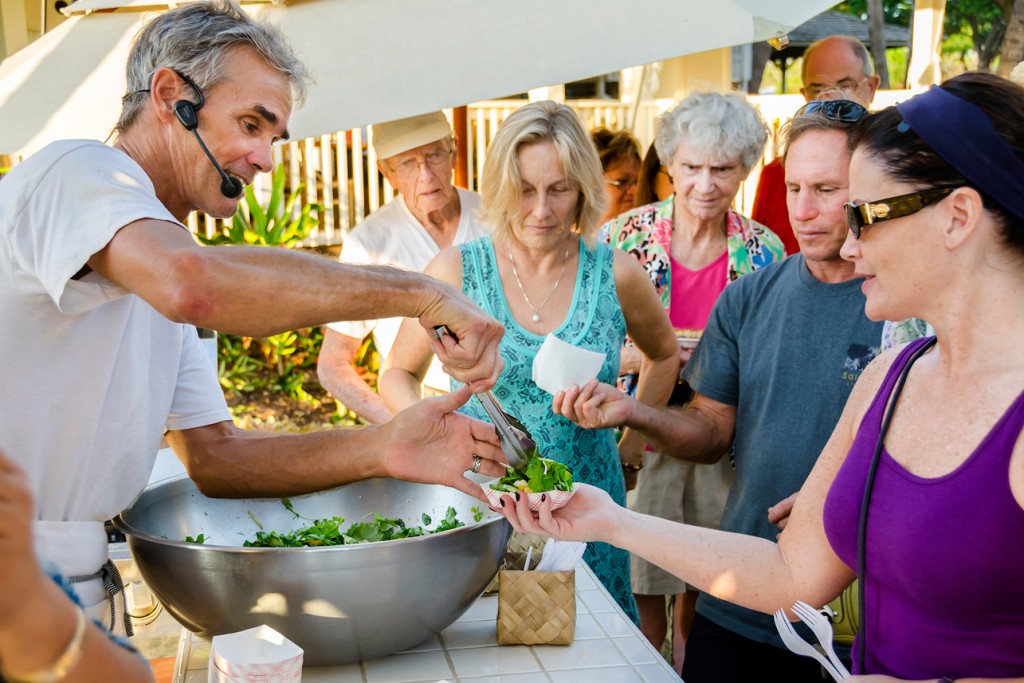 I haven't eaten a thing all day, but luckily, my self-imposed fast is about to end.
The Tasting Kauai food tour is beginning at Kickshaws, an avant garde food truck in Lawai, owned by chef Seth Peterson. My stomach can hardly wait.
Before launching Kickshaws, Peterson was an organic lettuce farmer who loathed cooking. Then he discovered molecular gastronomy, a genre of food science in which chefs draw on the principles of physics and chemistry to transform flavors and textures into something new and imaginative. Peterson fell head-over-heels for this sort of culinary engineering. Think foie gras ice cream with carbonated grapes.
Emerging from his mobile food lab, the chef drops a small plate of cruciferous vegetables and pig in front of me, saying, "It's not your average Thai salad."
Nope, there's nothing average about it. Armed with a plastic fork and a feisty appetite, I immediately dig in to the savory toss of Brussels sprouts, pork belly, coconut jam, ginger, turmeric, mint and kaffir lime. The meal is salty and crisp, with a satisfying lick of grease, and could quite possibly be the most satisfying salad I have ever tasted in my life.
Food connoisseurs—and folks who simply like to eat—are the target clients of Tasting Kauai's three to four-hour food tours, which usher guests on a colorful journey through the island's best food haunts, both little known and famous. Each tour includes five to seven stops at locales that range from fine-dining establishments to down-home farmers markets.
The brainchild of Kauai food writer Martha Lane, Tasting Kauai connects island residents and visitors with the growers and artisans behind Kauai's signature foods—both modern stars, such as spicy ahi sushi rolls, and indigenous staples, such as the fermented taro-root mush known as poi. The tours are being constantly recharted to stay fresh and representative of seasonal delights. Though largely guided by the farmers and restaurant owners encountered along the way, Lane is on-hand throughout the tour, offering her own culinary expertise.
As our south shore food tour continues, a short drive brings us to our next destination: Kukuiula Market. Complete with a juice bar and made-to-order sushi counter, the half-century-old grocery is located in historic Koloa.
"We're almost the only mom-and-pop market left," says Terri Kuribayashi, whose father was a sugarcane plantation truck driver until he seized the opportunity to open a specialty market in the 1960s. "I'm doing whatever I can do to preserve this store because my dad worked so hard to start this."
Over acai bowls and bites of raw, freshly caught fish, we listen to Kuribayashi tell her story about the history of the time-tested family business, until it's on to our next stop.
At Poipu Shopping Village, Papalani Gelato serves frozen scoops of cream, infused with the zest of ginger, basil, avocado, soursop, jackfruit, sea salt and kulolo (a popular local pudding made of taro, brown sugar and coconut). There's even a gelato that's flavored with locally brewed beer.
"There's nothing wrong with tiramisu or pistachio," says Papalani owner Marck Shipley, "but what we wanted to do was represent the tastes of this island. You're going to get a spoonful of something you're not going to find anywhere else."
Behind the gelato shop's counter, more than 30 surprising flavors of Italy's iconic dessert flavors await my taste buds, and I'm given the difficult task of choosing just one to fill my dish. (Luckily, I am given unlimited samples.) After much deliberation, I settle on gingerbread.
Shipley says that while his gelato business has roots that are distinctly European, his desserts are unique: Each sweet or savory scoop pays homage to Hawaii's flavors.
"I like to present our customers with options that you don't find elsewhere," Shipley says.
The tour continues onward to Monkeypod Jam, a tropical fruit preserve where I gorge on lilikoi curd, starfruit ginger jelly, orange chocolate sauce and papaya vanilla jam. Then, it's off to the weekly farmers market in Koloa, where we sample homemade soups, locally harvested honey and hot sauce made with Hawaiian chili pepper. There's live music, and a friendly fruit and vegetable farmer who schools me on his harvest of foot-long legumes, known as the ice cream bean. At another booth, I'm handed a spoonful of positively lip-smacking kim chee.
By the time a pastry chef puts a warm, flaky croissant in my palm, I'm about to burst. But Lane informs me that the treat, which is stuffed with an irresistible purple sweet potato and coconut filling, will be our last. Channeling my long-gone hunger pains of the morning, I finish the pastry, crumbs and all. It's simply too good to waste.
---
Tasting Kauai Food Tours, $99 per person. Reservations must be made in advance by booking online at tastingkauai.com. Guests provide their own transportation, but most of the stops on each tour are just a few minutes apart. Driving directions are provided.