TEDxMaui: "The Dream is Real" spotlights 20 innovators with strong ties to Hawaii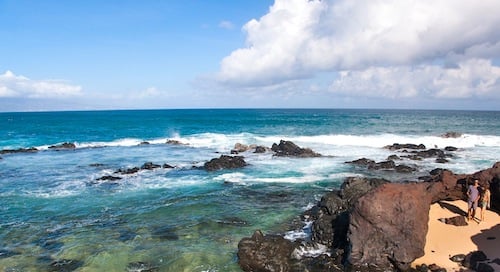 TEDxMaui aims to "broaden understanding and knowledge in order to make Maui one of the most exciting and promising places to live and work," or even just visit. Created in the spirit of TED — a national nonprofit devoted to "Ideas Worth Spreading" (largely by way of talks posted online) — TEDxMaui, now in its second year, is an independently organized event, licensed by TED, which stands for "Technology, Entertainment and Design."
TEDxMaui 2013: "The Dream is Real" will get under way at 9 a.m. and wrap up at 5:30 p.m. (Hawaii time) on Sun., Jan. 13 at the Maui Arts and Cultural Center in Kahului. For ticket information, click here. For details about a live webcast of the event, click here.
The daylong event will feature presentations from watermen, artists, environmentalists and others with strong ties to Maui and the Islands. Click here to check out the 2013 presenter lineup.
Among the speakers: a legendary big-wave surfer and Maui native; a Polynesian/Hawaiian voyaging canoe navigator; and a green-minded filmmaker whose work help prompt the creation of Papahanaumokuakea Marine National Monument — the largest single area dedicated to conservation in the United States. Here are some bio details compiled by TEDxMaui.
• Archie Kalepa — Recently inducted into the Hawaii Watermen's Hall of Fame, fifth-generation Lahaina, Maui resident Archie Kalepa is a legendary bid wave surfer — among a handful of men able to tow surf the enormous waves that break on Maui's north shore. Kalepa is also a leader in the development of safety equipment and rescue techniques using Jet Skis and water sleds. In addition, Kalepa is a player in the push to modernize and innovate stand-up paddling, and is dedicated to resurrecting interest in the traditional Hawaiian sport of canoe surfing.
• Kālepa Baybayan — A captain and navigator of the Hawaiian deep-sea voyaging canoes Hōkūleʻa, Hawaiʻiloa, and HōkūalakaʻI, Baybayan's role in the Polynesian voyaging renaissance dates back to the mid-1970s. He is now serving as navigator in residence at the Big Island's 'Imiloa Astronomy Center of Hawai'I (Hilo), developing curricula and materials that engage people of all ages in the indigenous art of celestial wayfinding.
• Paul Atkins — A filmmaker and Hawaii resident, Paul Atkins has documented the world's wildlife and cultures for National Geographic, the BBC, PBS, and numerous feature films. His first National Geographic special, the multiple Emmy-winning Hawai'i: Strangers in Paradise, dramatized the threat of alien species invasion; and Michel Cousteau's Voyage to Kure, on which Paul served as director of photography, reportedly convinced President George W. Bush to designate the Northwestern Hawaiian Islands as a national monument (Papahanaumokuakea) in 2006.
For more information about TEDxMaui, click here. For more information about TED, click here.