That mai tai you had in Hawaii? Here's the recipe.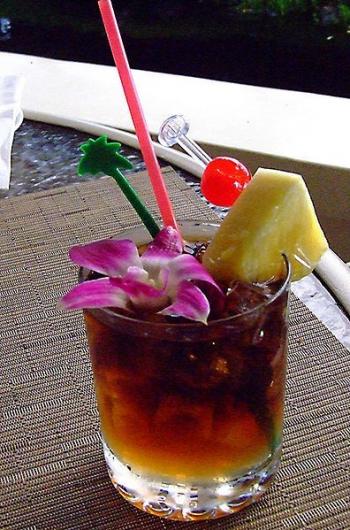 HAWAII Magazine reader Dixie Hergenreter emailed us requesting ingredients and instructions for a longtime Waikiki watering hole's take on an ever-popular tropical cocktail.
Can I get the recipe for the mai tai at Moose McGillycuddy's?
You ask. We answer.
A Waikiki fixture for decades, Moose McGillycuddy's restaurant/bar/nightclub draws steady patrons with its casual pub fare, draft beers, streaming ESPN feeds and extensive tropical cocktail menu.
We called Moose's for the recipe. They were happy to share it.
The ingredient list for the Moose Mai Tai is simple: orange juice, pineapple juice, rum and a few other ingredients. The recipe calls for two types of rum—light and dark. Moose's uses Hana Bay rum—a brand that despite its name, is actually made in California.
Feel free to substitute a light rum and dark rum of your choice.
Here we go with the recipe:

Moose Mai Tai
Ingredients:
3/4 oz. Hana Bay premium light rum
3/4 oz. Hana Bay premium dark rum
10 oz. Moose's Mai Tai Mix (see recipe on next page)
Fill a 14 oz. rocks glass with ice and add light rum, Moose's mai tai mix and a ¾ oz. float of dark rum. Garnish with pineapple wedge, Maraschino cherry and orchid.
To make Moose's Mai Tai Mix, combine the following ingredients in a pitcher and refrigerate:
3 quarts orange juice
3 quarts pineapple juice
3 quarts sweet and sour mix
1-750 ml bottle orgeat syrup
Moose's Mai Tai Mix recipe will make 10 to 15 mai tais. If you're entertaining fewer people, reduce the mai tai mix recipe ingredients to 1/3 of the original recipe.

The Royal Mai Tai
If you'd like to try a more contemporary take on the mai tai, try the recipe on the next page—one of our favorites. It was crafted by Hawaii master mixologist Joey Gottesman exclusively for the Royal Hawaiian Hotel's beachside Mai Tai Bar in Waikiki. If you're a HAWAII subscriber, you may recall the recipe from our Contemporary Tropicals feature in our July/August 2009 issue.
The Royal Hawaiian's recipe emphasizes use of fresh-squeezed juices, top-shelf liqueurs and rum. It's also colored pink from a maraschino cherry and vanilla puree—a nod to the hotel that serves it.
Give it a try and let us know what you think.
Ingredients:
1 oz. silver rum
½ oz. dark rum
½ oz. Amaretto Di Sarronno
½ oz. Cointreau
½ tsp. Maraschino cherry and vanilla puree (see recipe next page)
1 oz. fresh-squeezed orange juice
2 oz. fresh-squeezed pineapple juice
Place all the ingredients except the dark rum in a 14-oz. rocks glass, filled with ice. Roll by pouring the contents back and forth into a Boston shaker tin and then into the rocks glass until cocktail is an even pink color. When done, add dark rum, in a circular motion, as a float to the rocks glass. Garnish the cocktail with fresh lime, and a cocktail parasol skewered with a pineapple wedge and Maraschino cherry.
To make the Maraschino cherry and vanilla puree:
Empty a 10-oz. jar of stemless Maraschino cherries (juice included) and a tablespoon of vanilla puree (scraped from the interior of vanilla beans) into a blender. (You can substitute a teaspoon or less of natural vanilla extract for the vanilla puree.) Blend until smooth. Store in refrigerator.
Still thirsty for even more mai tai recipes? Check out The New-Wave Mai Tai, from HAWAII Magazine sister company Watermark Publishing. The 138-page book features more than 50 mai tai recipes, each a unique and modern take on the tropical classic. Click here for more info, or to order.
Moose McGillicuddy's Pub & Cafe. Waikiki, Oahu: 310 Lewers St., (808) 923-0751; Lahaina, Maui: 844 Front St., (808) 891-8600; Kihei, Maui: 2511 S. Kihei Road, (808) 891-8600.
Royal Hawaiian Hotel Mai Tai Bar, 2259 Kalakaua Ave. (808) 923-7311.