The 3 Best Bed and Breakfast or Inn on Hawaiʻi Island in 2021
Looking to get away from all of the resorts and hotels on Hawaiʻi Island? Try these three B&Bs, voted as the best by our readers.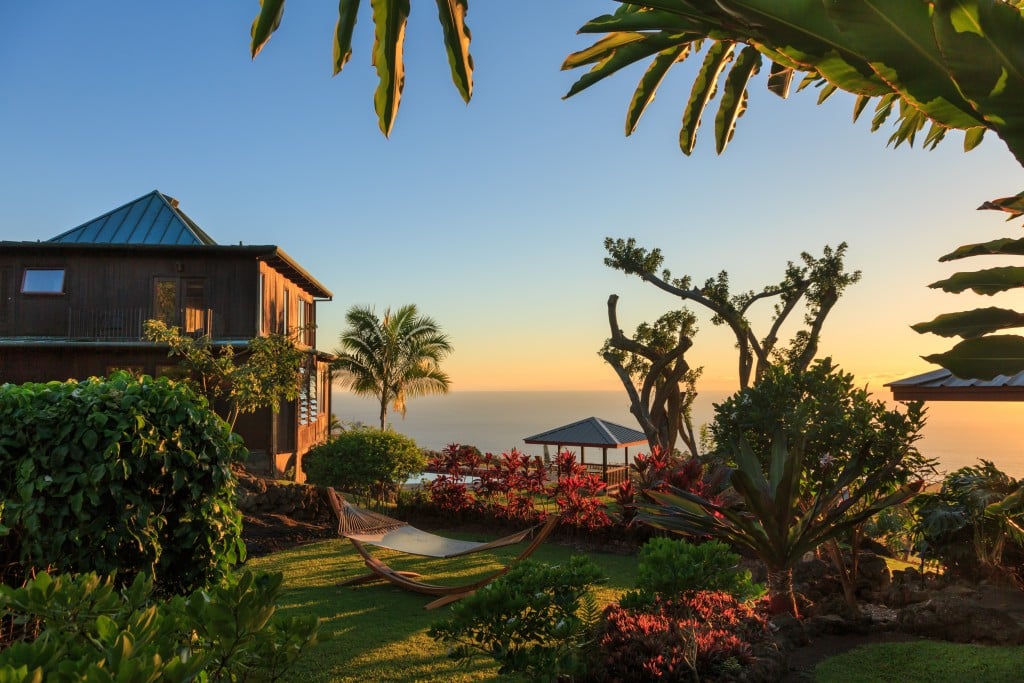 EDITOR'S NOTE: Since the publishing of our 2021 Readers' Choice list, Kealakekua Bay Bed & Breakfast and Waipi'o Rim Bed and Breakfast have closed their doors permanently.
The familial comforts of a proper bed and breakfast—or inn—are hard to beat. Instead of feeling like you're on vacation—a vibe that hotels and resorts are perfect at providing—a B&B makes visitors feel like they're at a home away from home. With kitchens to cook in and actual bedrooms to sleep in, these homey conveniences are what bring visitors back to B&Bs time and time again. And on Hawaiʻi Island, where there are fewer hotels to choose from when compared to Oʻahu, Kauaʻi and Maui, these aloha-first inns are the accommodations of choice. Here are the top three voted on by our readers for HAWAIʻI Magazine's 2021 Readers' Choice Awards.
1. The Palms Cliff House Inn
View this post on Instagram
A hodgepodge of fantastic ideas, victorian-era rooms reside in this oceanfront B&B with a variety of fruit trees and greenery growing on its property, all of which is perched atop a 100-foot cliff above Pohakumanu Bay on the Big Island's east coast. From upscale single bedrooms to small suites, every accommodation in The Palms Cliff House Inn is well equipped with ocean views, mini fridges, free dial-up Internet, TVs, DVD players with movies, and private bathrooms, entrances and a lānai. With breakfast served daily, you wouldn't even have to leave this immaculate property on your vacation, but if you do decide to explore, The Palms Cliff House Inn is conveniently close to Kolekole Beach Park (1.3 miles), the Hawai'i Tropical Botanical Garden (5.4 miles) and Hilo (10.6 miles). To make a reservation, call (808) 963-6076.
2. Hōlualoa Inn
Sitting at 1,400 feet above the Kona shoreline, guests staying at the Holualoa Inn can take in a panoramic view of the island's west side while wistfully wading around in the resort's custom-tiled mosaic pool. Masterfully mixing old Hawaii with modern luxuries, Holualoa Inn's almost overwhelming charm may make it difficult for guests to leave its lush 30-acre property, which also features a flower garden, a hot tub and carefully selected art and sculptures in the inn's open-air great room. One of the resort's best amenities is its rooftop gazebo, which is the ideal place for early risers to sip on coffee while watching the sun rise over the Big Island. To make a reservation, visit Holualoa Inn's website or call (808) 324-1121.
3. Dragonfly Ranch
View this post on Instagram
A charming eco-conscious boutique B&B surrounded by nature, Dragonfly Ranch looks to provide more to visitors than just a place to stay. From guided meditations to ionic foot bath detoxes and flower essence consultations, this accommodation is focused on helping its guests heal, mentally, physically and spiritually. The quaint suites that reside in this forested treehouse B&B are adorable as well, from the dreamy Aliʻi Suite—which is surrounded by tropical vegetation—to the snug Dolphin Room which, as you could guess, is filled with dolphin paraphernalia. To make a reservation, visit Dragonfly Ranch's website or call (808) 324-1121.