The 5 Best Beaches on Kauaʻi
From Poʻipū Beach to Hanalei Bay, Kauaʻi has some spectacular beaches; here are the best of the best, according to our readers.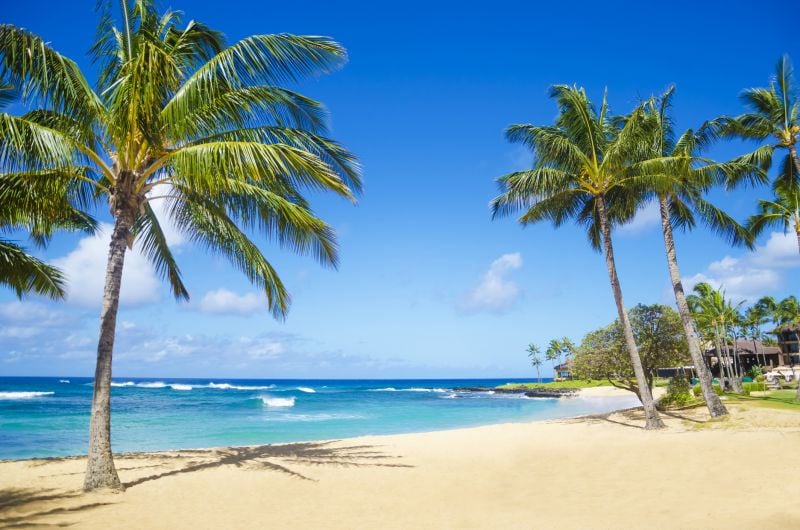 Vote now in our 2021 Readers' Choice Awards! Tell us which beaches, hiking trails, lūʻau, hotels, food trucks and surf spots are your favorites. The results will be printed in our March/April 2021 issue.
The Islands are known for their amazing beaches, no doubt about that, and Kauaʻi in particular features some of the finest stretches of sand in the state. Its plethora of postcard-perfect shorelines helped lift the Garden Isle to the top honors in the "Best Island" category of our 2020 Readers' Choice awards. So what are the best beaches on the best island? We turn to our readers—who have come to know and love these Islands—for their picks.
1. Poʻipū Beach
Making it to the No. 2 spot in our all-islands "Best Beaches" category, Poʻipū Beach on Kauaʻi's southern coast is one of the island's most popular beaches, and for good reason. The ideal spot for most ocean activities, here you can snorkel with sea turtles, catch waves at its surf breaks and observe monk seals from a safe distance. Families also love the calm tidepools that keep young children safe and sound. To top it all off, Poʻipū Beach is one of the best spots to view Hawaiʻi's spectacular sunsets.
2. Hanalei Bay
Crescent-shaped and stunningly picturesque, Hanalei Bay disproves the idea that you have to choose between quantity and quality. One of the largest bays on Kauaʻi's north shore and lined with nearly 2 miles of beach, Hanalei Bay provides ample space for beachgoers to lay out their towels, whether near the iconic Hanalei Pier—you'll want to jump off of this idyllic structure at least once during your visit—or away from the crowds at the opposite end of the bay. No matter where you sit, you can always look mauka (inland) for an epic view of the ridges and valleys that serve as a backdrop to the bay.
3. Mākua Beach
One of the best snorkeling spots in Hawai'i, Kaua'i's Mākua Beach, often referred to as Tunnels Beach due to the area's numerous underwater lava tubes, boasts crystal-clear waters full of marine life. This snorkeling sanctuary is roughly 9 miles west of Princeville and here you'll see all sorts of Island sea life, from humuhumunukunukuāpua'a, our state fish, to honu (Hawaiian green sea turtles). The towering coral formations at the beach's outer reefs are also worth swimming out to. Since the beach borders the Kalalau Trail, it's also a great place to wash off all of that sweat and dirt after a long hike.
4. ʻAnini Beach
If you're looking for a calm, uncrowded beach that's good for swimming and snorkeling, look no further than ʻAnini Beach. A long offshore reef protects the beach from everything but the largest of winter swells, which creates the perfect place for families with keiki (children) to get wet. And because the beach is off the main highway, and only accessible via ʻAnini Road, which snakes through a small residential neighborhood, you'll find less foot traffic here than at some of the other beaches on this list. (Looking at you, Poʻipū Beach.)
5. Kalapakī Beach
Protected from the elements by geographic outcroppings, Kukiʻi Point and Carter Point, Kalapakī Beach sees calm ocean conditions almost all year round. These natural land masses shelter the beach from large waves, which means it's a prime location for kids and those who aren't super comfortable swimming in the ocean. The area also happens to be a great beginner surf spot for those looking to practice their pop-ups and paddling technique. The Kauaʻi Beach Boys are also located at Kalapakī Beach, and offer services such as surfboard rentals, stand-up paddleboard rentals and surf lessons.