The 5 Best Festivals in Hawai'i
Our readers' favorite events in 2019 that showcase the culture, food and entertainment of the islands.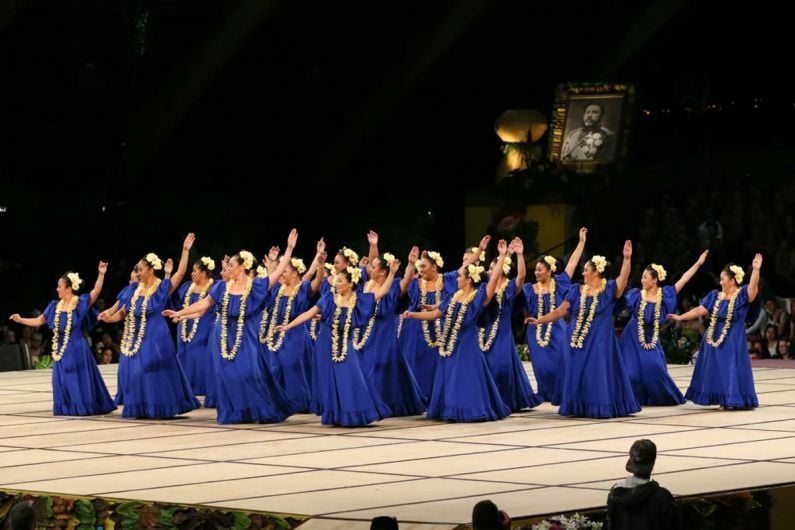 These are the Hawaii festivals that people travel from all corners of the world to attend. Whether it's a legendary hula festival or a block party in honor of Hawaii's favorite canned meat, you won't find these unique gatherings anywhere else in the world. Here are the festivals and celebrations of Island culture our readers voted the top events in our 2019 Readers' Choice Awards.
1. Merrie Monarch Festival, Hilo, Hawaii Island
Considered "the Olympics of Hula," this annual festival in April is a weeklong celebration of Hawaiian hula. Held at the Edith Kanakaole Stadium, the festival brings aficionados of the dance form from far and wide to Hilo. Founded in 1963, the highly anticipated event is named after Hawaii's last reigning king, Kalakaua, nicknamed "The Merrie Monarch," who helped spark hula's artistic resurgence. It's not merely a competition though: Just as big a draw are the hoolaulea (parade and public celebration), Hawaiian artisan craft fair and live music shows, all leading up to the three nights of hula competition. April 21 to 27, 2019, full event schedule at merriemonarch.com.
2. Aloha Festivals, All Islands
It's the largest Hawaiian cultural celebration in the United States, and it's a month long, which certainly makes it an event worth traveling for. Created in 1946 "to foster the aloha spirit through the perpetuation of the Hawaiian culture and the celebration of the diverse customs and traditions of Hawaii," Aloha Festivals started as "Aloha Week" on Oahu, but in time, became a statewide tradition, with each Hawaiian island hosting free events revolving around its unique history and culture. Oahu's celebration is the biggest of them all, with people from all islands coming together along Waikiki's bustling Kalakaua Avenue for a massive hoolaulea (Sept. 21) with food tents, games, and live local entertainment. A week later, the colorful floral parade down Kalakaua Avenue (Sept. 28) showcases a procession of flower-bedecked pau horseback riders, marching bands and elaborate floats covered with Hawaiian flowers. Aug. 31 to Sept. 28 on Oahu, free. Each island organizes its own events separately; visit alohafestivals.com for more information.
3. Waikiki Spam Jam, Waikiki, Oahu
How do the people of Hawaii love our Spam? Let us count the ways. At this huge block party celebrating Hawaii's favorite canned meat (did you know that nearly 7 million cans are consumed here annually, more than any other state in the country?) you'll find creative dishes from Island eateries that showcase the local comfort food in lots of surprising ways. Spam flan? Spam ice cream? Spam fries? You bet! In addition to the food, there's live entertainment, Spam merchandise, crafts and apparel for purchase, and booths where you can make a donation of Spam to the Hawaii Foodbank, the largest nonprofit in Hawaii that feeds the needy. April 27 from 4 to 10 p.m., free, spamjamhawaii.com.
4. King Kamehameha Day, All Islands
Each June 11, events across the Islands celebrate King Kamehameha the Great, the warrior, diplomat and leader credited with uniting the Hawaiian Islands into one royal kingdom in 1810. Some festivities you'll see on this state holiday are lei drapings, parades, block parties and hula performances. In downtown Honolulu, thousands turn out to watch the King Kamehameha Statue Lei Draping Ceremony at Aliiolani Hale, where the arms of the 15-foot statue are covered with hundreds of feet of fresh flower lei. In King Kamehameha's hometown of Kohala, Hawaii Island, there is also a lei draping, followed by a floral parade and hoolaulea. June 11, free.
SEE ALSO: 5 fascinating facts about the King Kamehameha statue
5. Made in Hawaii Festival, Oahu
At Hawaii's largest and most diverse annual marketplace of Island-made products, you'll find everything from tropical tiki collectible kitsch to trendy coastal modern furniture, from fine art photography and jewelry to bath and body products, food and gourmet seasonings. Thousands of residents and visitors come out to the Neal S. Blaisdell Center in Honolulu for this must-attend festival, where everything has to meet state law criteria for the "Made in Hawaii" label. There's even a cooking demonstration area if you get hungry and an on-site U.S. Postal Service booth where you can ship your purchases from the festival. Aug. 16-18 at the Neal S. Blaisdell Center, Honolulu, madeinhawaiifestival.com.