The 5 Best Hikes for Beginners on Hawaiʻi Island
Soak in the beauty of the Big Isle from these trails, voted the best for novices in our 2020 Readers' Choice Awards.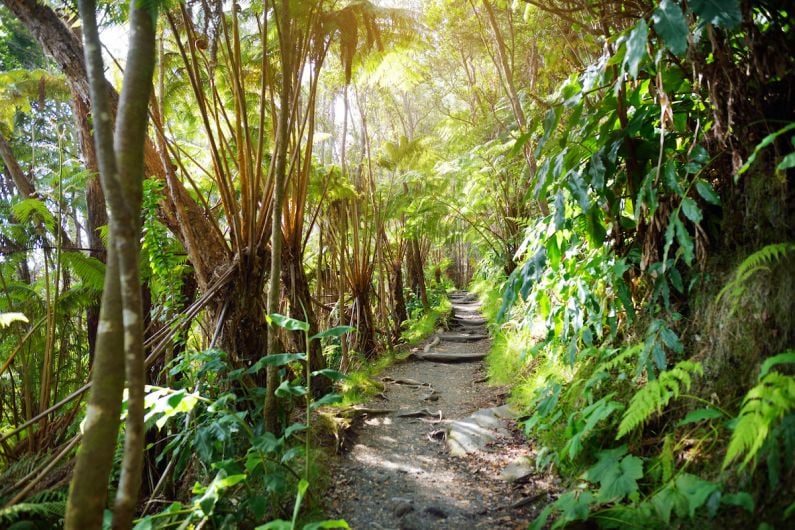 From black sand beaches to volcanic landscapes, Hawai'i Island has some incredible sights to see. And you don't need to be in tiptop shape to experience them. Whether you're walking alone or with family, all you need for these easy hikes is a good pair of athletic shoes, sunscreen, a fully charged cell phone, a couple of water bottles and a sense of adventure. Here are the Top 5 Hawai'i Island hiking trails for beginners, as ranked in our 2020 Readers' Choice Awards.
1. Kīlauea Iki in Hawaiʻi Volcanoes National Park
Lined with wild flowers and offering breathtaking views of the still-smoldering volcanic crater, Kīlauea Iki trail is a moderate 4 miles, perfect for beginners and experienced hikers; ahu (stacked rocks) mark the unpaved path. The northern crater rim section of the trail has been closed since May 2018 due to volcanic activity, but visitors can still enjoy stunning scenery on the quick out-and-back trail. Kīlauea Iki is accessible through Hawai'i Volcanoes National Park (a one-hour drive from Hilo International Airport), and the trailhead is a five-minute drive from the Kīlauea Visitor Center.
SEE ALSO: Explore a Hawaiian Forest and Volcanic Caldera on the Kīlauea Iki Trail
2. Pololū Valley
At just under 2 miles round-trip, the Pololū Valley trail leads to a popular black sand beach along the Hāmākua Coast. On the way to the beach, hikers are treated to gorgeous views of Hawai'i's north shore. But leave your slippers at home—parts of the trail are steep and rocky, so it's best to have shoes with good grip. The trailhead is located just off the Akoni Pule Highway past Hāwī, an hour drive north from Kona International Airport.
SEE ALSO: Beyond the Lookout: Exploring the Big Island's Pololū Valley
3. Devastation Trail in Hawaiʻi Volcanoes National Park
See history up close on the paved half-mile (one-way) Devastation Trail, named for the 1959 eruption of nearby Kīlauea Iki. This paved hike, which is wheelchair and stroller accessible, starts at the Devastation Trail parking lot and leads to the Pu'u Pua'i Overlook. It's quick and easy and is located just south of Kīlauea Iki trail (which nabbed the No. 1 spot on this list).
4. ʻAkaka Falls Loop Trail
Hiking the 'Akaka Falls Loop Trail is one of the best and easiest ways to see the native vegetation and breathtaking views Hawai'i Island is known for. Along this half-mile paved hike, you will not only see the 442-foot waterfall the trail is named for, but you will also see the equally impressive 100-foot Kahuna Falls. The trailhead is located at 875 ʻAkaka Falls Road in Honomū and is just a 30-minute drive from Hilo International Airport. (This trail is temporarily closed due to COVID-19.)
5. Papokōlea Green Sand Beach
Located two hours by car from Kona and Hilo, Papokōlea Green Sand Beach is one of only four green sand beaches in the world. The "hike" is the walk to the beach. At 5.6 miles round-trip, this is one of the longer treks on our list, but the breathtaking views as you walk alongside the ocean make it worthwhile. Make sure to bring a hat, pack plenty of water, and wear sunscreen—there isn't much shade on this coastal trail.