The 5 Best Kauaʻi Beaches in 2021
Dotted along the entire coastline of Kauaʻi are some of the finest beaches in the state, and here the five HAWAIʻI Magazine readers love most.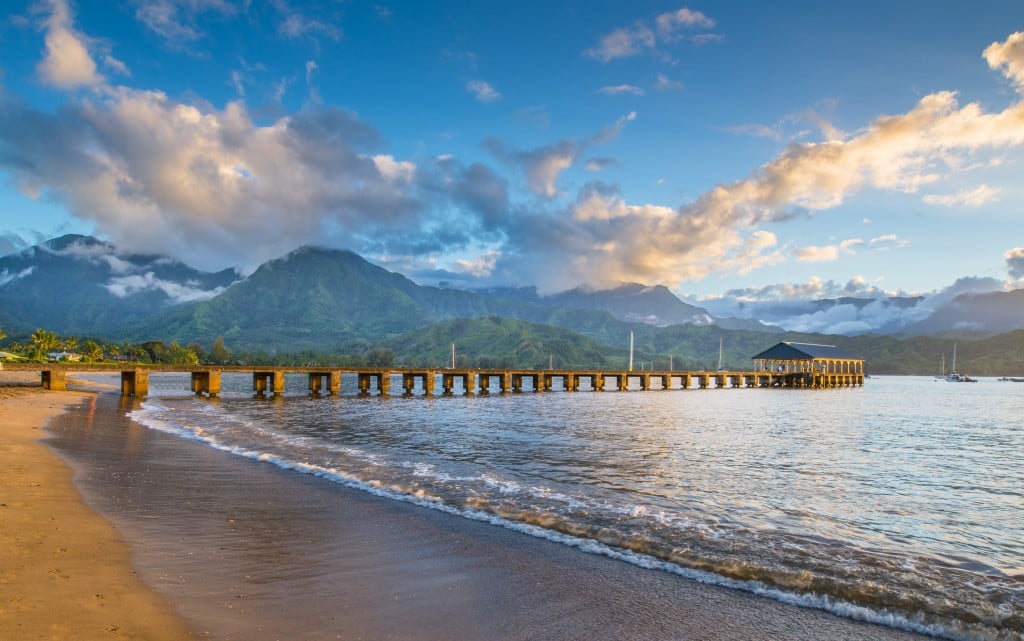 There are a lot of reasons visitors and locals love Kauaʻi. The aloha-first atmosphere, catching views from the breathtaking Waimea Canyon and hiking the iconic Nāpali Coast are all great reasons to visit the Garden Isle. But for some—actually, many—it's the beaches that steal away the hearts and minds of those who visit. Below are the five best beaches on Kauaʻi, according to HAWAIʻI Magazine readers
1. Hanalei Bay
Truly picturesque, Hanalei Bay—a crescent-shaped beach along Kauaʻi's northern shoreline—is the epitome of what it means to be one of Hawaiʻi's best beaches. Nearly 2 miles long, Hanalei Bay provides ample space for beachgoers to lay out their towels, whether near the iconic Hanalei Pier or away from the crowds at the opposite end of the bay. Speaking of the pier, visitors have to jump, at least once, from its sand-dusted platform into the sparkling blue sea below. Trust us, it's an unforgettable experience. And no matter where you sit, you can always look mauka (inland) for an epic view of the ridges and valleys that serve as a backdrop to the bay.
2. Poʻipū Beach
A defining quality of a beach is how well you can view the sunset—or sunrise—from its golden shores. And at Poʻipū Beach, afternoon beachgoers get a front-row seat to the sun's majestic daily ritual. Of course, that's not the only thing that got Poʻipū Beach to the second spot on our list. Families love the shallow tidepools perfect for keiki (kids) to splash around in, and surfers can even catch a few waves at a break located just offshore.
3. ʻAnini Beach
There's something to be said for a small, modest beach that doesn's attract a crowd, and ʻAnini Beach is a perfect example. Protected from turbulent ocean conditions thanks to an offshore reef, parents don't have to worry—too much—about their kiddos at this family-friendly beach. Whether you want to swim, snorkel or just lay on the sound without 50 people around, a trip to ʻAnini Beach won't disappoint.
4. Kēʻē Beach
Located right next to the Kalalau Trail's trailhead, Kēʻē Beach shines in its raw, isolated natural beauty. Fortunately, it's not too isolated, as there is lifeguard supervision, restrooms and showers for beachgoers to use. Snorkeling is one of the best activities to do here, as the waters are crystal clear and—for most of the year, especially during summer months—extremely calm. The beach does fill up early, so if you want to get it all to yourself, plan on arriving before 9 a.m.
5. Mākua Beach (aka Tunnels Beach)
Another snorkeling hotspot, Kaua'i's Mākua Beach, often referred to as Tunnels Beach due to the area's numerous underwater lava tubes, is filled with colorful fish and sea life, all living their underwater lives in these exceptionally clear waters. And it's not just the fish and turtles worth checking out, as towering coral formation located along the beach's outer reef will take your breath away—or would if you weren't underwater. Since the beach borders the Kalalau Trail, it's also a great place to wash off all of that sweat and dirt after a long hike.