The 5 Best Loco Mocos in Hawaii
See how your favorite loco moco stacks up in our 2019 Readers' Choice Awards.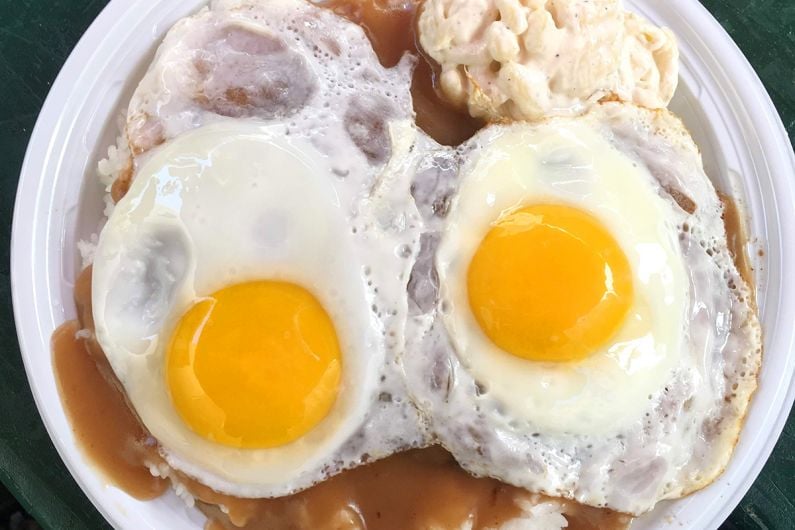 Discussions surrounding the best loco moco tend to get impassioned. People love this humble plate of comfort food, with hamburger patties stacked on a bed of white rice, smothered in brown gravy and topped with an egg. Everyone has a favorite, but here's how our readers ranked the classic version of loco moco in our 2019 Readers' Choice Awards.
1. Rainbow Drive-In, Oahu
Three years in a row, the historic drive-in off Kapahulu Avenue, just outside Waikiki, has taken top honors. While this may appear a simple plate of carbs and gravy, the loco moco here is actually a carefully concocted dish. The all-beef patties are mixed with breadcrumbs to keep them moist and the gravy is made from scratch every day. 3308 Kanaina Ave., Honolulu, Oahu, (808) 737-0177, rainbowdrivein.com
2. Aloha Mixed Plate, Maui
This beachside restaurant in Lahaina underwent a three-month renovation last year and reopened with an updated décor and a new deck—but the signature loco moco remains unchanged. House-made beef patties top steamed white rice with two eggs and a rich brown gravy all over. The side of mac salad is a nice touch. 1285 Front St., Lahaina, Maui, (808) 661-3322, alohamixedplate.com.
3. Da Kitchen, Maui
This popular restaurant is known for transforming the typical plate lunch into something grander. Under the header on its menu titled "Moco Madness," there are five different—and creative—versions of the classic loco moco. You can swap the traditional hamburger patties with teriyaki chicken or fish tempura—or, for the starving, order the Notorious B.I.G. Moco, which adds chili, mushrooms, Spam, bacon, Portuguese sausage and cheese to the usual components of a loco moco. Seriously. Various locations, Maui, dakitchen.com.
4. Zippy's, Hawaii Island, Maui, Oahu
This locally owned fast-casual restaurant chain—beloved by locals—has been serving its loco moco for five decades. It offers two versions of the dish: classic—with thick hamburger patties, rice, brown gravy, two eggs and a scoop of mac salad—or one topped with Zippy's signature chili. Various locations, zippys.com.
5. Café 100, Hawaii Island
Hilo, the sleepy bayside town on Hawaii Island, is considered the birthplace of the loco moco—it was created in the late 1940s at the long-gone Lincoln Grill. But Café 100, an old-school drive-in that opened in 1949, has long called itself the "home of the loco moco." It certainly is the home of the MOST loco mocos, with more than a dozen varieties on its menu, including ones with stew, ahi, chili and bacon. 969 Kilauea Ave., (808) 935-8683, cafe100.com.
SEE ALSO: Where To Eat a Loco Moco in Hilo, the Town that Invented It