The 5 Best Lūʻau on Oʻahu in 2022
A trip to Hawaiʻi isn't complete without experiencing a lūʻau. These are the best shows on Oʻahu in 2022, as voted by our readers.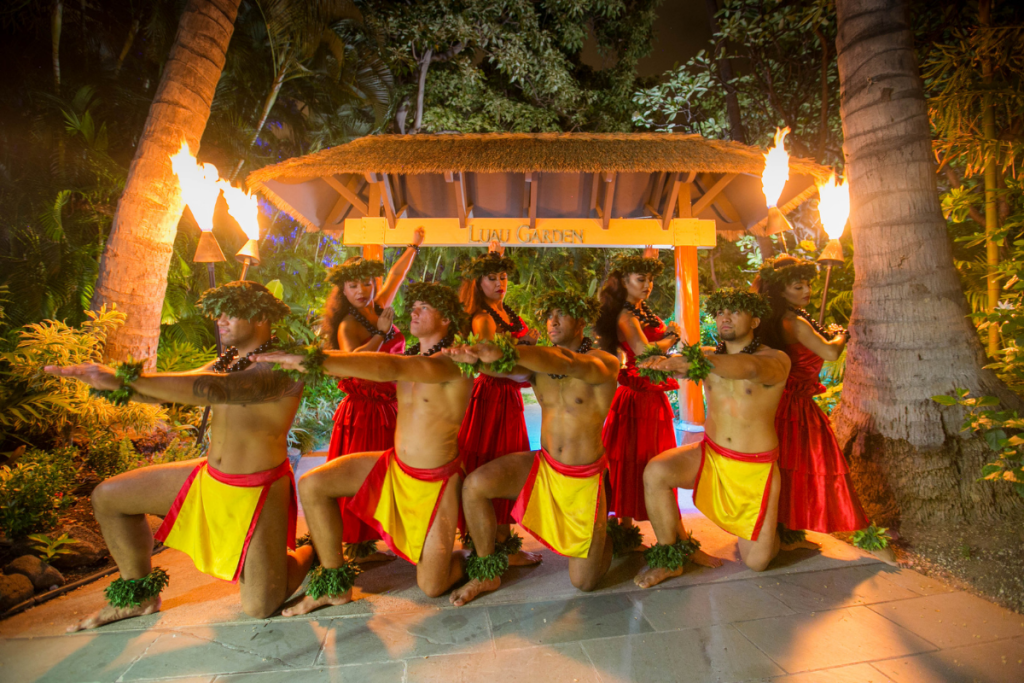 Every experience is independently selected and curated by our team of editors. Bookings through our links may earn us a commission.
You can't visit the Islands without attending a lūʻau. The feasts are extravagant celebrations of aloha and Hawaiian culture that the entire ʻohana will enjoy. However, some lūʻau shows are better than others. What makes a lūʻau great? There's ʻono food, lively Hawaiian music, heart pounding drums, exciting performances and hula lessons that will get everyone off their seats. These are the lūʻau shows on Oʻahu that HAWAIʻI magazine readers love the most.
1. Paradise Cove Lūʻau
View this post on Instagram
Far from Waikīkī, Paradise Cove in Ko Olina hosts a memorable lūʻau on a 12-acre beachfront estate. Guests are greeted with aloha and mai tais, but it won't be long before the hands-on activities begin. Guests test their dexterity in a variety of Hawaiian games, but the most exciting activity is the hukilau on the beach. All are invited to pull fishing nets from the sea in rhythm to a conch shell and Hawaiian chants. Rest assured, after a slight workout, there's a feast of traditional Hawaiian dishes and local favorites. As the sun sets, guests enjoy unforgettable performances that celebrate Hawaiian and Polynesian culture. 92-1089, Aliʻinui Dr., Kapolei.
---
2. Aliʻi Lūʻau at the Polynesian Cultural Center
The Aliʻi Lūʻau at the Polynesian Cultural Center on Oʻahu's North Shore is one of the largest lūʻau in the Islands and offers a total immersive experience. From traditional games and canoe paddling to starting fires and cooking, guests are invited to partake in a variety of hands-on lessons. Guests can also explore replicas of Polynesian villages and learn about the diaspora across the Pacific by interacting with friendly performers. The immersive education continues as the night progresses as guests dine on Hawaiian and local cuisine. For dinner, an entire pig is roasted in an underground imu (an underground pit for roasting meats and other food) that is served with an all-you-can-eat buffet. And of course, there's an exciting hula show to follow. 55-370 Kamehameha Hwy., Laie.
---
3. Germaine's Lūʻau
View this post on Instagram
Near Barber's Point lighthouse in Kapolei, guests can find a laid-back, backyard-style feast at Germaine's Lūʻau. The lūʻua is a decades-old tradition. The beachfront property was formerly owned by a prominent family known for their hospitality and hosting regular lūʻau. The celebration continues today with a traditional imu ceremony, all-you-can-eat buffet of local favorites, hula lessons and enthralling performances. 91-119 Olai St., Kapolei.
---
4. Hale Koa Hotel

Lūʻau
View this post on Instagram
Just steps from the beach and Hale Koa Hotel's main pool, guests can experience the hotel's award-winning lūʻau. When the conch shell sounds, it signals the start of the exciting festivities. The night begins with an imu ceremony and a 3-course dinner, which includes sampling kālua pork and poi. Following dinner, guests can relax and enjoy a beautiful performance that takes them through the history of Polynesia. The lūʻau is sure to be an unforgettable experience. 2055 Kalia Rd., Honolulu.
---
5.

Lūʻau

at Sea Life Park
View this post on Instagram
The Ka Moana Lūʻau at Sea Life Park is an extraordinary production on Oʻahu's stunning windward coast. With breathtaking views of the coast as the backdrop, guests at the Ka Moana Lūʻau can experience the Islands' centuries-old traditions, such as coconut tree climbing, traditional fire-making and imu ceremonies. Guests can also pile their plates with Hawaiian sweet rolls, juicy kālua pork and huli huli chicken, poi, lomi lomi salmon and more. The evening is filled with exciting entertainment and dances honor the history and culture of Polynesia. 41-202 Kalanianaole Hwy., Waimanālo.
See all of the winners of our 2022 Readers' Choice Awards in our latest issue, which you can buy here. Better yet, subscribe and get HAWAIʻI Magazine delivered to right to your mailbox.