The Best National Parks in Hawaiʻi in 2023
From Hawaiʻi Volcanoes National Park on Hawaiʻi Island to the World War II Valor in the Pacific National Monument on Oʻahu, here are our readers' five favorite national parks in 2023.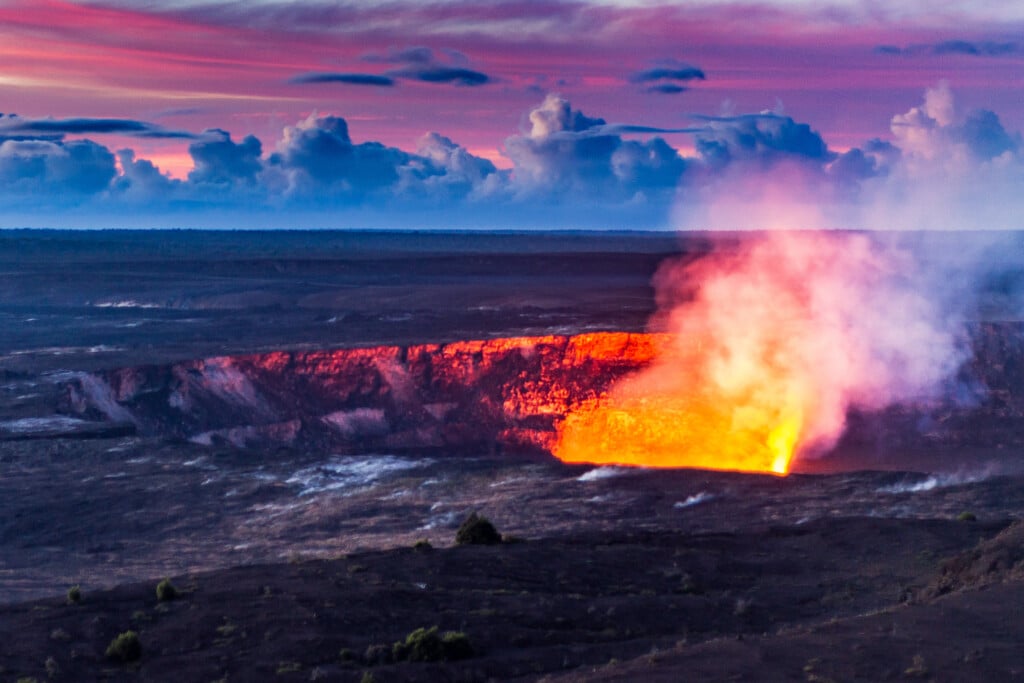 While there are over 50 state parks in Hawaiʻi, only nine areas are designated as "national parks" in the Islands. Like state parks, national parks—and national monuments— are vital in protecting scenic, cultural and historic areas, and visitors and local residents alike are sure to learn something new about the Islands with each visit. Below are the five best national parks in Hawaiʻi in 2023, according to our very own readers.
1. Hawaiʻi Volcanoes National Park, Hawaiʻi Island
A perennial favorite among Hawaiʻi visitors and locals, Hawaiʻi Volcanoes National Park on the Big Island is the biggest national park in Hawaiʻi, and also—according to our readers—the best. Measuring in at 323,431 acres, it's one of the only places in the state where you can go to see actual flowing lava, and the park has been a hotspot of eruptions in the past few years. Even if there's no volcanic activity happening in the area when you visit, the park has an array of trails and gorgeous viewpoints dotted around its massive enclosure, so there's more than enough to do for outdoorsy travelers.
2. Haleakalā National Park, Maui
Breaking through the clouds and ascending up Haleakalā on Maui is already a pretty magical experience, but catching the sunset from Haleakalā National Park, which sits over 10,000 feet above sea level? Unforgettable. With a handful of hiking trails of varying lengths to an epic lookout that overlooks the island itself, there are more than enough ways to fill a day at Haleakalā National Park. Just be sure to bring a jacket! It gets especially frigid at night—however, you'll want to stick around to see a star-filled night sky.
3. World War II Valor in the Pacific National Monument
For many, a trip to Hawaiʻi isn't complete without visiting Pearl Harbor. The Hawaiʻi naval base was attacked on December 7, 1941 and became the immediate cause of the United States' entry into World War II. Now, 77 years later, the site is home to relics of the last world war, and includes the USS Arizona Memorial which sees thousands of visitors daily. There are also museums and exhibits, like the Pacific Aviation Museum and the Battleship Missouri Memorial, that are absolutely worth checking out.
4. Pu'uhonua O Hōnaunau National Historical Park, Hawai'i Island
Now a historical park where visitors and locals can go to learn about Hawaiian culture, Puʻuhonua o Hōnaunau was once a place of refuge for kanaka maoli (Native Hawaiians). Until the early 19th century, Hawaiians who broke kapu (taboo, sacred laws) could avoid execution by fleeing to a place of refuge, or puʻuhonua (sanctuary, asylum, place of peace and safety). Here the offender could be absolved by one of the sanctuary's priests and then be free to leave. Now, the site serves as a place of refuge for the Hawaiian culture itself, featuring reconstructed hale (traditional Hawaiian houses), temple platforms, royal fishponds, sledding tracks and coastal village sites.
5. Kalaupapa National Historical Park, Moloka'i
As beautiful as it is isolated, Kalaupapa National Historical Park has a storied and tragic past. Serving as an isolation settlement for those with Hansen's disease (leprosy), the population of Kalaupapa peaked at 1,100 in 1890, and thousands have died within the settlement. Now, only a handful of residents remain, allowed to stay after the management of the settlement was turned over to the National Park Service.
To see more from our 2023 Readers' Choice Awards, visit our winners page.