The 5 Best Oahu Places for Made-in-Hawaii Shopping
Be confident you're buying from local artisans and producers at these Oahu shops, winners of our 2019 Readers' Choice Awards.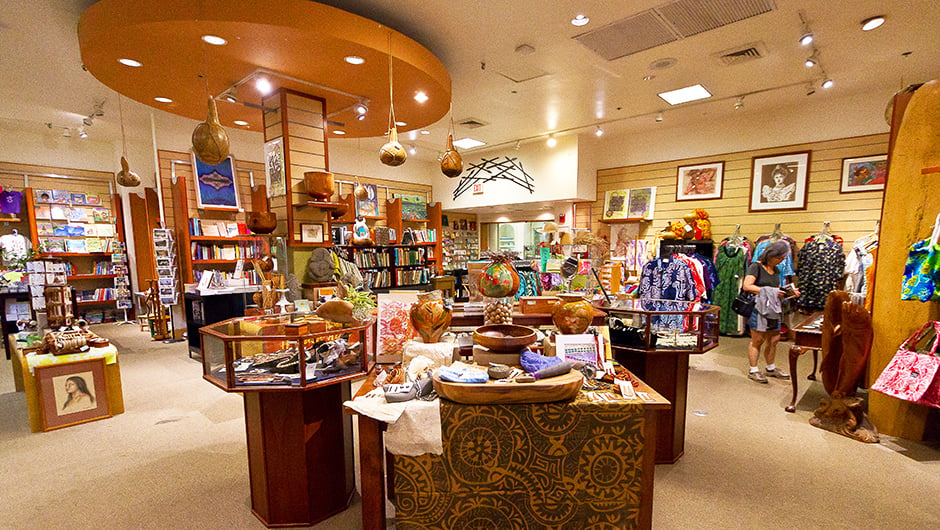 It's hard to know if you're really getting a locally made product when you buy from a street kiosk, store or farmers market. The question of where you can find the best made-in-Hawaii clothes, knickknacks, music, crafts, jewelry and home décor is a big one. Here are some of the top boutiques on Oahu where you can be confident you're buying from local artisans, crafters and producers.
1. Na Mea Hawaii
Residents and visitors know that Na Mea is a rare gem of a place to go for a gift that's truly Hawaiian. Its ever-changing curated selection ranges from Hawaii-published used and new books, music CDs and DVDs to clothes, art, jewelry and accessories. As a hub for cultural exchange, Na Mea also hosts workshops, where you can take a Hawaiian language class or try your hand at lau hala weaving and lei making. 1200 Ala Moana Blvd., Suite 270, Honolulu, (808) 596-8885, nameahawaii.com.
2. SoHa Living
View this post on Instagram
If you love beach chic and want something special to preserve your memories of Hawaii, SoHa Living, founded by two sisters, has the perfect trinkets and accessories. From pillows that proudly declare their love for Hawaii to the store's rustic signature diffusers, weathered wooden beach plaques and island-style greeting cards, you'll find something unique in every corner, all made with aloha right here in the Islands. Various locations on Oahu, Maui and in California, sohaliving.com.
3. Mori by Art + Flea
A brick-and-mortar incarnation of Art + Flea, Hawaii's first urban street market, Mori is well-known for its specialty made-in-Hawaii goods from local vendors, artists and designers. A gathering place for Oahu creatives, Mori sells curated local fashion apparel, thoughtfully designed home goods, stationery, quirky accessories and art from many up-and-coming Hawaii artists, with new vendors contributing every day. South Shore Market at 1170 Auahi St., Suite 105, Honolulu, (808) 593-8958, morihawaii.com.
4. Red Bamboo
View this post on Instagram
If you're looking for one-of-a-kind furniture, home décor and cultural pieces, then Red Bamboo is the place for it. From super-cute candles, woodware, bedroom furnishings and table settings to clothing, jewelry and tote bags, there's plenty here to help you add a little piece of Hawaii to your life. You may just end up starting your own tiki room after visiting this store. 602 Kailua Road, Kailua, (808) 263-3174, facebook.com/RedBambooHawaii.
5. Owens & Co.
Located right in the heart of the historic Chinatown arts district, Owens & Co. sells an eclectic curated collection of handmade and hard-to-find merchandise from independent Hawaii designers. Hawaiian tea towels? Check. Books about surfing animals? Check. Opihi shell bottle openers? Check. Everywhere you turn in this little store are quirky knickknacks, clothing, jewelry and unique doodads you won't find anywhere else. 1152 Nuuanu Ave., Honolulu, (808) 531-4300, owensandcompany.com.