The 5 Best Snorkeling Spots on Hawai'i Island in 2021
Hold on to your snorkel because these spots—all winners in our 2021 Readers' Choice Awards—are breathtaking.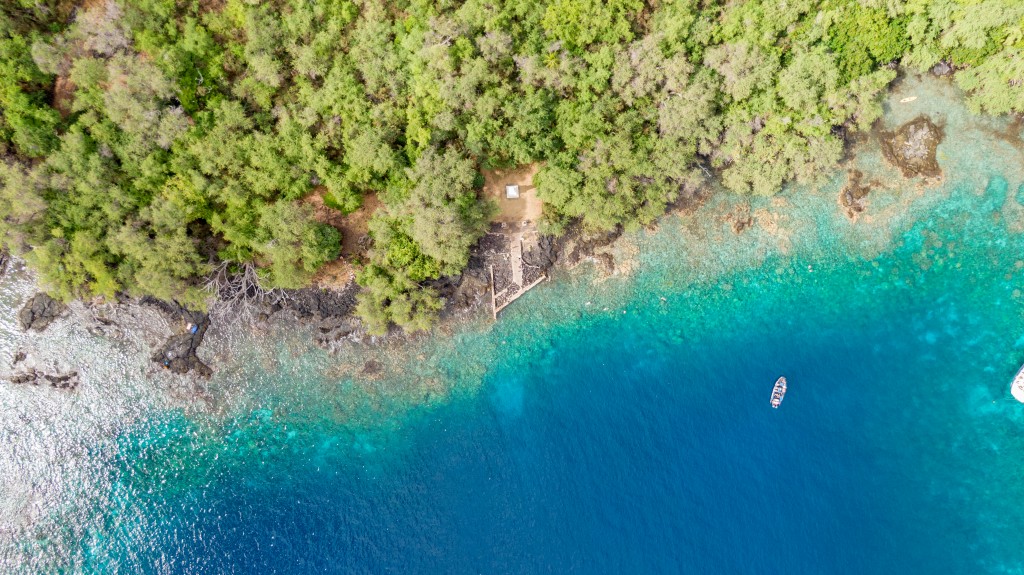 Snorkeling is one of the most enriching ways to see the vast array of wildlife throughout the Hawaiian Islands—from a safe and respectful distance!—and these spots were voted the best by our readers for the 2021 HAWAI'I Magazine Readers' Choice Awards. If you're looking to get your feet wet in the world of snorkeling on Hawai'i Island, you've come to right place.
1. Kealakekua Bay
Warm, calm and clear—the three elements that make for a first-class snorkeling experience. Kealakekua Bay, both rich in history and in schools of vividly colored fish, is considered one of the few Marine Life Conservation Districts on the island. Captain Cook Monument, located on the north side of the bay, serves as a memorial for Captain James Cook, who was killed on site in 1779 by Native Hawaiians for the attempted kidnapping of the ali'i kāne (male chief), Kalani'ōpu'u.
Although unreachable by road, it's worth the trek. There are three ways to get there: by swimming or kayaking across the bay (kayakers must obtain a permit), hiking or by boat (there are companies that provide these tours). Kealakekua Bay is located 24 miles from Kona International Airport.
Kealakekua Bay, Hōnaunau
2. Two Step, Hōnaunau Bay
Two Step gets its name from, well, you guessed it, the two naturally occurring lava rock steps that lead right into the bay. Convenient, yes, but that's not even the best part. This protected bay is teeming with wildlife, from octopus to moray eel and even the occasional manta ray—there's never a dull moment in this South Kona oasis. Pods of Hawaiian spinner dolphin often rest during the morning in Hōnaunau Bay, too.
This is a great spot for older kids to experience the natural wonders of the Hawaiian coast; for younger kids, there is a protected area to the left of the bay that they can safely splash in. Two Step is located next to the entrance to the Pu'uhonua O Hōnaunau National Historical Park parking lot (where parking is $10), but it's not affiliated with the park. For front row access to the beach, there is a small parking lot that charges $5 for per car; otherwise free parking is limited throughout the area.
Two Step, State Highway 160, Hōnaunau
3. Kahalu'u Beach Park
While typically known as a beginner surf break, Kahalu'u Beach Park is also a popular snorkeling spot for visitors and locals alike. It's located just a few miles from downtown Kona, in Keauhou, and is perfect for families with kids of all ages. Kahalu'u Surf and Sea (located directly across the street from the beach) and Kahalu'u Bay Education Center both offer gear rentals, and Kahalu'u Bay Education Center even informs visitors about the local marine life, reef etiquette and reef-friendly sun protection. Parking is located to the left of the beach (it's free!) and there are picnic tables to enjoy your lunch at after a morning under the sea. This all-encompassing snorkeling experience is certainly a must for first-time snorkelers in Hawai'i.
78-6702 Ali'i Drive, Keauhou
4. Mauna Lani Beach
Located along the Kohala Coast, in the Mauna Lani Resort, Mauna Lani Beach provides a glassy cove for safe and mellow snorkeling—with luxury dining and drinks just steps from the white sand beach. This is another beach that's great for families with younger children.
68-1292 Kaniku Drive, Kamuela
5. La'aloa Beach (aka Magic Sands)
La'aloa Beach—or more commonly known as Magic Sands—gets its nickname from the "magic" that happens to the sand when the tide rolls in. One moment, the beach is covered in soft white sand, but as soon as the powerful tide takes over its shores, the sand disappears to reveal rocks of all shapes and sizes along the beach. La'aloa Beach is considered one of the most popular beaches in Kailua-Kona, so plan to arrive early. Because the swell can get big, this is not a beginner snorkeling spot. We recommend snorkeling here when the waves are calm (this usually occurs in the morning) for optimal visibility and safety.
77-6452 Ali'i Drive, Kailua-Kona