The 5 Best Towns in Hawaii
Here's a ranked list of the best towns to visit, according to our 2019 Readers' Choice Awards.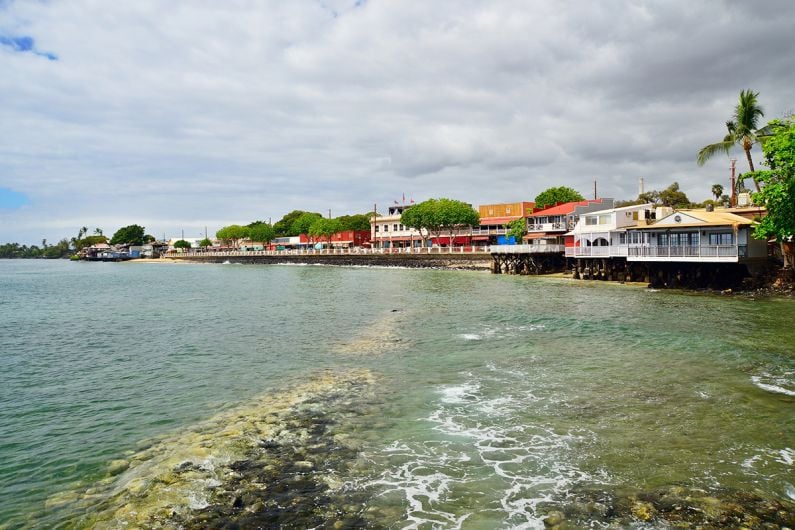 There's something special and different about every town in Hawaii, from the energetic streets of Waikiki to the more laid-back country roads of Haiku. And as much as we'd like to visit every single one of them and experience their unique attractions, there are just too many to count. So, to make things easier, our readers have voted for their favorite towns, giving us an ordered list of the Islands' best towns in 2019.
1. Lahaina, Maui
It comes as no surprise that West Maui's most popping district, Lahaina, has once again taken first place on our list. Home to Front Street, where you can spend an entire day shopping your heart out, the seaside town is also known as the go-to destination for those looking to whale watch, as the waters surrounding Lahaina are frequented by Pacific humpback whales during Hawaii's winter season. Coconut fans will go coco-nuts at Punakea Palms, Hawaii's only coconut farm, which offers educational tours of the property and is located on the outskirts of Lahaina.
Of course, you can't forget about the food. Lahaina's chock-full of restaurants and bars; however, Sale Pepe, a hole-in-the-wall gem buried in the Old Lahaina Center, serves some of the best pasta and pizza this side of the Pacific. And there's no better way to end the day than by catching the sunset from Lahaina's seaside Front Street.
2. Kaanapali, Maui
Five miles up the coast from Lahaina is Kaanapali, home to some of the Island's classiest resorts and hotels, such as the Westin Nanea Ocean Villas and the Kaanapali Beach Hotel. The area is also known for having one of the best beaches in Hawaii—Kaanapali Beach—which seems to stretch along the Maui coastline forever. (It's actually over a mile long.) While you're at the beach, be sure to head to its northernmost point to take a plunge off Puu Kekaa, or Black Rock, and cross that off your bucket list.
3. Hanalei, Kauai
Kauai had a tough time last year. The island experienced record-breaking rains and flooding, and much of the northern part of Kauai experienced serious damage. So it's encouraging to see Hanalei make it onto the list this year in our No. 3 spot. Although famous Hanalei Bay doesn't look as picturesque as it used to, the area has bounced back from disaster, and most (if not all) of the beach town's main attractions and shops are once again open for business. So don't shy away from Hanalei; you can still grab a colorful bowl of shave ice, check out Waioli Huiia Church and play the day away at Hanalei Bay.
4. Kihei, Maui
Located on Maui's southwest shoreline, Kihei, the Island's third town on our Top 5 list, is known for being one of the drier spots on the Island. Fortunately, you don't have to travel far to get wet, as the town hugs nearly 6 miles of beach coastline and is known for its many family-friendly beach parks, such as Kalama and Kamaole. And if you're looking for a place to stay on Maui, Kihei has a variety of affordable condominiums, hotels and cottages to choose from, all near restaurants, a bustling farmers market and, of course, plenty of beaches.
5. Kailua, Oahu
There's no doubt about it: Oahu's east side, specifically Kailua, is getting more and more popular by the day. And we're not surprised. If the serene waters and golden shores of Lanikai Beach weren't enough—and they most certainly are—the Lanikai Pillbox Hike is another reason to venture to the Windward Side. The trail is easily one of the best treks hikers can make on Oahu and it results in one of the most Instagrammable views of the Mokulua Islands. The area has recently undergone an upgrade, with more local restaurants and boutiques. Kailua is also home to the state's largest wetland—Kawainui Marsh—which sprawls over 800 acres.