The 5 Most Romantic Hotels on Kauaʻi in 2021
If you're looking for romantic accommodations, here are the five that topped our 2021 Readers' Choice Awards.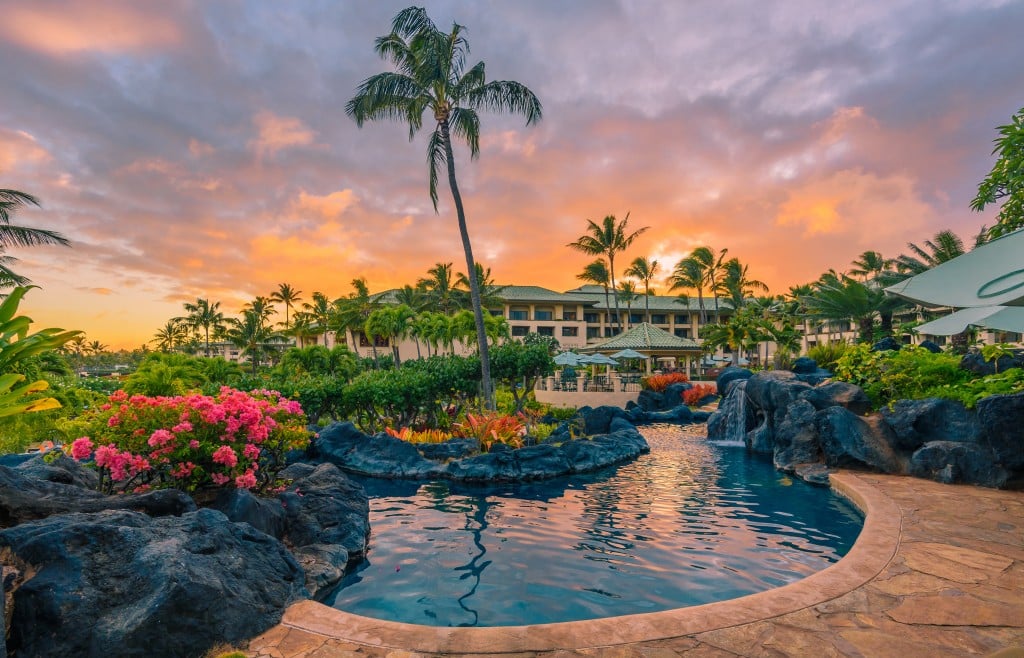 Since visitors began arriving in Hawaiʻi, the Islands have become a place for couples to getaway. From honeymooners to elopers, parents on a trip without the kid and couples on a special visit where the question may be asked, love is in the air in Hawaiʻi. And the Garden Isle, Kauaʻi, is no slouch in the romance department. From its breathtaking natural wonders to its postcard-perfect beaches, it's easy to fall for this decadently green island. So if you and your special someone are planning to fly off to lovely Kauaʻi, be sure to stay at one of these romantic hotels and resorts, which have been voted as being the island's Top 5 by our readers for the HAWAIʻI Magazine 2021 Readers' Choice Awards.
1. Grand Hyatt Kauaʻi Resort & Spa
Located on the stunning sands of Po'ipū, the Grand Hyatt Kauaʻi Resort & Spa highlights the best parts of Kauaʻi with its classic Hawaiian architecture, open courtyards and verdant gardens. Sprawling out over 50 acres, the property has plenty of places for couples to find privacy, from a quiet adults-only pool area—that's right, no screaming kiddos here—to the Anara Spa, which uses open-air treatments and island-fresh botanicals to refresh and rejuvenate. Of course, leaving the recently renovated rooms will be hard enough, as they all feature top-of-the-line furnishings and a clean, simple aesthetic that creates a wonderful nest for couples to cozy up in. 1571 Po'ipū Road, Kōloa, (808) 742-1234, hyatt.com/kauai
2. Hanalei Bay Resort
On Kauaʻi's northern coastlines, everything feels more romantic. Maybe it's the fresh salt air or the ruggedness of the coast. Or maybe it's the resorts, like Hanalei Bay Resort, which places its guests in a dream of a locale. Located just five miles away from the must-see Hanalei Bay, and eight miles away from the Kīlauea Point National Wildlife Refuge, couples can enjoy their north Kauaʻi vacation to the fullest by staying at the Hanalei Bay Resort. If you don't want to leave the property—which is gorgeous in its own right—there's more than enough to do, with the hotel featuring eight tennis courts and two outdoor pools, including a sea-view lagoon-style pool with a lava rock waterfall and a hot tub. 5380 Honoiki Road, Princeville, (877) 344-0688, hanaleibayresort.com
3. 1 Hotel Hanalei Bay
Like the Hanalei Bay Resort, 1 Hotel Hanalei Bay has the blessing of being located on the island's stunning northern coastline. But at 1 Hotel Hanalei Bay, guests can experience true luxury at this 5-star accommodation. Formerly known as the Princeville Resort Kauaʻi, 1 Hotel Hanalei Bay is currently transforming its property to further accommodate its guests while also focusing on sustainability initiatives, and are looking to open in July 2022. Its location, however, has remained the same—perched atop a grand hillside overlooking Hanalei Bay, giving couples the perfect view of Kauaʻi's romantic north shore. 5520 Ka Haku Road, Princeville, (808) 826-9664, 1hotels.com/hanalei-bay
4. The Westin Princeville Ocean Resort Villas
Do you know what has a romantic ring to it? Villas. And at The Westin Princeville Ocean Resort Villas, that's exactly what you get, a whole home to share with your beloved. On a cliff overlooking the Pacific, this home away from home is only four miles from Hanalei Bay, and the one- or two-bedroom villas come well equipped with their own balconies and kitchenettes. Did we mention they also all have their own whirlpool tubs? Must we say more? 3838 Wyllie Road, Princeville, (808) 827-8700, marriott.com/the-westin-princeville-ocean-resort-villas
5. Ko'a Kea Hotel & Resort at Po'ipū Beach
Small but mighty fine, the Ko'a Kea Hotel & Resort at Po'ipū Beach is perfect for honeymooners looking for a resort with an exclusive, private atmosphere. The property may not be as large as its neighbors, but the rooms will surely suffice, with grand beds, large bathrooms, faux candle lighting and silky smooth robes. Rooms also come with a lānai (veranda) that is perfect for a dinner in, and you can order room service from the hotel's award-winning restaurant, Red Salt. 2251 Po'ipū Road, Kōloa, koakea.meritagecollection.com/hawaii-resort, (888) 835-9793