The 6 Best Islands in Hawaiʻi
Here's a ranked list of the best Hawaiian islands to visit, according to our 2020 Readers' Choice Awards.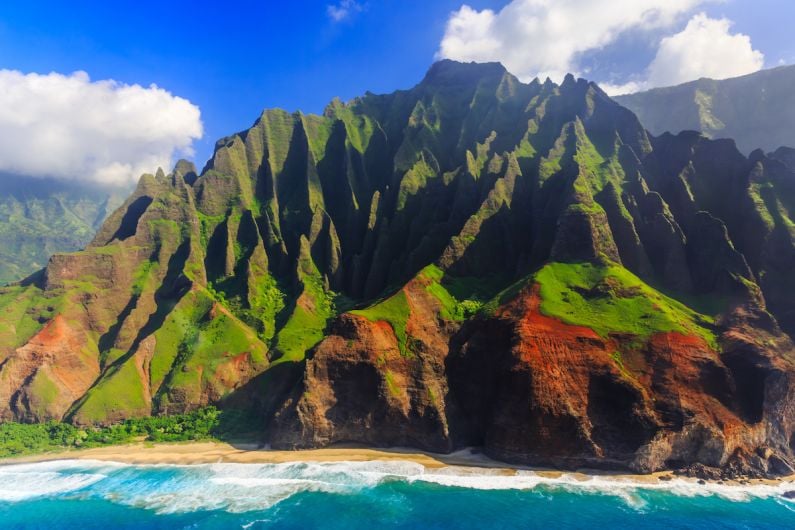 The votes are in and our readers have decided: Below is their ranking of six Hawaiian Islands. Of course, all of the islands, from Hawaiʻi Island to Kauaʻi, are winners, and you really can't go wrong booking a plane ticket and hotel room for anywhere in Hawaiʻi.
1. Kauaʻi
The Garden Isle takes top honors for the first time since our 2014 Readers' Choice Awards. The island, specifically its northern shores, has had a return to form in the past year, as coastal communities like Hanalei and Princeville have recovered from the torrential rain and flooding that occurred in April 2018. Even Hāʻena State Park, which had been closed to the public following landslides caused by the heavy rain, is open once again and looks as good, if not better, than it did before the floods.
Of course, there's more to Kauaʻi than just its north shore. Artsy boutiques like Machinemachine, which sells clothing and accessories made of upcycled materials, and quaint towns like Waimea, which sports an authentic rustic charm and a lot of red dirt, help make Kauaʻi more than just beaches and nature. Although, if that is what you're looking for, the south side of the island has its own assortment of postcard-perfect beaches, like Poʻipū and Shipwreck beaches.
2. Maui
Don't be fooled: Just because Maui didn't come out on top this year, a spot it's occupied since 2015, it doesn't mean it's anything less than perfect. The Road to Hāna is just as harrowing—and beautiful—as it's ever been, and its towns are home to hidden shops and boutiques, like Haku Maui in Makawao and Request Music in Wailuku, that are absolutely worth checking out. Also, the Nigerian Dwarf goats at Maui Goat Yoga are insanely cute, even as they stomp all over your back and chew your hair.
3. Hawaiʻi Island
If we were ranking which island had the most things to do, Hawaiʻi Island would win by a landslide. Bigger than all of the other major Hawaiian islands combined, Hawaiʻi Island, often referred to as the Big Island, is full of historical Hawaiian sites, such as Ka Lae and the Puʻu Loa Petroglyphs. The Big Island's also home to small businesses that feel like actual homes, like Hawaiian foods takeout restaurant Kaʻaloa's Super J's which has some of the best haupia in the Islands. You can find businesses like this in many of the small towns that dot the Big Island, like Honokaʻa, Kohala, Volcano and Hōlualoa.
4. Oʻahu
One of the best parts about visiting Oʻahu is that the island is a known quantity. There are articles out there on what exactly to eat if you're heading to the iconic North Shore, where to park at Ala Moana Center, how to explore Honolulu's historic Chinatown district and which incredible Pow! Wow! Hawaiʻi art mural you should see (spoiler alert: all of them). However, new businesses, shops and activities are cropping up on Oʻahu all the time, making a first time visit or return trip all the more worthwhile. Did you know that a cat café opened up on Kapahulu Avenue? Or that you can strap on a jet pack and fly over Maunalua Bay? You can even find authentic Texan cuisine in Wahiawā, which might sound funny, but the ribs at Sunset Smokehouse are no joke.
5. Molokaʻi
There's getting away from it all, and then there's going to Molokaʻi, where there are zero traffic lights and, surprisingly, a few great places to get breakfast, lunch and dinner. The island itself is great for hikers, and Hālawa Valley, on Molokaʻi's east side, will drop jaws with its ruggedly handsome views. If beaches are more your calling, Pāpōhaku Beach is among Molokaʻi's biggest, at 3 miles long and 100 yards wide.
6. Lānaʻi
Lānaʻi gives visitors a level of solitude and Island-style living that's a step above the other islands, sans Molokaʻi. If you're looking to shift out of the fast lane and unwind, little Lānaʻi's got your back. Although accommodation options are slim, the Four Seasons Resort Lānaʻi, recently named the No. 1 hotel in the nation by U.S. News, offers luxurious suites, while Hotel Lānaʻi in Lānaʻi City provides a more down to earth bed-and-breakfast appeal that matches the island's general attitude. Grab a bite at the homey Blue Ginger Café and set out to explore Lānaʻi's many seaside cliffs and cultural sites.