The Aiea Loop Trail on Oahu is a Fun Hike for All Ages
The 4.8-mile trail is a popular hike along Halawa Valley in south central Oahu.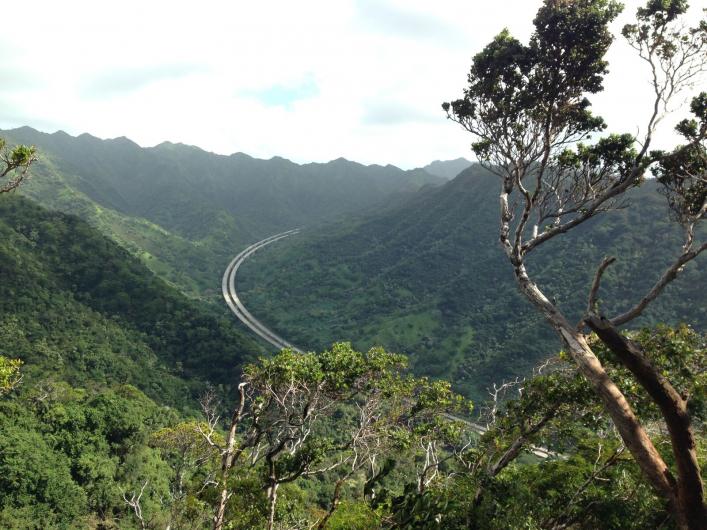 The Aiea Loop trail is a popular hike along Halawa Valley in south central Oahu. You'll see everyone on this hike, from small children and bounding dogs to trail runner and elderly hikers with walking sticks. We also saw a group of mothers, carrying their young children in hiking carriers. The 4.8-mile loop, although long, is level, making it a fairly easy hike. Plan to go during a weekday to get more of the trail to yourself.
Aiea Loop begins at Keaiwa Heiau State Park, where an ancient Hawaiian medicinal heiau (temple) can be seen. At this location, students were trained in laau lapaau (medicine), the practice of using plants from the surrounding forest to heal illnesses and injuries.
To get here, take the H-1 highway; take the exit toward Aiea/Stadium from the H-1 highway. Make a right turn onto Aiea Heights Drive until you reach the state park. Another bonus about this hike: there's plenty of parking!
Because it's a loop, you can start your hike from the trailhead, or from the bottom, near the campgrounds. If you park near the trailhead, you'll have to walk back uphill to your car after the hike, or in the beginning as you walk down to the campgrounds.
The trail is wide and well maintained, but it's not uncommon to find fallen trees in your path on occasion that you have to climb under or over.  You'll also want to wear good footwear, because the trail may be wet or muddy in some parts. And thanks to the eucalyptus forest, as well as some Norfolk pine, there's plenty of shade, plus a light fragrance in the air.
There are several lookout spots along the trail where you can take in views of Pearl Harbor to Diamond Head.
Aiea Loop's best view comes roughly midway through the hike from a small lookout point. It's a bird's eye view of the H-3 highway, intersecting the Koolau Mountain range. The highway took decades to build, and today remains one of the most expensive highways built, on cost per mile basis; the project totaled $1.3 billion, or approximately $80 million per mile. It's a great—but windy—spot to take in views of Windward Oahu and picture the emerald mountains before the road was paved.